[ Sponsored ]
We visited Bintan Eco Village in Indonesia recently. Unlike normal holidays, Eco Village provides an edutainment experience for families.

Fun is only 1 hour of ferry ride away, it might even be faster than JB, no traffic jams 🙂
Ferry leaves from Tanah Merah Ferry terminal, and car park rate is only $20 max per day. Do prepare extra wear for kids as the 1 hour ferry ride can be cold.

Enroute to Eco Village, we had a satisfying lunch at Ayam Presto. This is Indonesian style Fried chicken, and everything is deep fried till crispy, you can chew on the bones too. We dare you to try the power samba (chili).

Appetisers and tidbits are available too, local favorite drink is Teh Botoh. This is actually Jasmine tea, but I told the kids it taste like Chrysanthemum with a tinge of herbal aftertaste.

Their local night market is just opposite the eatery, anyone game for a Ferris spin?

Most people come to Bintan Resorts to enjoy seaside and water activities, and massage too.
Our mission on this trip was to explore an Eco Village (one hour south of Ferry terminal at Senggiling area). Eco Village is a 350 hectares farm which helps to improve the community livelihood and environment through sustainable farming.
Sustainable farming techniques aim to minimise damage to the ecosystem and minimum wastage.

This trip is not a normal holiday trip, as Eco Village aims to provide both education and adventure on its premises. Posters below indicate how coconuts and cloves are produced in Eco Village.
We saw cloves (丁香) and pineapple during our trip and learn about sustainable farming techniques too.

Outdoor classroom for kids, our guide and teacher (Grace) showing the kids local produce. We identified how plants and seeds are used in our daily life.
We conveniently blush (pun intended) over Tongkat Ali's herbal prowess :p

We burnt a piece of Agarwood and the smell reminds us of incense (burning) and aromatherapy treatment.

Bintan soil composite is largely made up of "bauxide" which is not suitable for clove farming. Farmers will add manure and compost to help create a suitable farming landscape.
We can use a simple kit to test the soil quality. If bulb lights up, it means soil nutrient (and compost) is good for plantation.

Grafting combines two different species to help the growth of Clove tree. We understood Clove tree cannot grow on its own, thus it need to be grafted onto a "local" plant before it can grow. Amazing right !
I told the kids human skin can also be grafted too, example burns victim can use their buttock skin to replace burnt tissue somewhere else (Kids were sceptical!)

To help retain the amount of water for grafted clove to grow, farmers will place a compound called Aquasorb near the roots.

We got to taste local produce too.
But Clove Tea is too nourishing (bitter) for me, taste like a strong dose of Teh Halia.
Rose tea (Rosella) is more appealing for us (a bit like Ribena).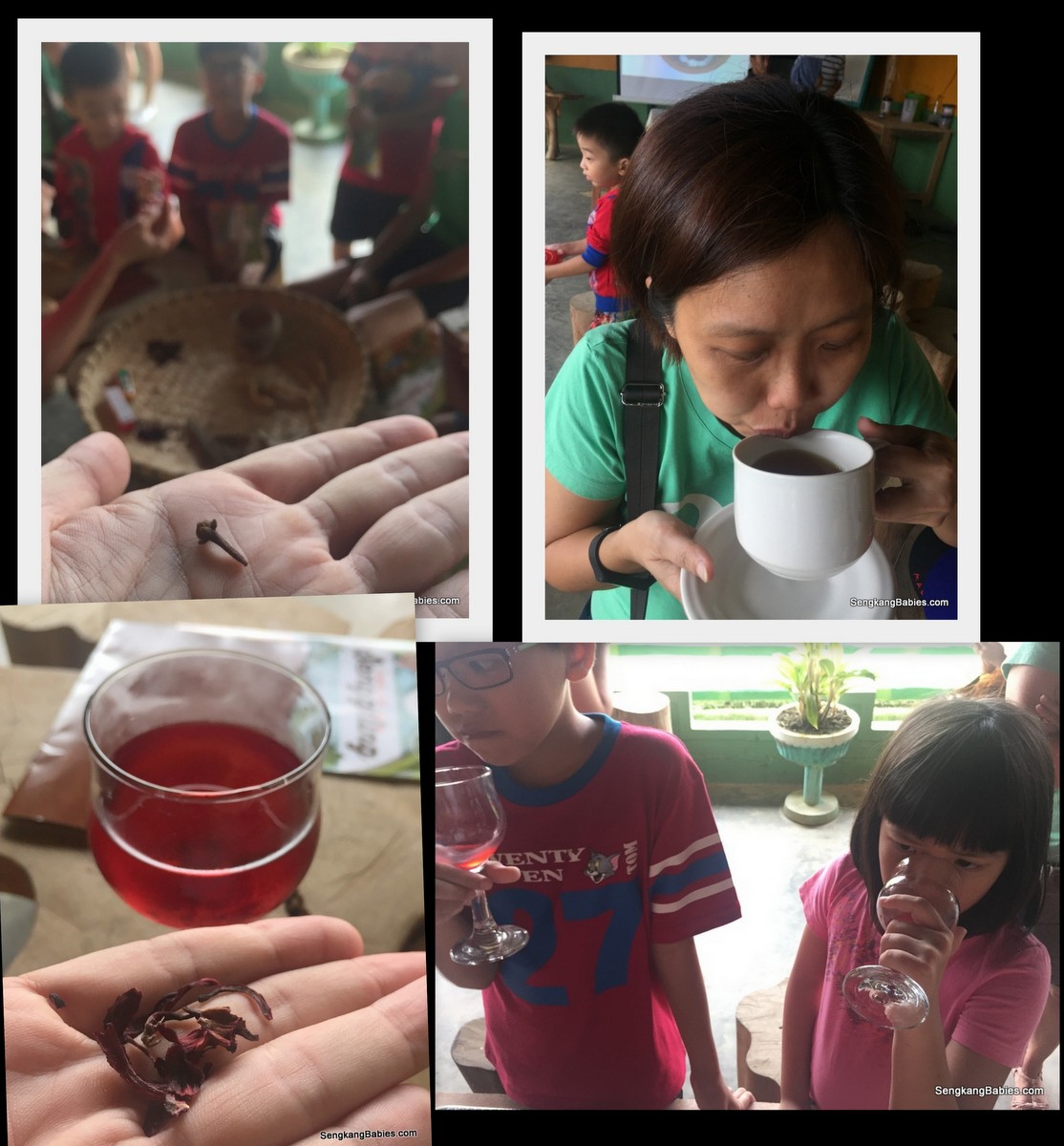 This is our Eco village farmland.

Kids wera actually eager to plant their "own" trees! I should engage them in Singapore tree planting events next time. I teased them to engrave their name and come back to claim the tree in 3 years :p

A grown Clove tree and seed.

Little scientists ran a series of tests to measure water quality (acidity or alkaline), visibility and oxygen level. This test allow us to know whether the water can sustain an ecosystem.

Video (link) : The drizzle could not stop our Fun!

Kids had their first fishing experience, we caught some mini tilapias.

We had our dinner at Plaza Lagoi before heading back to rest.

Getting ready for room checkin, we will share more about Bintan Lagoon Resort in the next post.

If you are looking for an unique type of holiday, more details about Bintan Eco Village can be found at this link http://bintan-resorts.com/visitors/educational/eco-village
Eco Village programme can be booked through BRC tours (http://www.brctours.com)/ brctours@bintan-resorts.com )
Programme cost : $28 without lunch / $33 with lunch at Asli & Yang (Ayam Presto)
Anyone game for a 2D1N camp?

*updated 2017 Jan* Do pop by our review of Bintan Lagoon Resort too