Before DisneyLand landed on Lantau, Ocean Park (海洋公园) was the only themepark in Hong Kong. It still pack in the crowds today, 34 years after it's opening in 1977 !

The map below indicates that Ocean Park has been growing over the years too. You need one full day to cover the attractions.
Two main sections of the park are The Summit and Waterfront. Cable cars are available to bring you between the sites.

From our hotel near Jordan MTR, we need to take the ferry to Central, follow by a 25 minutes bus ride on 629. We recommend that you buy tickets online (Adult HKD280 and child 3-11yrs HKD140) beforehand to avoid queues.

We start with the Grand Aquarium, that Blue iconic building.

You are immediately greeted by all sorts of marine creatures, the tanks allow visitors to get close to the marine creatures.


Turtles, Rays, Sharks, Nemos, you name it, Ocean Park got it !

The giant fish tank captivates everyone.Both kids and adults enjoy their close encounter with fishy friends.

Look at the map above, this Themepark is hugh and featuring a few worlds. Aqua City, Amazing Asian Animals (Pandas) and DO NOT miss the latest attraction Polar Adventure.
We strongly recommend parents to rent a stroller for the kids.


Next, we pop by the Pandas, both original and red ones. Both are cute, but the Red Panda looks more approachable.

Panda meat anyone? Daddy joked. Kids are horrified that Kungfu Panda (Po) can be butchered for food ! Actually, we are going to Panda cafe, and there is no Panda set-meal on the menu 🙂

We pop by a nearby Gold Fish exhibit.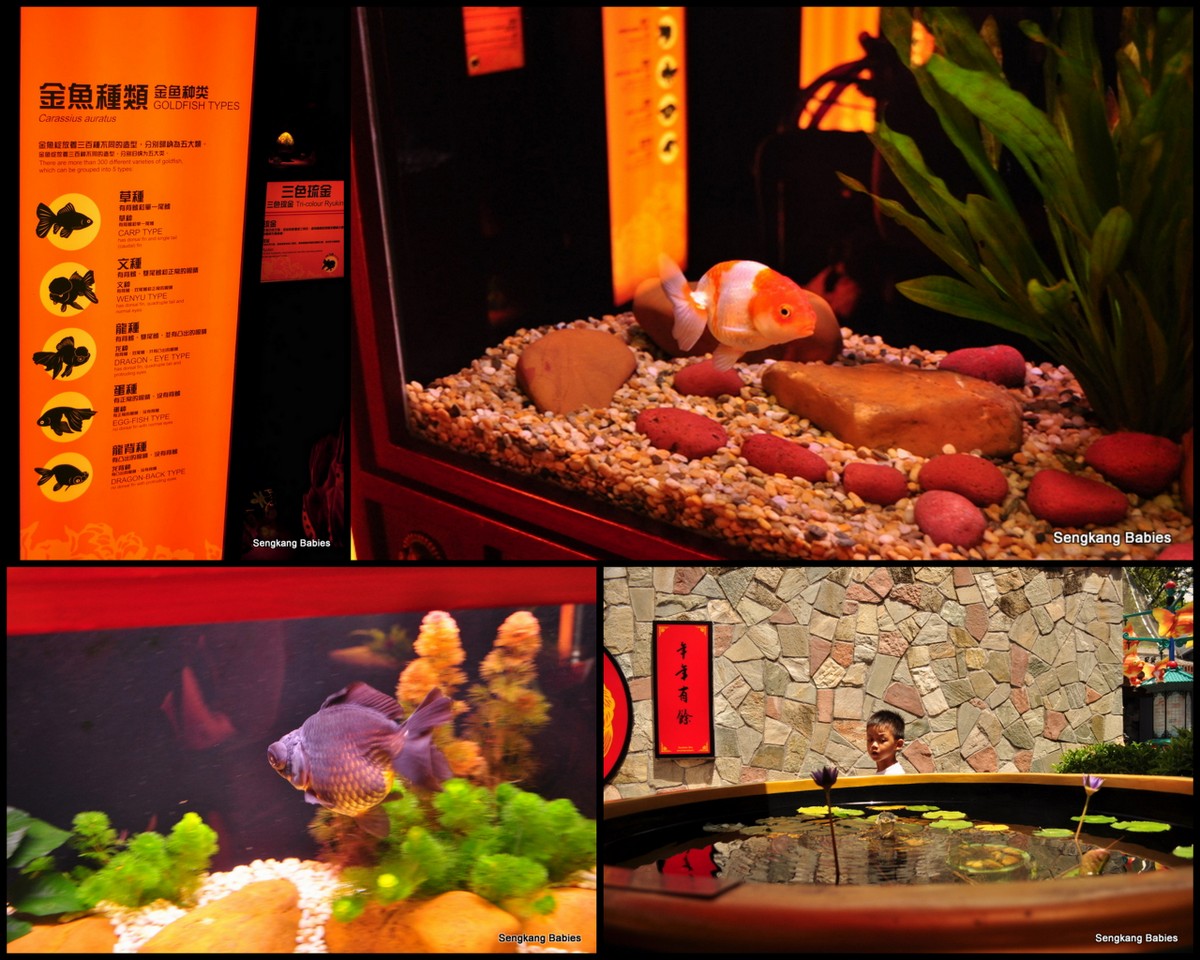 Did you know that a Submarine connects Ocean Park's two sites? It is named the Ocean Express. (Refer S11 on the map)


The Submarine looks futuristic, but the interior is packed with multimedia effects. The 5min ride was an experience 20,000 leagues below the Sea.

Arctic and Antartica awaits us at the Polar Adventure (冰极天地). The weather has turn warm, so we should enjoy the Cold Polar exhibits 🙂

The cool polar bear and whales displays at the entrance never fail to amaze the kids. Watch out for some special lighting mimicking the aurora waves !

Arctic consists of three zones, North pole, South pole and Arctic fox den. Smaller kids might need to wear an extra sweater to keep warm. The South pole is maintained at 8 degrees and North pole 15 degrees.


Arctic fox is new to us, they are very active, always running here and there.


The walkways allow us to watch sealion and even walrus in action underwater. Our kids are already in love with the aquariums.

Mummy pretending to feed Boon Xi to the Leopard seal !

The swimming penguins beneath our feet blow us away ! Look at the video to catch our kids running after the swift penguins 🙂

The staff working in the North and South pole really have to wear thick thermal wear and ear muffs. Why is there no Polar Bear at Ocean Park?


In case you need more adrenalin, Arctic Blast will send you screaming "TITANIC" through the icebergs !

Ocean Theatre promise to thrill us with the dolphin and Seal's performances. It was full house, and as Xin was sleeping, Daddy stayed with her at the top terrace.

We got a bird's eye view of the rides.

Kids love the performances from the hardworking dophines nd the cheeky sealions.


Everything turns up well, until the PRC visitors start packing the venue. They will keep shoving you to get a better view. Very irritating, Daddy has to keep pushing them one side otherwise they would topple onto Boon Xin's stroller !
(disclaimer… not all PRC visitors are rude)
We pop by the giant China Sturgeon.

The adventurous ones keep going for the high energy stunts. Daddy and Mummy say "No thanks".

Meanwhile, we brought the younger ones to enjoy some arcade and funfair fun. They throw darts and balls, and won stuff toys 🙂

More photo opportunities.

With that, we end our Ocean Park tour. Daddy and Mummy is happy that this themepark still manage to capture everyone's imagination through the years.
Dinner was some simple noodle dishes around the corner of our hotel. The humble noodles (not unlike maggie mee), but it tastes so nice. We order beef, chicken and yun2 tun1.

Do click on this link for more information about Ocean Park.
For more photos, do pop by the Sealions and Penguins on our fanpage.
Our 6D5N itinerary.. do come back for more updates.
~~~ ~~~ ~~~ ~~~ ~~~ ~~~
–> Our 6D5N summary
Day 1 – Dim Sum, Ferry, Goose
Day 2 – Doraemon!, Tram, Ladies Street
Day 3 – Ocean Park
Day 4 – Buddha, ThePeak and Madam Tussauds
Day 5 – Street food, Disneyland !
Day 6 – Breakfast with Mickey, DisneyLand (part ii)
All photos from Day 1 to 6 are available on our fanpage.