[ Media Invite ]
Posing at Combat Zone, before we engaged in some friendly Nerf Gun Fun.

Some friendly photos, introducing Orange and Yellow team.

Once the timer starts, adrenaline took over and NO MERCY!

The first few photos really captured our fun experience. We were invited to Singapore's first indoor Nerfgun arena. Located at Scape, enter at your own risk 🙂
Although the arena is not really big, but it is enough for 5 vs 5 faceoff. Our family of six had a lot of space to hide and maneuver.

Pricing package, second session is 50% off. From our experience, the basic Retaliator will provide enough fun for everyone. No need to upsize and get the other powerful guns (Rampage and Zeus)

Choose your mission, 10 minutes per mission would be enough to make you perspire.

In a few easy steps, choosing Mission, select weapon, safety goggles, and weapon zeroing, we were ready to GO!
(Boot camp) Kids zeroing their weapons.

Sengkang Babies were very competitive at Combat Zone, just look at the amount of spent "cartridges" on the floor, my Army ATEC (evaluation) was never so fierce! We had so much FUN and laughter.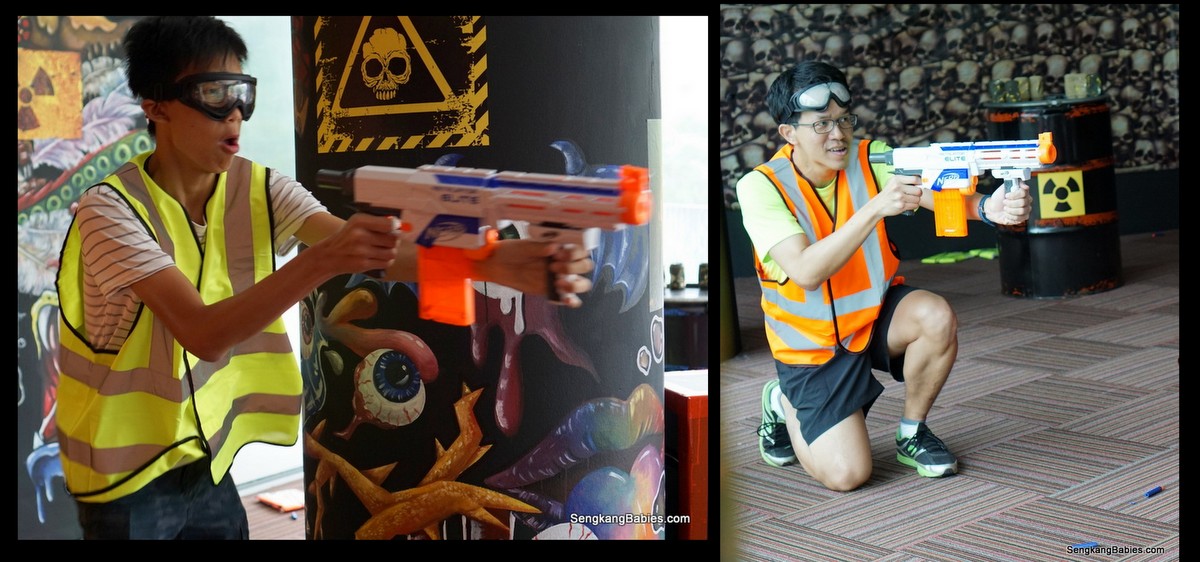 Reloading is tedious, and we always get sniped when we are reloading! I would like to recommend that all the magazines are pre-loaded heh heh.

My army training quickly came back to me, Cover and Concealment. You do not take shelter, you Die :p
Overwhelming firepower to drown the opponent, breathing techniques for one shot one kill.

I was supposed to take photos of the kids having fun, but the mission proved to be too addictive! Fortunately, Combat Zone staff helped us to snap some fun shots 🙂
Look at Mummy Meng Choo, she initially declined to participate but had so much fun sniping at the kiddos haha :p

Boon Kang (no2) is the marksman in our family.


Some rules and tips to enjoy your session :
– Do contact Combat Zone to enquire whether your preferred slot is available
– Venue is carpeted, it is ok to go barefoot
– Go during offpeak hours to enjoy savings
– The basic Retaliator is enough
– We played two missions (cans and hostage), we preferred hostage as it is more challenging
– Each mission is about 10 minutes
– No worries about tactics, kids will adapt and "kill" strongest competitor first (ie the Dad). Teamwork Yeah!
– Those wearing specs might opt to skip the goggles
– Bring your own towel and water, venue is air-conditioned but we were still perspiring
– Venue is spacious enough for 5 vs 5
– Minimum age is 12 years old (but it is super safe for younger kids to try)
– Combat Zone do cater for Birthdays, team-building and "outdoor" missions too
Do follow Combat Zone on their Website and Facebook for latest updates.
Address : Scape, 2 Orchard Link, #03-06, S237978
Email:enquiry@combatzone.sg
Tel: 6634 2008
OPERATING HOURS:
Mon to Sunday:
12pm to 10pm
~~~ ~~~ ~~~ ~~~ ~~~
Mum rules! You do not wish to antagonise her. Ignore her instruction and eat a bullet. You dare to snipe her, you get one too haha :p

Do pop by our previous diy Nerfgun sessions here and here 🙂
Thank you for the super FUN invite, Combat Zone!
My kids are already asking about the next sessions haha.