[ Sponsored ]
Trick Eye Museum Singapore has always been Fun, all the quirky photos (our previous visit) guarantees laughter and more wefies.
Did you know that most of the exhibits are now AR ready?(Augmented Reality). It levels up our Trick Eye experience, AR will increase the Fun-factor multiple times!
Just look for the exhibits with logo "Trick Eye app".
Video (Youtube Link) : This Video will tell you how much FUN we enjoyed last week! You must re-visit Trick Eye Museum again 🙂

In three easy steps, you are ready to make your own FUN hilarious AR video too.
1. Download Trick Eye app, connect to Trick Eye Museum free Wifi
2. Frame your AR app at the exhibit, watch the animations comes ALIVE!
3. Interact with the AR special effects. Go crazy with your antics haha ! Photo or video AR is available, but Video definitely more impact.
4. Easy right? Go join Trick Eye Museum's AR contest  (30 Jun end date)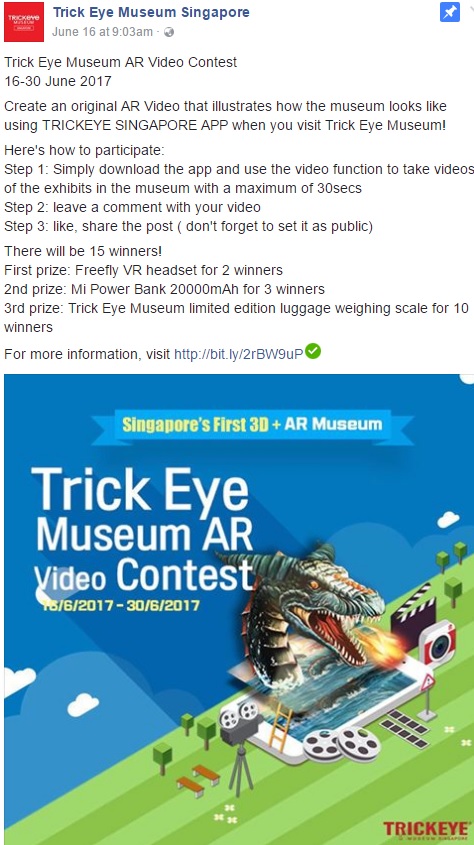 Panda is always one of the more popular exhibit, now the Panda can climb and slide down the bamboo with us!

I was the only one with the Trick Eye Museum AR app when I enter Trick Eye Museum. Mummy Meng Choo and kids could not resist the FUN and downloaded the AR app for themselves too haha.
Not to worry if you are the traditional type. Without AR app, the photos will still looks good. Believe me, AR really raise the Fun factor!
Additional Tips to enjoy Trick Eye Museum AR :
-Leave your camera at home, just use your smartphone and AR app
-Portrait or landscape, you decide
-Family Fun was never so wacky! Interaction is key, photographer should guide participants to "pose and touch" the animations
-Video 5 to 10s will be enough, although AR effect is super addictive
-Bring power bank too, our phone ran flat
*Your voice is masked by AR music and will not be "recorded", go ahead and instruct the kids to pose
Trick Eye Museum is Singapore's first 3D + AR Museum, to celebrate the AR App launch, enjoy 50% discount from now till 26th June.
Thank you for the Fun invite, Trick Eye Museum.  Do follow Trick Eye Museum on their Website and Facebook for the latest updates.
Mon-Sun: 10am – 9pm
Last Admission: 8pm
~~ ~~ Tickets Giveaway ~~ ~~ ~~
Thanks to Trick Eye Museum, we have 2 sets of x4 tickets (total 8) to giveaway.
1. Contest is on our Fanpage and Instagram
2. Fans must first LIKE Trick eye and SengkangBabies Fanpage
3. Leave your name and email on our Fanpage (or you can message email address to us)

4. Share this page (refer step 3) on your Facebook Wall and tag @SengkangBabiesBlog (so that we know you are participating)
5. For an extra chance, do Follow us on our Instagram and leave your name and hashtag #skbTrickEye here (link)
6. Contest ends 29 Jun 10 pm, and two winners will be randomly picked