[ Advertorial ]
Loft beds always appeal to kids.
It must be something to do with the ladder, or the view from the top.
Even when we go for holidays, everyone is fighting for the top bunk.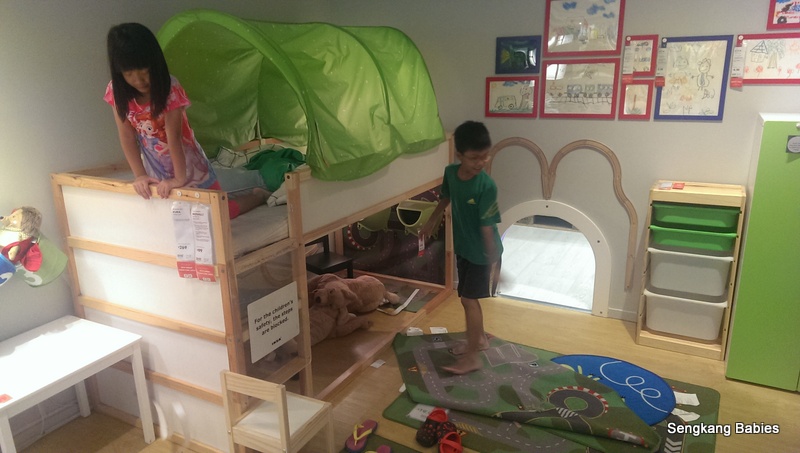 Once upon a time, when the kids were smaller and cuter, we parents did not need to worry about beds.

But alas, they grow up so fast! Our boys are sleeping in bedroom 2. Three seahorse mattress side by side, boys can orientate themselves to sleep 90 degrees angle, 180 degrees or 360 degrees. So many combinations :p
This is also their playroom when adults must know the password to enter. Cheeky fellows.

Their bed sheets were selected at IKEA, we love the colouful animations (Pacman).

Our 5 room HDB flat is not exactly spacious to house 6 family members. Very soon, we might need to invest in a loft bed to solve our space constraint. Our study room (bedroom 3) might need to give way to our princess.
Yes we know, the boys will be screaming "Not Fair!", but a girl needs her own room.


(image credit IKEA apps)
At IKEA, we can add some accessories to brighten the kids' room.

Thorine cushions even come with guitars and hedgehogs!

Need more IKEA bedroom ideas? Pop by IKEA's bedroom gallery.


(image credit IKEA website)
Until Boon Xin has her own room, she is contented climbing the loft bed at IKEA. Meanwhile, Daddy is looking forward to the day when master-bedroom belongs exclusively to him and Mummy again 🙂

This is the last post in our IKEA series. We are sponsored by IKEA to showcase a different theme each month. Mar is "Bed & Bath", February "Living room makeover" and January "Let there be Light".
We would like to take this opportunity to thanks IKEA for the opportunity to makeover our own house. It was a fun journey for our family.