Remember that day when you pickup your ride? The shine, the smell the enthusiastic feeling of bringing our 小白 home 🙂
It was Deejavu again for me when my ride went through a grooming package with EA Detailer.
We humans need massage and face mask to keep ourselves rejuvenated, our cars can do with some pampering treatment too 🙂
In summary, this is some of the beauty package and servicing done on our ride at EA Detailer Bukit Timah.
-3 steps car polishing
-2 stage bioFumigation
-Ceraz Ceramic coating
-Crystgard Headlights
-Crystgard Doorcups
First task, the staff at EA Detailer will take photos of your car, and document any chips, scratches and conditions. This is standard protocol to ensure car would not be accidentally scratched.
Our Toyota Wish's session was at Bukit Timah branch, and we trusted Victor, Michael and team's professional care.
2nd task is to clear all accessories from our ride. Gosh, it was a good opportunity for spring cleaning. With so much stuff in my car, it is quite difficult to have a through scrub when we wiped the car ourselves.
2-stage bio-Fumigation
Snacks and drinks are the No1 bane for drivers. Yes, we sometimes impose no food and drinks rules in car, but kids will be hungry.
And their snacks will inevitably drop and feed cockroaches! We had spotted some nymphs before in our car and I was apprehensive that the fumigation service would flush out a colony of cockroaches.
Cockroaches are incredibly resistant, they have survived millions of years before us and will outlast humans. No wonder pandan leaves, air freshener and what-have-you cannot fully eradicate these "unwelcome pets".
The chemicals used for fumigation are less toxic for environment, Victor told us EA Detailer only use man-made pesticide, which are extracted from plant enzyme. This is an additional assurance for families.
While fumigation works its magic and numb the cockroaches, our car's external body got a scrub and shampoo session.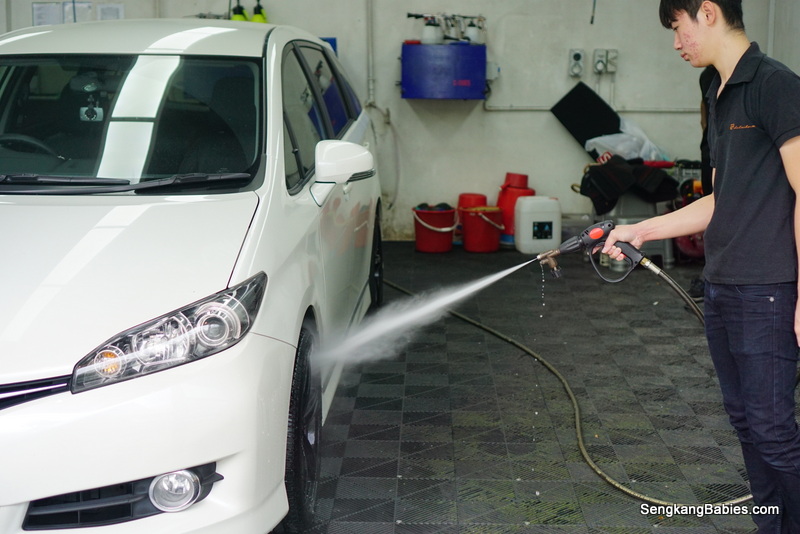 3-steps car polishing
The 3 steps are foam wash, clay treatment and compound polishing (buffering).
Inside the cabin, EA Detailer staff use a hydro-extraction vacuum to suck out small particles. Our own vacuum cleaner will be less effective.
While the car is undergoing maintenance, customers can relax in EA Detailer's office. Wifi is available.
The car interior gets a good scrub down too. This will ensure our car interior is properly conditioned. All surfaces are cleaned, including dashboard, console, carpet and even aircon vents.
We heard the disinfectant used is Medically Certified by SGH, and is proven to be of 99.98% effectiveness against HFMD.
Afterwards, leather seats are sanitised and given a protective coating.
EA Detailer used Tornado wash,  a kit which can apply "steam cleaning and wipe" to remove stubborn stains. Example milk spills or even vomit stains.
Those with kids will know how common it is for kids to vomit in car, and I have four babies before! It is very hard to reach in between the fabric gaps for a through scrub and cleansing.
EA Detailer spared no efforts to clean my car, inside and outside. This is a commitment from them, and a quality assurance for customers.
Ceraz Ceramic coating
With years of driving, and Singapore's humid and sunny condition, our car might have small chips or resistant bird dropping stains.
Leave it to the claying process and buffer machines to smoothen the surface and return our car's shine. Our car will undergo three layers of buffering, from coarse to fine.
No spot is left out during the cleaning process. Even the engine bay is given a wipe down.
Dedicated staffs ensure our car is given a proper grooming treatment.
Clay (picture below) is used to scrub away stubborn particles from our car. A layer of coating is also applied to protect the surface.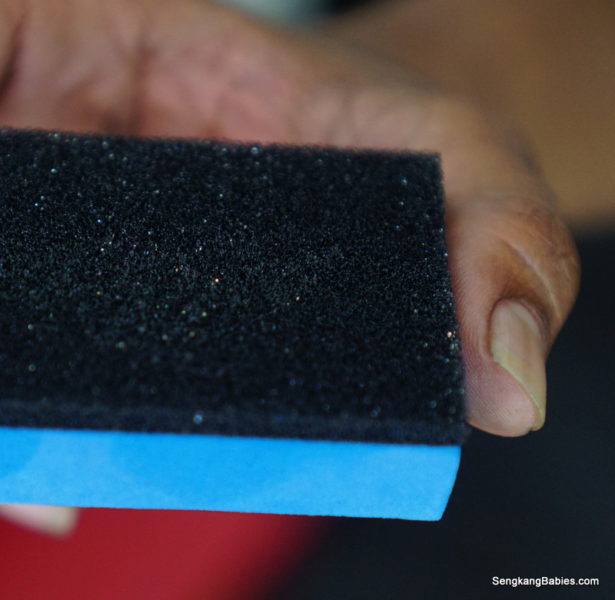 Every surface and groove is scrubbed. Even the four rims are given a new shine too, no more carbon coating.
Car is showered with tender loving care, you can expect your ride to be returned to showroom pristine condition.
Shine baby shine 🙂 
Crystgard Doorcups
Whenever we open our car doors, the portion under the handle might be scratched by our finger nails or rings.
I just found out that you can add a layer of "Crystgard" to minimised the scratches. This is an additional cosmetic feature provided by EA Detailer.
Crystgard Headlights
Using a paint protection film (PPF), we can actually give our car an additional layer of protecting. This would ensure the car surface and paint can better withstand the environment elements.
Just imagine applying a protection film to your mobile phone, EA Detailer's offer PPF for headlights or if you wish, the whole car!
Each headlight might need 30 to 60 minutes per treatment.
Applying the paint protection film on the headlight is tough, as there are contours and round edges. EA Detailer has to painstakingly remove the bubbles and ensure the film is evenly layered on the car.
We drive to Malaysia frequently and insects always hit our cars on North South highway, PPF will make it easier to clean off the mess.
The film is transparent and will not affect the light dispersion coming out of headlight. We heard PPF can last at least 5 years with good maintenance.
I am one happy customer, our ride looks brand new! With one session at EA Detailer, years of accumulated dirt and stains had been removed, returning a shine.
We cannot wait to bring our car for more road trips.
(The other surprise was no cockroach was found in our car! but you can Google EA Detailer review about how nymphs are captured after the BioFumigation process)
We would like to thanks EA Detailer for restoring our car's shine and polished look.  More importantly, I know the car interior is now cleaner (lesser pest and germs) which can only be more hygienic for my family.
You may find out more about EA Detailer's packages on their Website and Facebook or Google Reviews.
Address : 130 Dunearn Road S309436
(inside Caltex Petrol station, there are 3 EA Detailers outlets in Singapore)
Contact : 6100 0323
*this is a sponsored post by EA Detailer.