Skechers Friendship Walk 2018, this is the first time Singapore is hosting this walking event.
Skechers Friendship Walk 2018 is about celebrating Families and Friends 🙂
No need to run, it was a 5km easy walk.
But the weather had other plans. Persistent rain kept us indoor, I meant under the bridge.
We had fun participating in the carnival-like activities. Kids were challenging each other to complete the tasks first.
Family had Fun engaging each other.



Video: This is our walk through the drizzle 🙂

Skechers Mascots were spotted walking up and down.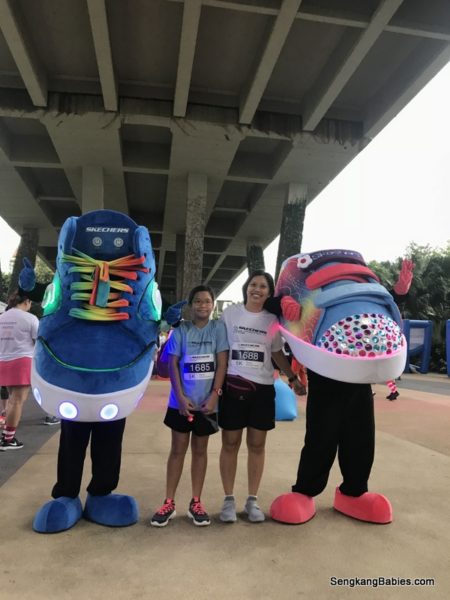 The walk was delayed 45 minutes. It was still drizzling and overcast, but the worst is over. Families and friends were eager to pace the scenic riverfront view along Bayfront and Gardens by the Bay East.
Rain or sunshine, we are always game, just wear a cap or grab an umbrella 🙂
Spotted many smiley faces, and the smaller kids were happy to be exposed to the elements.
There are three obstacles along the 5km route to challenge the kids. I figured the obstacles are a bit too squeezy for adults :p
The obstacles near the end point were all muddy oops, but our kids just dashed through without hesitation (guess they missed their Spartan race)
The rain never really left us. Families soldier on together, good opportunity to let the kids know that the real world is never perfect.

Do not wait for opportunities to drop at your feet, go out there and chase your rainbows!
It is always easier to travel together when we have siblings and BFF along us (Well, most of the time :p )
Always look at the positive side of things and remember to have FUN!
As we walked towards the end point, the sun is setting over Marina Bay skyline. However the overcast sky denied us a spectacular Sunset.
Interesting "end point", many folks took their time to pose.

Walkers end the evening with a movie treat 🙂
View of event venue from an elevated angle.

I brought the family up Benjamin Sheares Bridge for a night view, no sunset though.
And that ended our first Skechers Friendship Walk 2018 event 🙂
ps.. We were invited by Skechers Singapore for this walking event