I was introduced to SmartGames recently. Designed in Belgium, they call themselves "multi-level logic games". The variety of games and challenges are bewildering and addictive. We can challenge each other to see who can progress further through the stages.
Mention games and kids will instantly relate to online games or mobile apps. Will I be able to get the kids' attention?
The games have universal appeal for those from 6 to 60s! Some require analysis or logic, and most require patience. It can be increasingly difficult (and frustrating haha) when something so simple turns out harder!
Personally, I like the idea of going Retro and back to board games (or pocket games). I grew up with the traditional Monopoly, Risk, but SmartGames have a "replay" element as we keep trying to reach the next level.
I had a chance to start with three games, I really admire the designers' ingenuity! It is not easy to craft 80 stages to test the players!
Although game play is designed for one person, family members can take turns to compete. Promoting bonding opportunities.
We can see the competitive streaks and kiasu symptoms appear, playing together teaches us so much about our characters 🙂
1.Red Riding Hood
If you think this is childish, try the game yourself. Looks can be deceiving, although the play area is small, but game rules make it challenging :p
From amateur to expert, it is not so easy. Kids are eager to move up to the next stage. Imagine bringing these games to a cafe, and enjoying a slow 45 min cuppa with your darling.
Video of Little Red Riding Hood Game, credit SmartGames
It is not so easy to get Red Riding Hood home ok! (unless if you are mensa member)
I love the quality of the game pieces, well crafted and posh.
The 3D "pieces" really make our game more visual.
2.Asteroid Escape
Asteroid Escape has the same concept as Red Riding hood, but with increased complexity.

Drive Spaceship home, but the asteroids keep BLOCKING me!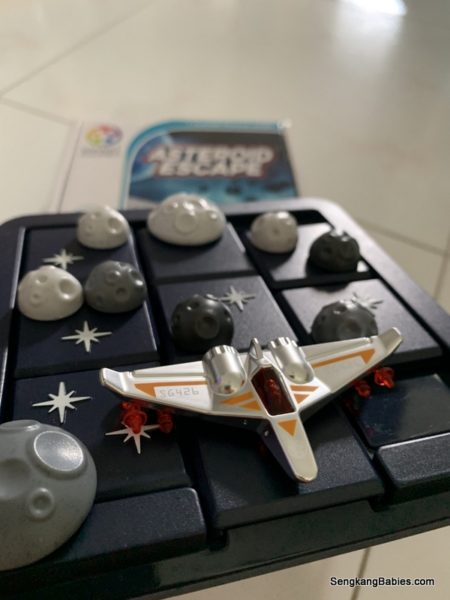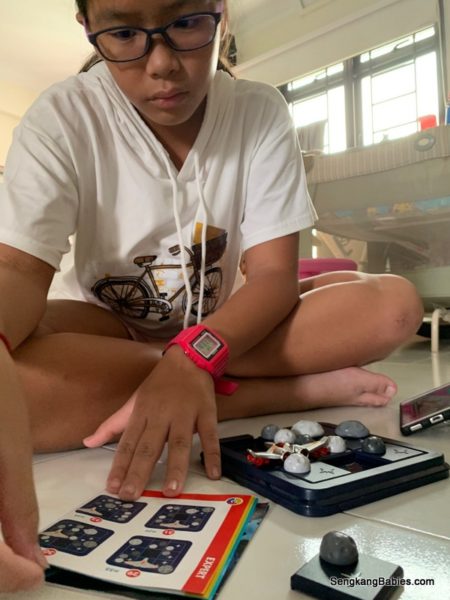 I am impatient, and prefer visual games. This "logic game" really tested my patience. But the kids gamed me effortlessly!
Enough of warmup, proceed to Master or Wizard for more hair-splitting stages hee hee.
If you are really stuck, go the end of the menu for the solution. Even the solution makes me perspire.
3.IQ Puzzler Pro
2D was okay, but 3D was challenging. My brain is wired differently, it was hard for me to visualise the 3D final stack.
The menu will slowly guide you from Beginner to Expert level.
Looks easy not.
SmartGames promotes some of these skills and developments for the young ones. The Fun factor need not be mentioned 🙂
I love the SmartGames novelty and back-to-basic gaming feel.
I would love to bring these games to parties and gatherings for some bonding opportunities with families and friends. Perhaps some parents might be interested to introduce SmartGames to reduce their kids' screen time.
Do follow SmartGames Singapore on their Facebook for the latest games and locations. You may Facebook message or email (admin@stationgo.sg) distributor for further enquiries.
SmartGames can be found at the following venues :
-Metro Causeway Point (full range of SmartGames products)
-Kinokuniya – Ngee Ann City and Raffles City
-Isetan – Scotts and Westgates
-Popular – Bras Basah,Causeway Point,Toa Payoh and Jubliee
-Science Centre shop – Curiosity
-Sports Elements outlets
ps.. Thank you SmartGames for the fun hours and interactions