Our family participated in Safra Swim For Hope last Saturday.
We have NEVER swan so much before!
I did not set any targets for the kids as I was clueless about swim efforts and expectations.
I only set a conservative gauge of between 30 to 50 laps for our family :p
No worry, just swim your best
Swim for Hope is an annual event, we can swim as many laps as possible (and comfortable) within two hours. The objective is to do our little bit for charity.
Experience
Two lanes each (to and fro) for different strokes, no butterfly and backstroke. Two swimmers per lane can be a bit tight, I was constantly worried that I would kick someone, or whether I am blocking anyone.
I still do not know whether slow swimmers should keep left or right. Apologies to the 50 swimmers whom I blocked on Saturday, would appreciate if someone can share some tips about swim discipline with me.
Freestyle strokes are more aggressive awesome due to speed and stride, we might not recommend young kids to go to this lane. The experienced swimmers were rushing the kiddos, a lot of PRESSURE haha.
There is a special parent-child lane for family, but our girl wanted to swim with her brothers.
Doing Good
At the end of very 50m lap, you get a rubber band. We heard regular swimmers can easily clocked 80 laps, but we got less lofty ambitions.
Four Safra pools (Toa Payoh, Yishun, Tampines and Jurong), the laps are accumulated over three days from 12 to 14 Oct 2018.

We are all swimming for charity, the more laps we clock, the more we donate 🙂
Thanks to coach Kian Hoe, our kids are now confident swimmers.
They all started as water babies from Bubbles N Splashes (blog post).
I am trying to encourage our kids to enjoy an active lifestyle.
Swimming helps them to relax, especially during exam periods.
During the weekly swim lessons, kids just need to enjoy their swim and forget about everything else.
Safra Swim For Hope offers 2 in 1 objective for us.
Enjoy our Swim and Contribute to charity at the same time 🙂
Remember to have Fun
Although every swim slot is two hours, swimmers can rest anytime.
We can replenish lost fluids and calories with isotonic drinks and banana too.
Some feedback from the kids:
-Wei enjoys swimming with a big group, swimming alone is boring
-Kang is happy that our efforts can help with charity
-Yee enjoys the slow relaxing laps, swim lessons are more tiring :p
-Xin is just happy to tag along and swim with siblings, bananas are a treat
Perfect weather, sky had threatened to pour over the weekend but we managed to swim under a cool weather.
We did not swim the entire two hours, we only lasted for 90 minutes. Perhaps kids endurance or concentration lacking, they keep finding excuse to leave the pool for rest and banana :p
Number 1 rule for first timers, swim at your own relax pace. No need to rush nor aim for personal best.
Motivation
Everyone is tired, but if I can swim extra laps, kids got no excuse not to step up.
They are all stronger swimmers than me!
I lost count of the laps after the fifth U-turn, I just concentrated on completing each lap.
Swimming  with many others help us to relax, we are all in the pool for charity.
Different medals from different Safra pools, some folks actually pool-hop to score more finisher medals 🙂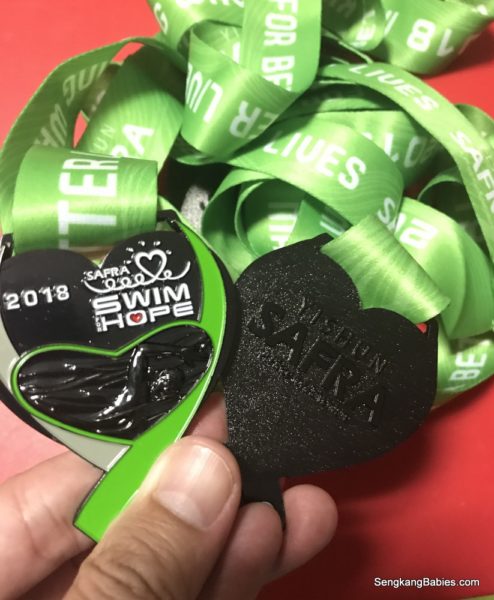 Photo below, our 2 hour slot at Yishun lap-count is additional 2475 laps.
We hope we have contributed a little to the total,  SengkangBabies laps tally is 180.
-Andy 38
-Wei 40
-Kang 32
-Yee 40
-Xin 30
Based on our first swim experience, 50 laps target is attainable for 2019 🙂
Swim for Hope was a meaningful and fun event for us, and we will definitely sign up for future editions .
We are not expert swimmers, but if we can do it, we hope more families and friends can join too.
Follow Safra Swim For Hope www.safra.sg/s4h and Fanpage for more activities. (Email swim4hope@safra.sg)
We are promoting more active lifestyles for families, do follow our Cycling, Hiking and Running posts too.
Ps. Our family was invited to Safra Swim For Hope event