Bak Kut Teh in Johor, think collagen not cholesterol :p

On our recent trip to Desaru and Johor (Waterfall, Go Kart, and Crocodile), our family Mummy and Daddy got a craving for Bak Kut Teh in Johor (肉骨茶).
There are many famous Bak Kut Teh in Johor, we pick two from Johor Kaki's recommendation. Just add white rice and yummy fritters (油条).

Name: Hwa Mei (华美肉骨茶 )
(10min walk from CIQ building. This spot is not easy to find if you drive, narrow road and lack of carpark space)
GPS – n01.46085 e103.76756
Rating : 4.25/5
Generally, Malaysia's Bak Ku Teh are more herbal then pepperish. Our kids are more accustomed to pepperish broth, as they might not like the "Chinese medicine" smell of herbal broth.
We love the tender and succulent meat at Hwa Mei but the highlight must be the Pig Trotter! So juicy and soft it just melts in our mouth.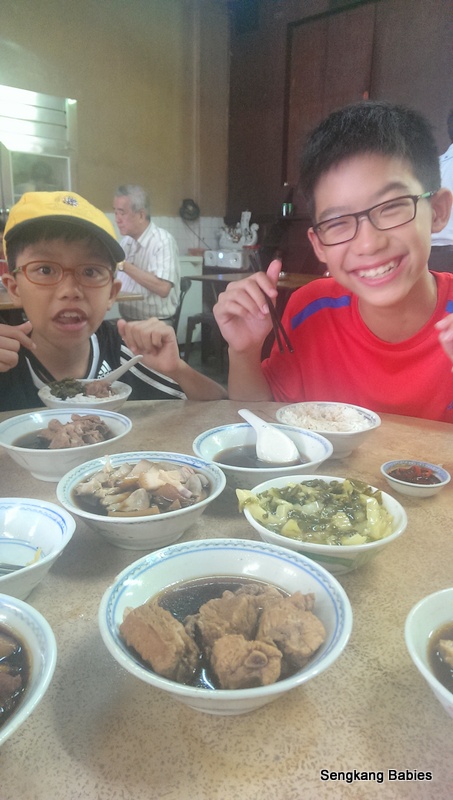 Surprisingly, kids finish every last drop of goodness at Hwa Mei. It must be the rain and cold weather, everyone order additional rice and of course more refill of the tasty broth.
Hwa Mei is now our No1 Bak Kut Teh restaurant in Johor!

We pop by Ah Soon on another day.

Name: Ah Soon (亚顺肉骨茶), near to Taman Sentosa The Store
GPS – n01.48872,e103.76746
Rating : 3/5

It gave us the impression that all Johor Bak Kut Teh stalls are popular, always crowded! In fact, most Bak Kut Teh stalls would be packed during lunch hours.

Side dish, Mei2 Cai4 (梅菜) and small chili, both are compulsory for Bak Ku Teh fans.

Stewed goodness, but we found the meat too tough. The standard is about similar to Soon Soon Heng (顺顺兴肉骨茶) opposite KSL.

We ordered a dry Bak Kut Teh chicken too as we noticed it is popular with diners . Definitely more flavourable than the souped version.

If you are still hungry, there is a 我來也 (Wo Lai Yeh bak kwa) opposite the STORE.
(GPS n01.49299 e103.76929).

The quality used to be good (maybe a decade ago), but it was too oily this round. We could not find "charred" crispy corners. We had to ovened it one more time before it taste nice. Do order the Char1 Siew1 Soh1 (叉燒酥) instead.
We still hope 我來也 standard has not dropped so much.

Tips for Johor Food Trail :
– get your Bak Kut Teh list from Johor Kaki
– follow our Food Trail in JB (Johor)
– remember Bak Kwa is contraband and cannot smuggle into Singapore ok 🙂
=== === ===
Do pop by our recent Desaru JB itinerary :
– Kota Tinggi's Waterfall
– Mario Kart, Go Karting at Permas Jaya
– Crocodile Farm (up to 170 years old!)
– Best Bak Kut Teh in JB
– Sungei Rengit Seafood
ps.. Follow our Instagram tag #SengkangBabiesJohor for more JB adventures