We got a Build-your-own cake from Cake Delivery Singapore.
Had always been curious about those cakes with different slices of flavour. Just mix and match, there is always something for someone.
Just like buffet 🙂
Rainbow cake for Boon Xin. Rainbows always put a smile on our faces, especially the younger kids.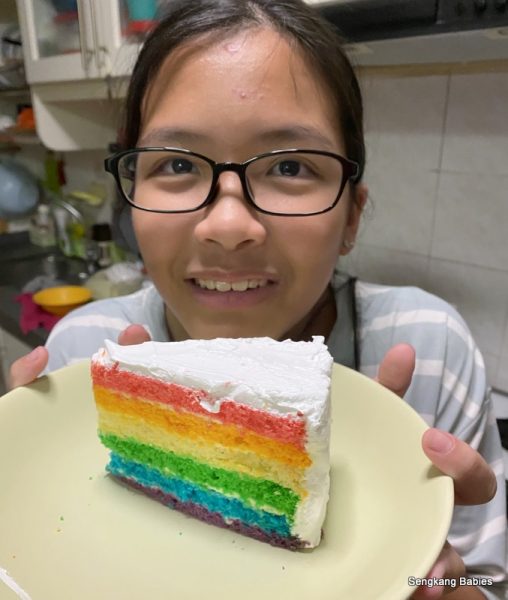 Our combination of cakes, chocolate galore!
Among all the slices, the one below is the BEST! Mao Shan Wang! It might not score high on the Looks segment, but it got a Distinction in the Taste segment!
I could not imagine durian chocolate combination, but Cake Delivery convinced me that the taste would be unique. Moist, yet we can taste distinct chocolate and durian aroma.
Do not try Mao Shang Wang first, otherwise all other flavours will taste "bland" :p
I cannot resist Chocolate cakes.
This is how you can order your own cake from Cake Delivery Singapore portal , 7×24!
Pick the occasion, or simply shortlist by cake flavours.
Although ordering can be done 24 hours, but standard delivery time is between 9am to 10pm (free delivery for orders above $80).
Any other delivery timing would be subjected to extra fees, T&C in their website.
Cakes galore, we chose a Build-Your-Own cake, as we wanted to experience more taste and texture.
For a 9.5″ cake, you can choose up to 12 different flavours! Take note not all flavours might be available at time of ordering.
Good news for shoppers, there is a money-back guarantee! This would go a long way for assurance (of course there would be T&C in website)
On the website, we saw a green Ondeh Ondeh cake too! It seems exquisite, but I was worried it might be overwhelming for a whole cake.
Ready for the next birthday party, you might wish to try Building Your Own cake. In case you need some other surprises, add balloons and flowers to the package.
More details on Cake Delivery Singapore.
-Website – https://cakedelivery.sg
-Facebook –https://www.facebook.com/cakedeliverysg
-Contact: 8847 4815
ps.. Our cake is sponsored