[ Media Invite ]
You may be sipping your latte in aircon comfort, or enjoying a waffle with alfresco sea breeze. Every corner you turn, you either see Green land or Blue sky (or sea).

Now, try to imagine kids scooting around, throwing frisbee, flying kites and perhaps soccer in the 1ha open field.

Welcome to Parkland GREEN. We have already fallen in love with East Coast Park's latest lifestyle corner. Lush Greenery is all around us.

Nparks normally invites us to new Parks and Gardens, but food tasting is something new.
As part of Npark's bloggers food trail, we got to savour a new lifestyle experience with food from 8 F&B outlets and Tryouts from 2 sports shops. We even had a friendly Laser Tag session to burn off the calories.
Full Pint Brewery was not yet operational during our visit, and we did not mind, because we were already FULL after half of the F&B outlets!
Let us share our Gastronomical feast with you 🙂


(image credit Nparks)
Coffee Art from Atmosphere Bistro brightens our day instantly.

The aromatic coffee beans are working their charm. Hello Stitch, where is Lilo 🙂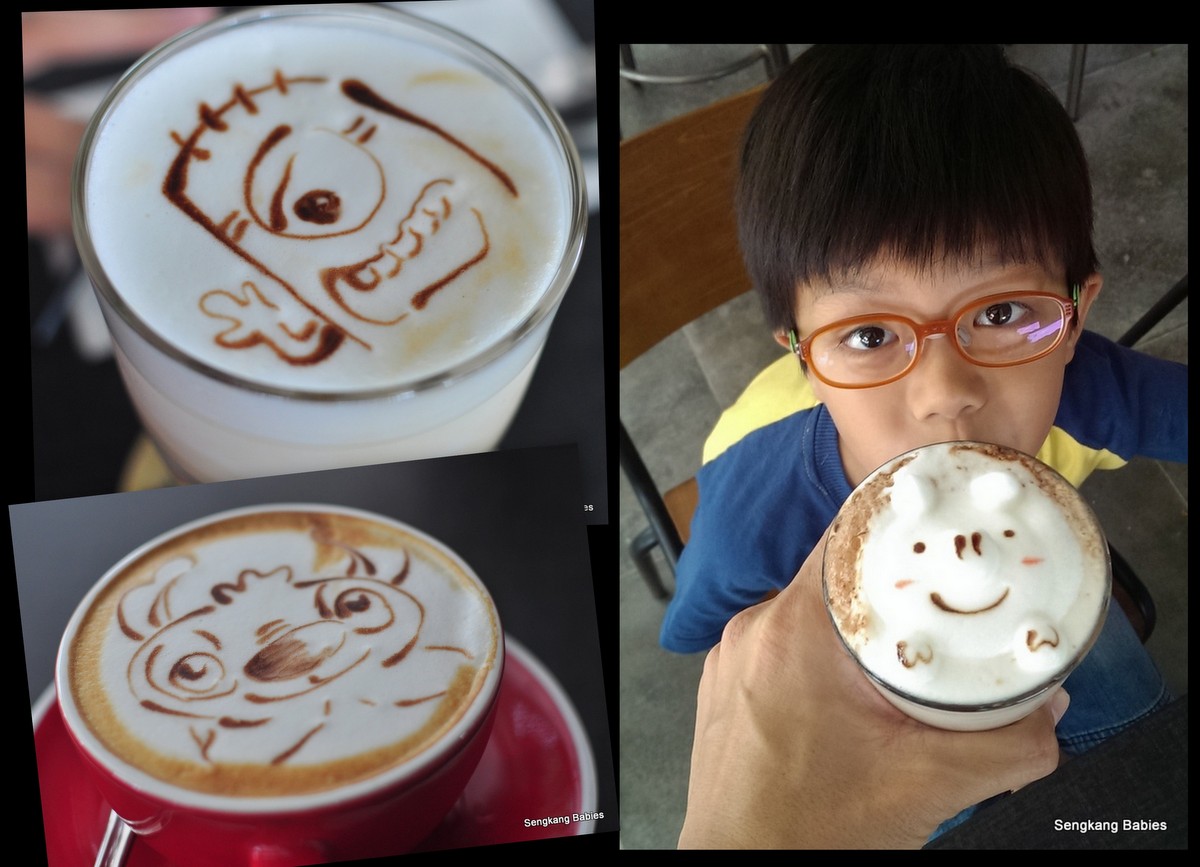 Burgers and ribs. We found the ribs a bit tough.

Atmosphere's Chocolate Lava Cake is our kids' favourite.

Love Sandbank's logo and concept, "Eat, Drink, Plunge"!

There will be a real 15m pool for customers to dip 🙂

Succulent baby back ribs, charcoal grilled cola marinated chicken wings and Sandbank's signature Hawaiian pizza (slightly spicy but delicious)

Patro's serve fusion North Indian and Mexican cuisine. You might notice a Sports theme for Parkland Green, with most F&B outlets showcasing Sports on their TV channel.

Chicken Fajitas and Kebab Tashtari, Daddy love the fragrant roasted Chicken Tikka.

Two sports shops Hvper Sport and Pro Cycle can be found at Parkland Green.

We love the try-outs concept. You can pick up skateboards, roller blades, and maybe even bikes to trial before purchase. Needless to say, the kids quickly turn these two Sports shops into their playground!

You might wish to consider Parkland Green as your pit-stop while cycling and scooting along East Coast Park. The interesting "Road Safety Park" is a mere 10 minutes walk away.

Weather is hot, we always enjoy Starbucks's special cold brew. Toffee Nut Latte or Peppermint Mocha anyone?

Kids prefer chocolate chip peppermint cheesecake and Christmas Tree Danish 🙂

Saint Marc has a new "Bar & Bakery" at Parkland Green too, Choco Cro (chocolate croissant) fans rejoice!

We all love St Marc's splendid spaghetti Carbonara. Slightly salty, and we could not stop after the first bite! We recommend you end your St Marc experience with Little Fuji (vanilla on croissant base).

Pick me up Cafe offering yogurt gelato. Indulge in healthy desserts 🙂

Brunch anyone? Smoked Salmon on miso waffles and their signature Manuka waffles (Chef Waffles).

A new concept, Killiney and Cheers are co-tenants. For those camping or enjoying a day out on the beach, Cheers will be convenient for basic necessities.

Killiney's Mee Siam and Mee Rebus need no introduction. A pity we could not finish most of the food as this is our 7th and final Food outlet (phew!)

From the first F&B outlet, every parent kept hearing "Can we go Laser Tag now?"

In fact, Daddy was already 90% sold when the media invite listed "Laser Tag" in itinerary. Finally, kids got a chance to snipe their parents at Tag Team 🙂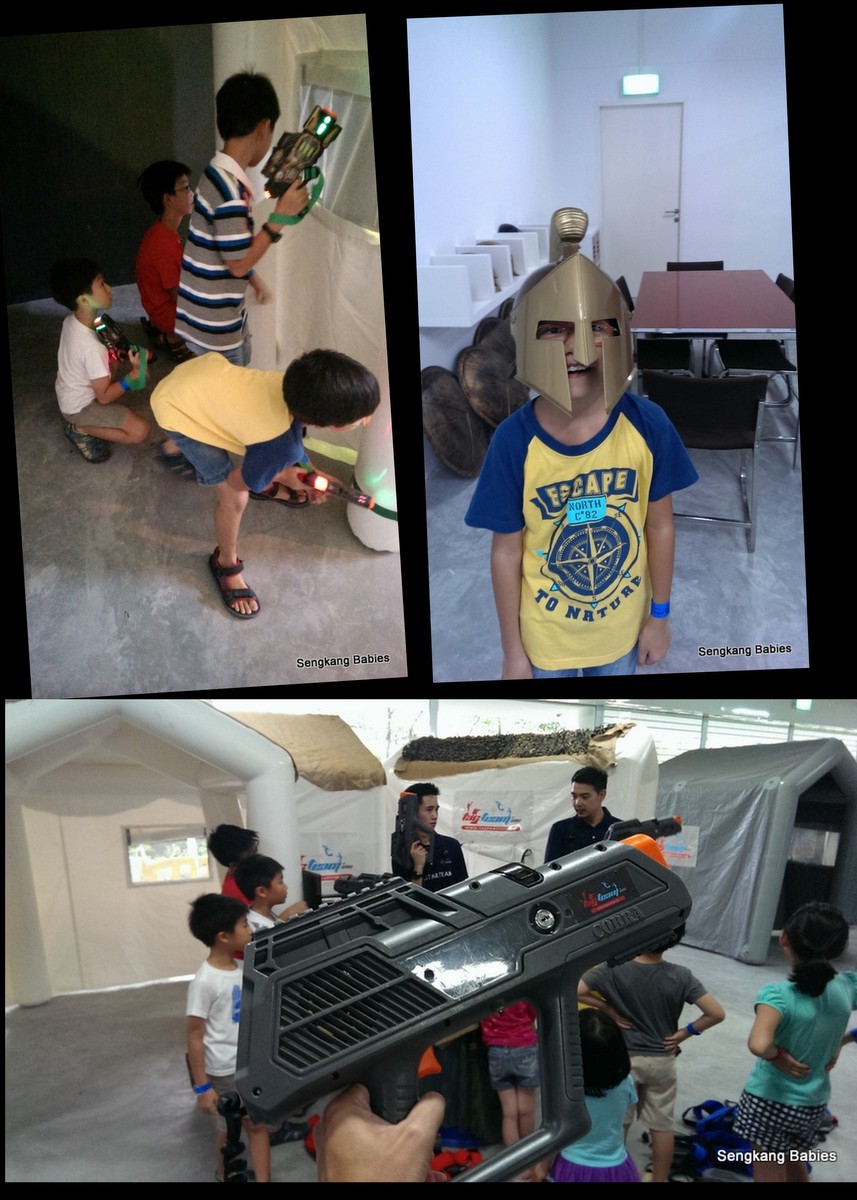 Video : Action pack Laser Tagging!

Parkland Green's address is 920 East Coast Parkway (Singapore 449875) (Area C). It is served by bus 401 during the weekends. There are ample parking lots for visitors at Parkland Green. Or you can choose to walk across from Marine Parade's underpass.

We would like to thanks Nparks for the invitation, refer to the listing of F&B and Sports outlets which we visited :
~~~ ~~~ ~~~ ~~~ ~~~ ~~~
– Cheers and Killiney
– Pick me up Cafe
– Tag Team
– Bakery and Bar ST. MARC
– Pro-Cycle
– Hvper Sport
– Starbucks Coffee
– Patro's Sports Bar & Restaurant
– Atmosphere Bistro
– Sandbank
~~~ ~~~ ~~~ ~~~ ~~~ ~~~
We are confident that families will be thronging Parkland Green during the weekends and evenings. There will be one F&B concept to suit your mood, day or night. Do pop by SengkangBabies Fanpage album for more Food and Sports photos from our Parkland Green Food Trail.