We love Tim Sum. Who can resist the Siew Mai and 叉烧包 (Char Siew Bao)?
Kids love to stack the Tim Sum baskets high.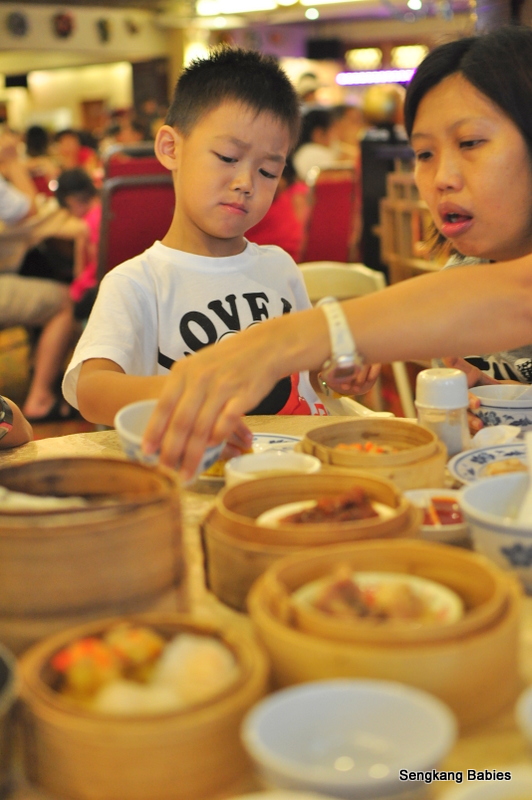 Located along Chin Swee Road, Red Star (红星) is a traditional Tim Sum restaurant and is very popular with older folks. Daddy is not sure whether this is the only old-school Tim Sum which still serves their 点心 (Tim Sum) on a trolley 🙂
Oh, remember to go early, as queues are expected over peak period.

Kids will always resist chicken feet, no matter how crispy is the skin :p

We suspect the old time staff has been with Red Star for decades 🙂
When their trolleys come near, the Aunties will announce their Tim Sum items.

Can you guess what is the kids' favourite dish? It is Yellow, round and filled with Awesome sweetness. The crust simply melts in our mouth.


Yummy Egg tarts ! We just cannot have enough.

Unless you are seated near to the kitchen, Daddy fear food would be depleted before trolley can reach your table. We will normally bring one kid along to hunt for our favourite food. Kids will find it Fun investigating every trolley 🙂

For best selling items like 叉烧包 (Char Siew Bao), you might even need to source at the kitchen entrance hehe. Otherwise, you can tell the Managers your "order".
We love the fluffy skin of the Char Siew Bao.

点心点心 , 真开心 🙂 .Tim Sum always cheer us up.

Simply Delicious.

The last dish will always be dessert, Mango Pudding (芒果布甸) or Herbal Jelly (龟苓膏 sometimes also known as Turtle Jelly)?
No prize for guessing kids choose the "sweet or bitter" dish 🙂

The pricing is reasonable, and we would recommend Red Star for three-generations families. Do pop by our Fanpage for more delicious Tim Sum photos, or visit an old 2009 Red Star post.
You can reach Red Star :
Address : 54 Chin Swee Road, #07-23, Singapore 160054
Call : 6532 5266