We love Thai food, can you imagine Tom Yum on white rice, the smell of lemongrass. Our Tom Kam ($6) was just right for us, sour but not too spicy. Intoxicating !

Recently, a new Thai restaurant has pop up in Tampines. "Soi Thai Kitchen" offers Thai street food at affordable prices. Long queues can be expected over meal times.

Our coke came in old school coke bottle. Do you feel authentic already :p
Mummy and Daddy order their refreshing Lemongrass drink.

Kids will love the prawn cake ($8). We order two portions to satisfy everyone. Crunchy crust with a generous portion of prawn meat.

Furong egg, Thai style ($8). "Soi Thai" pack a lot of mince meat into this egg dish, to the delight of our kids.

Someone recommended their Claypot Prawn noodle ($14) to us. It is actually tang-hoon (vermicelli). We did not like this dish, maybe it is the vegetable (some herbal smell) or maybe we felt the tang-hoon is too stiff.

We ordered pineapple rice ($10) but it came too late, after we have almost finish our side dishes. We did not find the pineapple rice fantastic. On hindsight, we should have ordered plain rice instead to go with our Tom Yam.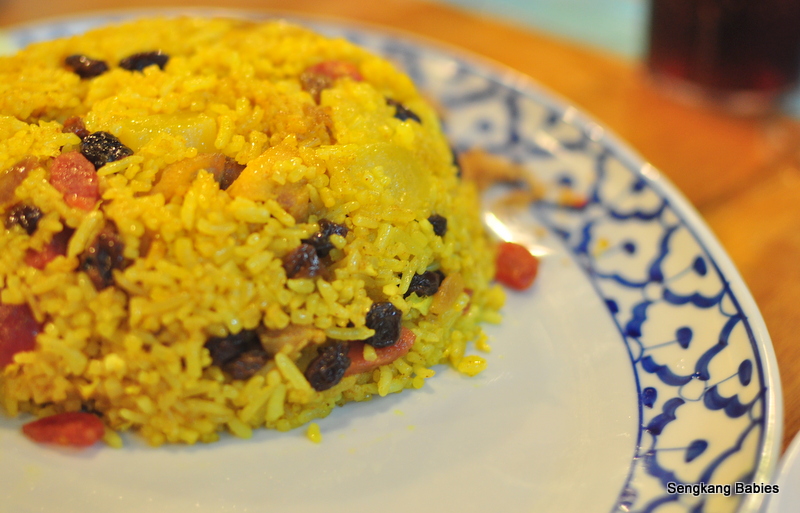 We like the layback relax cafe. Everyone can eat in casual wear, and the staff are generally friendly and helpful.

We just love mango and sticky rice ($5) for our dessert. Try to wrap the warm rice over the cold mango, and stuff into your mouth.

Overall, the food is ok but maybe overrated. We love their Tom Yam and Prawn cake, but we thought the price is overpriced for a neighbourhood eatery. Do expect to queue up to 20 or 30 minutes for a table.
More food photos (local or foreign) can be found on our Food album. Daddy will recommend you to pop by Derrick's review too.
Soi Thai is located at : 824 Tampines Street 81 s(520824)
Telephone : 6784 2421
**updated 2013 Jan – Singapore Laksa