[Sponsored Review]
We celebrated 奶奶 (Nai Nai)'s birthday earlier. She is very happy because she got four grandchildren to keep her busy cheerful. She is also delighted to know that we got her a Durian cake.
Not any ordinary Durian cakes, but Emicakes' signature 猫山王 (Mao Shan Wang).
You might be wondering why our "Subject" is about apologising to a Durian cake?
Well, show us a good Durian cake, and our kids will devour everything.
Emicakes' 猫山王 is simply too good to resist :p

Emicakes is famous for their Durian cakes, and when they invited SengkangBabies to review their Mother's Day collection, how could we resist their thorny Mao Shan Wang?
Emicakes' Mao Shan Wang is filled with generous fillings of the rich Durian pulp. The durian flesh is spread in between three layers of soft vanilla chiffon, topped with golden chocolate pieces. For Durian lovers, each mouthful is heavenly.

Our 猫山王 (Mao Shan Wang) in happier times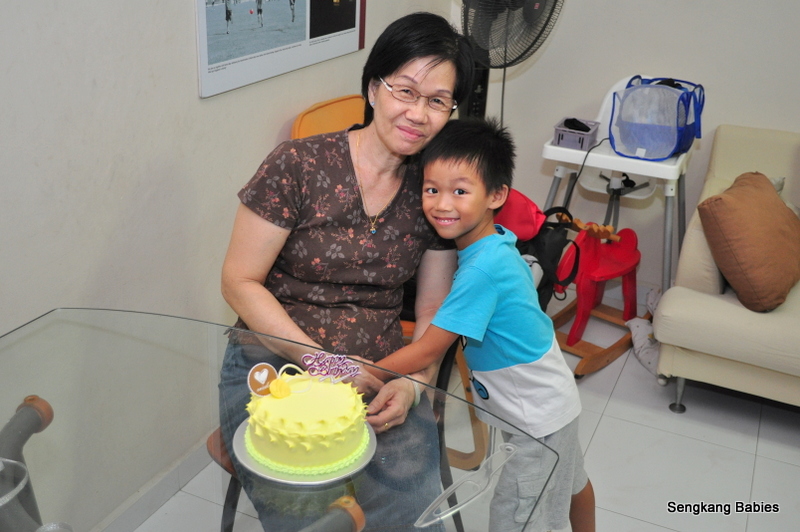 You know our kids love Cakes, maybe you also heard why parents always sacrifice their own birthday cakes 🙁
Video : Everything went like clockwork until we sang Happy Birthday.

When we turn on the light again, our Mao Shan Wang did not stand a chance, 1/4 gone !
Look at the awesome Durian fillings !

Delicious. Sumptous. Heavenly. Guilty Yummy.

Before long, Daddy noticed the cake has shrunk again. He almost forgot to snap a few more photos haha.

Mother's Day falls on 12 May, and Emicakes would like to share their special cakes to all the Mums out there.
*Say it with Love


*Pure Addiction


*Premium D24

Thank you Emicakes for your delicious cake, all of us enjoy consuming the poor 猫山王 🙂
We would like to remind our friends that Durians are banned on MRT. The aroma is simply too strong to conceal.

Now for some good news, Emicakes is sharing 2 sets of $20 vouchers with our fans 🙂
Simply :
1. LIKE SengkangBabies and Emicakes Fanpage
2. On our Fanpage, tell us which cake is Mum's favourite

3. Contest ends 12Apr 2300 (Winners randomly picked)
=== === === ===
More Promotions from Emicakes
Emicakes Family Card and selected credit card holders enjoy 15% discount to Say It With Love Mother's Day Cake Design (20-25cm only), and 20% discount to our New and Limited Edition Designs (15-20cm only) for delivery and self-collection on 19 April – 09 May 2013.
10% discount to all Mother's Day featured cakes for self-collection on 10 – 12 May 2013.
=== === === ===
More details are available from Emicakes Website and Fanpage.