[ Sponsored ]
Steam Box dining (蒸好食), love the Chinese name (which rhymes like 真好吃 ). No claypot, nor steamboat but Steam Box.
Steam Box's "steam-potting" is a new concept in Singapore, and this is a trend from Hong Kong. The food are freshly steamed not boiled, and there is a pot of porridge below where all the essence (sauce) dripped into.
Kids busy eating, take note of the different colour plates, which indicate different "steaming" duration.

Order anything, everything. We heard the Eight Treasures porridge is popular, but we chose a safer option (less herbal) for the kids, seafood porridge. Dim sums are available too.

If in doubt, follow Chef's recommendation.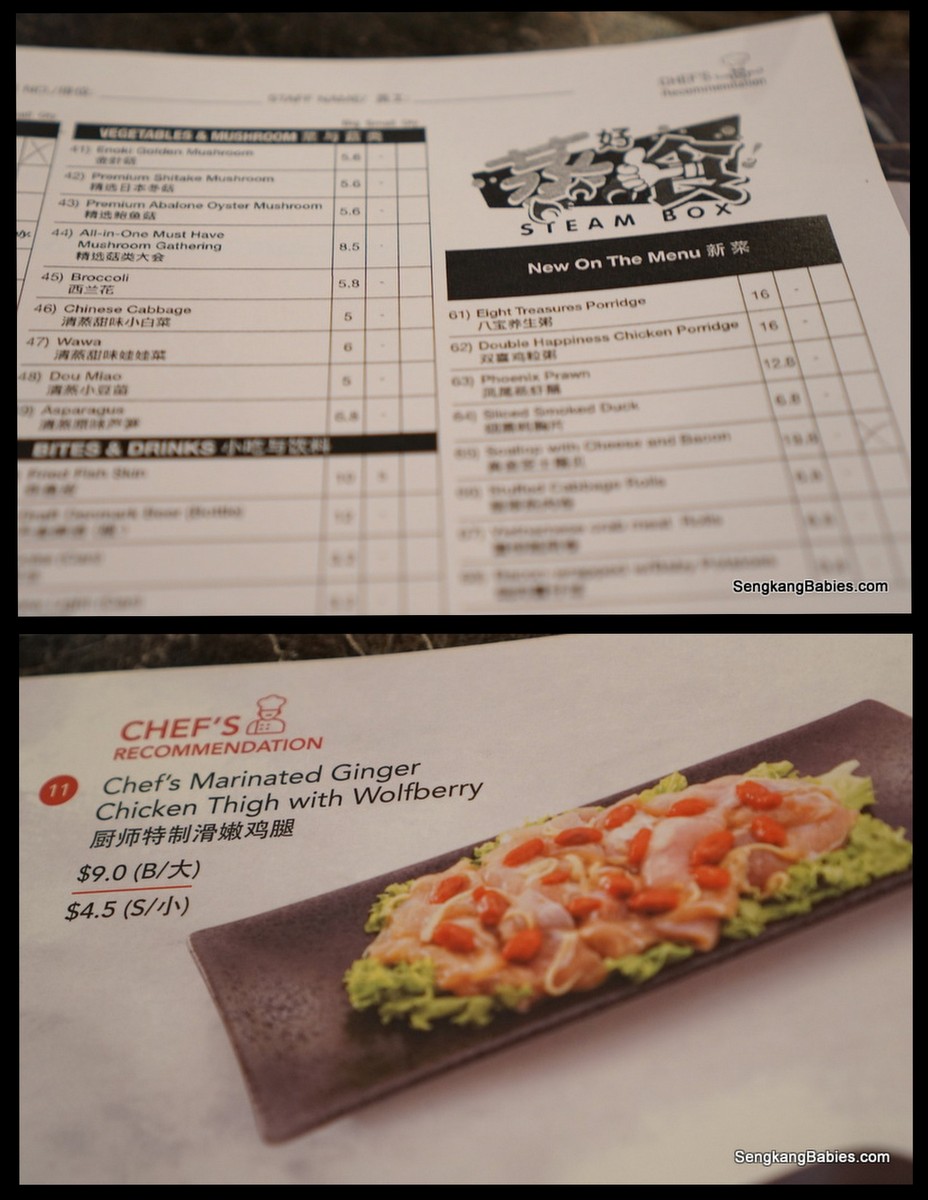 Steam duration, go by the colour plates (refer first photo), set the timer. We were not sure how we should start first, but after one or two rounds, the kids took over the food steaming and ordering.

Before we forget, condiments and seasoning to suit every taste bud, unlimited serving 🙂

Endless activities, kids take turn to place the food inside the tray.

Sometimes we argue over what to cook first, a fun family cooking (I meant steaming) experience.

Every time the "timer" counts down, we would eagerly lift the lid for more delicious treats. The bacon is delightful, sweet and tender not greasy at all.

Because all the food are steamed, it is less oily and suitable for everyone in the family. We would strongly recommend the fresh seafood.
Juicy prawns are ready, guess who peeled for the lucky kids!

Mushrooms for the adults, yummy!

Steam Box venue is spacious and we were quite surprised that the steam did not stick to us. There is an overhead fan extracting excess steam.

Tuck in everyone, we love everything on our table 🙂

Where did all the essence go?

Video (Youtube link) : Check out the goodness under the lid 🙂

Our seafood porridge has been brewing slowly, richness from seafood, bacon harvested.

We enjoyed our sweet porridge and lunch 🙂
Thank you Steam Box for the Fun and Healthy dining.

Healthy food option, reasonable pricing and friendly staff, we can understand why Steam Box is popular with families.
For more Steam box dining options, do follow them on Facebook and Instagram for the latest updates.
Phone : 6281 6939
Address : 68 Serangoon Garden Way, Singapore 555962