[ Media Invite ]
Family friendly restaurants are always welcome, we pop by Sunrise Bistro & Bar (Sunrise) for our brunch recently.
Any restaurant with a bouncing castle will always be popular with kids, the challenge is making them sit still and finish their meals first 🙂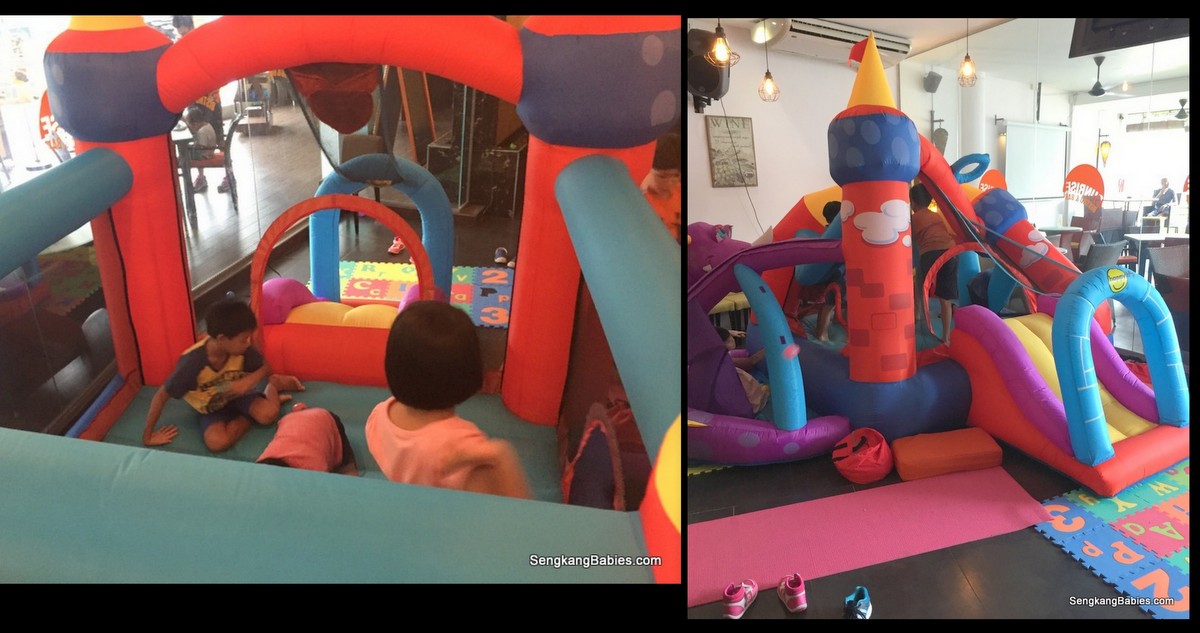 At Sunrise Bistro & Bar, kids can look forward to diy Muffins decoration on weekends and school holidays. Unlimited M&M for appetizer 🙂

Kids are always welcomed at this restaurant, we heard pets too (outdoor seating).

Kids' main course are priced at $15 each, inclusive dessert and drink.
The Mini beef burger is a bit too tough for the kids to chew. But they did not mind the generous melted cheese.

Fish and Chips fillet fried to a crisp, not too oily. If our kids love it, we believe your kids will too 🙂

Siblings enjoying their food.

We heard Chef Vincent's Seared Foie Gras is recommended, but we opted for something less "exotic".
While the adults feast, we can keep an eye on the kids having fun at the bouncing castle.

Indulgent Egg Benedict for myself, I just cannot resist runny egg for breakfast, plus point for the crispy bacon 🙂

Talking about indulgence, nothing quite beats Sunrise Bistro's Salted Egg Yolk Custard Molten Chocolate Cake! Slice it open and see salted egg goodness flows out 🙂
The pairing with vanilla ice cream is quite refreshing (the town is crazy about all things salted egg recently haha)

If you are looking for kids friendly F&B restaurant with delectable and affordable menu, head down to east Coast.
More details about Sunrise Bistro & Bar (Sunrise) :
– Address : 902 East Coast Parkway, #01-05 Big Splash Blk B Singapore 449874
– Facebook and Website link