Queenstown Heritage Trail was an eye opener for many of us.
MRT stations Redhill, Queenstown and Commonwealth greet us everytime our train exit from Outram's tunnel. Queenstown is not new to me, but I understand little about its history.
When Li Yong from Queenstown Heritage extended an invitation to tour his neighbourhood, it was an offer I could not reject. Besides, we heard Tanglin Halt will be redeveloped soon.
The first MRT stations in Singapore were mostly overhead, offering passengers a glimpse into the neighbourhood and communities.
Queenstown (女皇镇) was popular with Poly students (bowling), during my working days (Char Kway Teow at Margaret Drive) and its upmarket condominiums are attracting people back to this mature estate.

Our trail's starting point was at Queenstown MRT, and we quickly realised how much has changed. We face the decommissioned (1) driving centre, Queensway Cinema has already been torn down.

Queensway Cinema's Dhoby Surround system was a BIG thing in those days (before THX, DTS and what have you)
With the boarding and cranes all around, it suddenly dawns on us, things are moving fast in Queensway, and in Singapore.

"My Heritage Trail at Queenstown" will last 2 hours, and along the way, we heard a number of Firsts for Queenstown!
– first pool and sports complex
– first HDB flats( 7 and 10 storeys)
– first Public branch library
– first neighbourhood shopping centre
Why is the town call Queenstown? Li Yong explained to us that it was named after England's Queen Elizabeth II. Ironically, she visited Toa Payoh town in 1972, and not Queenstown 🙂
(Queenstown Myth buster)
What makes our Heritage trail interesting is the nuggets of stories, and first hand account by Queenstown's own residents. Every piece of heritage, be it stories and hearsay (even myths) pass on from generation to generation, it adds richness and depth to Queenstown's heritage.
Refer to map below, there are 5 trails to cover Queenstown (Princess, Duchess, Mei Ling and Alexandra, Wessex and Tanglin Halt, and Commonwealth).
** Refer to map below for Queenstown icons' numbers
Let us start with a Coffin (what!)
Yes, (12) Commonwealth Avenue Wet Market was the coffin shaped (棺材) market, and it was a landmark in Queenstown during its living days (pun intended).
Some residents find this venue bad luck, maybe superstitious?

(10) Queenstown Public Library was the first branch Library in Singapore. As we tour its history, we understand mobile library was setup in void decks last time. And children could celebrate their birthdays in library then!
Love the exterior "bow-tie" design, and we are glad that Queenstown Library has been earmarked for conservation.

Then and now, memories shared.

We spotted old library cards and appreciative letters penned by library's fans.
Did you know that Queensway Public Library was only air-conditioned in the 70s.
Fast forward to 21st century, air conditioning is now a granted in Singapore.

Modern and spacious interior.

Love the mosaic wall and old style lift!
Video : We took the lift just for Fun!

Next to the Library is a dormitory for foreign workers. It used to be (11) Queenstown Polyclinic, offering residents easy access to healthcare and dental care.
These two Churches (The Fisherman of Christ Fellowship, Church of our Saviour) used to be cinemas! We might be asking why Queenstown (or other mature estates like Ang Mo Kio and Bedok) need to cluster the cinemas together 🙂
.. and Sengkang still has no cinema after 10 years…

(13) Venus and Golden City Theatres ceased operation in 1985. There was a fountain between them too.
We cross the road, walk under the MRT track, and into Stirling road.

Mr Mahmood recounts his childhood tales with us. His Stirling road unit was only $15k in the 60s! You got to hear him share his story about the circus and elephant.

(16) HDB's first blocks were also constructed here in Stirling road. Count the number of floors, and you will understand why the residents call it Qik Lao (Hokkien for 七楼, 7 storey)

(14) Mujahidin Mosque's golden dome looks especially majestic in the evening.

Short break at Queenstown Community Centre, which has a resident Cantonese Opera troupe. We visited their Chingay preparation in 2012.

We took this overhead bridge into Tanglin Halt.
The "Halt" in this estate's name means "STOP" for the trains.
Train spotting used to be available for the residents until 2013 July, KTM has since moved their terminal from Tanjong Pagar to Woodland.
Tanglin Halt's flats are 10 storeys, hence 十楼 (Hokkien Chap Lao).

The media group queuing up for Barber and Saloon service at Block 39. We even spotted a MP's clinic (hint Dr Neo).

"High Class" Jali Jali's barber shop is a museum by itself. So many old school artifacts don Encik's shop.

Auntie Alice and Shirley share their growing up years in Tanglin Halt. Tanglin Halt is a very friendly neighbourhood, where everyone is always ready to help (亲裁感).
Auntie Alice shared how first time flat dwellers are paranoid about the "taller" flats, and she did not want to go near the windows initially.
(31) Church of the Blessed Sacrament with her iconic folding-roof design.
Sri Muneeswaran Temple which first started as a shrine for Malayan Railway employees.
Only in Singapore, can you find different religions practicing side by side in harmony.

We noticed a lot of shades and greens around this area.

Enjoying our relaxing walk through Commonwealth Green Park.

Old estate, but colourful facade on the flats.

(29) Malayan Railway used to run through this neighbourhood. Li Yong shared how kids used to throw stones at the trains, we wonder how residents got used to the train's loud rumblings. (Read about our KTM Heritage tour along Bukit Timah, and JB trip)
Since 2013, this "Green Corridor" is now a favourite track for families.

(30) Three storey buidings from SIT (Singapore Improvement Trust), some of them were constructed between 1961 and 1964. I love the bungalow feel, and the generous amount of window space reflects their surrounding landscape and fauna.
The greys provide a huge contrast to the colourful HDB blocks behind.

(32) Old Tanglin Halt Neighbouhood Centre, old provision shops. The proprietors have been in business from 40 to 50 years, imagine their collective memories of Queenstown!
Thin Huat's bosses have even appeared on Channel U's 100% Singapore (百分百新加坡 Episode 1, Chapter 2, at 8min) programme. Our family is in Chapter 7 on old-playgrounds, Heritage too :p

New and Old development.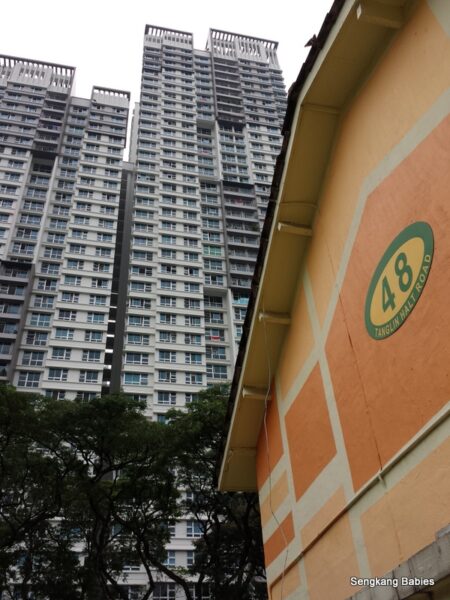 I ended my Queenstown Heritage Trail with Nasi Bryani lunch (Block 49). Take note meals are not part of the Heritage tour, but there are a lot of "famous" food inside the hawker centre.
Looking at the map again, I doubt we have even covered one third of what Queenstown has to offer!


(image credit My Queenstown Heritage Trail brochure)
There are more to explore:
– Hakka cemetery
– Ridout Tea Garden (McDonald)
– There is a VIP block 81
– Queenstown Remand Prison
– Alexandra Hospital
– Hock Lee bus riots
– Queensway shopping centre – shoes and jerseys
More details and stories about Queenstown :
– My Queenstown Blog (very informative, just like history lesson!)
– Queenstown.org.sg website
– Engage Queenstown on their Fanpage
– Find out which other buildings in Queenstown are conserved by URA
~~~ ~~~ ~~~ ~~~ ~~~ ~~~
"My Queenstown Heritage trail" is available on the last Sun of every Month, and FREE.
No wonder most are fully booked 🙂
– Full listing (five Trails) with map is here
– Book online
– email
– Call 9176 9891 or Queenstown Community Centre at 64741681
– Grab a copy of "My Queenstown Heritage Trail" brochure (available at CC), and know more about Queenstown
– Trails might be more suitable for kids above 5, as it involves a lot of walking
* other Singapore Heritage trails can be found at NHB's link.
Glad to catch up with James too, his blog has a lot to share about Singapore's heritage. Do pop by Pei Yun's review of Queenstown trail too, she has listed all the bloggers' links.

We embarked on a 2 hour trail of Queenstown estate. The walk brought us back 60 years in time! This would not have been possible without Queenstown Heritage team's passion and dedication.
Thank You Team, I really appreciate your time and commitment to document Singapore's history! You have even updated Margaret Drive's famous food stalls' new location YEAH!
The next time we commute on the train, look out of Commonwealth and Queenstown stations. Singapore's first satelite town is constantly evolving. Pop by our SengkangBabies album for more sights, sounds and smell from Queenstown.
** disclaimer. Remuneration was received to cover our time and expense