Recently, we hop onto a 2D1N Kukup family trip. The Kukup 龟咯 itinerary is simply eat-relax-eat trip 🙂
Strangely, we are more familiar with Malaysia East coast (Desaru itinerary), compared to the South-West. This is our virgin Kukup exploration.
Instagram post below, swipe left for the photos.
Kukup road trip is only 60km from Tuas, head towards Kukup Jetty direction (GPS 1.324911, 103.441122). Road signs will initially point towards Pontian and Kukup.
If you do not have time to read finish this post, jump to our photos on  SengkangBabies Fanpage.
Referring to Google Map below, some landmarks for your orientation.
01 Legoland
02 Pekan Nanas (GPS 1.508333, 103.509444). A small town, with food and souvenirs, I suspect this is the last main town before we reach Kukup or Pontian. Those who hike Gunung Pulai (point 03) will likely settle their meals here.
05 Kukup town
04 is Pontian, but if you are heading to Kukup, you will likely detour after Pekan Nanas and drive South West on service road
* Take note this service road is very bumpy, no pot holes. If it rains, expect flooding
06 is our chalet " 爱自由度假屋 Love Freedom", (GPS 1.321389, 103.443889)
As we wait for our ferry, we noticed the water is dirty.  There goes our swimming plans.
Visitors can either walk 15 to 25min to their chalet or take a ferry. Our stay package is inclusive of ferry ride.  Most chalet staffs will meetup and pickup your luggage here. They will deliver your luggage via motorbikes.
Kukup is a small fishing village.
You will see kelongs and houses on stilts along the coast. There are many chalets in Kukup. Can you spot the mangrove nature reserve?
Spotted some police fast crafts, our neighbourhood is safe 🙂
Arrived, walk along the planks to our chalet.
Our Kulup chalet package is Sgd $95 and Sgd $80 per adult/child  respectively, per night. This is inclusive of accommodation, meals, facilities and ferry (from Kukup Jetty).
Read on and tell us whether the "buffet-like" meals and activities are worth it 🙂
Our rooms are spacious, kids are always happy with bunk beds. Take note chalets are not known for solid sound-proofing, so choose a room further away from Karaoke room if possible (or find travel kakis who can really sing well).
We did noticed most Kukup chalets will let shower water flush straight down, this is sad as you can imagine all the chemicals flowing into the river system.  (fortunately WC matters have a drainage system)
Feature wall, freedom 🙂
During low tide, spot the crabs and mud skippers dance. There are also a lot of rubbish floating in with the tide. We did not encounter a lot of mosquitoes.
The endless food and feasting will let you remember Kukup for a long time. Forget about seafood restaurants near the town centre, our chalet home-cooked food are delicious, with unlimited toppings 🙂
What can you do at Kukup chalet? Mahjong, singing, cycling and exploring the small town area.
Or massage, RM60 for 60min. I would recommend choosing a female masseur. The guy attending to me use brute  strength not-technique and it was an excruciating experience.
Kids enjoyed their electronic addiction and we found a basketball court too (so many kids joined in the game)
After our lunch, we took a leisurely stroll and ended near the jetty area again. This is the town center.
More snacks souvenirs and desserts and bubble tea awaits.
Photo below, is the entrance to another Kukup cluster of chalets.
Some recommended food in Kukup, jelly and coconut, both provide cool respite from the heat.
It can be hot during the afternoon. Look out for zipping bikes and motorbikes along the pathway, they are skillful and fast (maybe too fast ).
Some walkways are narrow, we did not chose cycling as I was worried that kids might be bumped off the walkway onto the muddy sandbank :p
You will see a few seafood restaurants, but Marrybrown is the only fast food restaurant. We did highlight earlier that our chalet's meals are similar if not better than the restaurants' 🙂
There are at least two carparks at the town area. You will see them before reaching the Jetty.
Ice cream, pancake, more snacks.
Tea break at chalet, the prawn cracker is famous and have another bowl of cheng-teng.

Did I mention you will enjoy 5 to 6 meals a day at chalet!
As the sun sets, you will get a glorious orange view from some corners of Kukup.
Then Glorious dinner again and BBQ!   Fortunately, we are only staying 2D1N, otherwise sure put on weight 🙂
Every Kukup family trip should be like this, what a sumptuous spread!
Satay and chicken wings, the stingray is delicious too.
The best dish for me, 扣肉 kong4 bak3, succulent soft and goes well with the mei2 cai.
Fireworks or 孔明灯 (Kong3 ming2) lanterns anyone? Fees applies but these are very affordable to bring on smiles for everyone.
Yup, you cannot do these stuffs in Singapore 🙂
Our fireworks are more like sparklers, the neighbouring chalet released some LOUD real fireworks, but they cost almost RM200 ! (someone please confirm the price).
Kids still had fun with their mini sparklers 🙂
Chalet is expanding.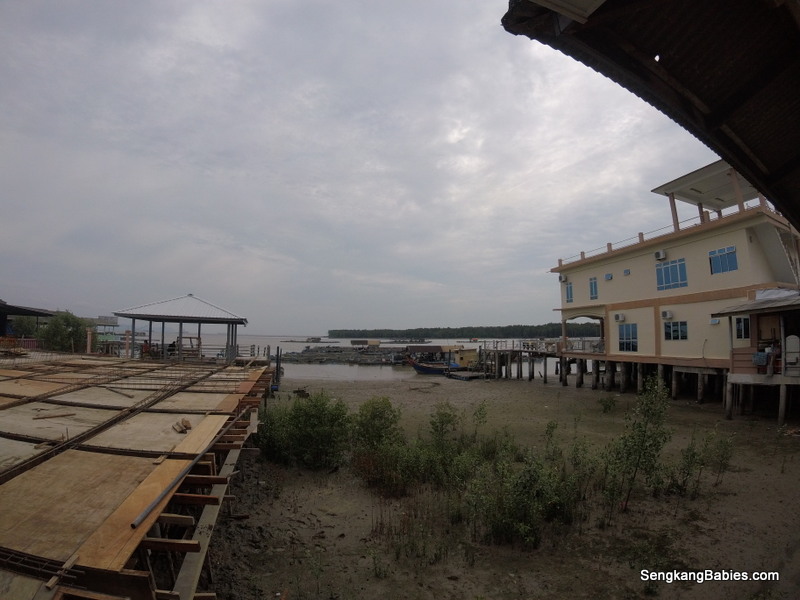 Breakfast, local variety with noodle or porridge. The oneh oneh (coconut) and soon kueh is good.
Final item on our Kukup family trip itinerary is a trip to the kelong. We heard archer fishes performances are available. I had assumed these fishes are only found in inland fresh water.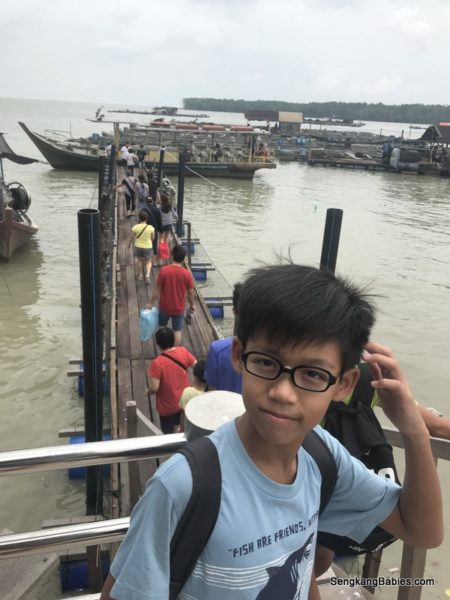 Horseshoe crabs for photo opportunity.
We could only stay a while as the clouds turn dark quickly.
Our groups, with 大舅 and family.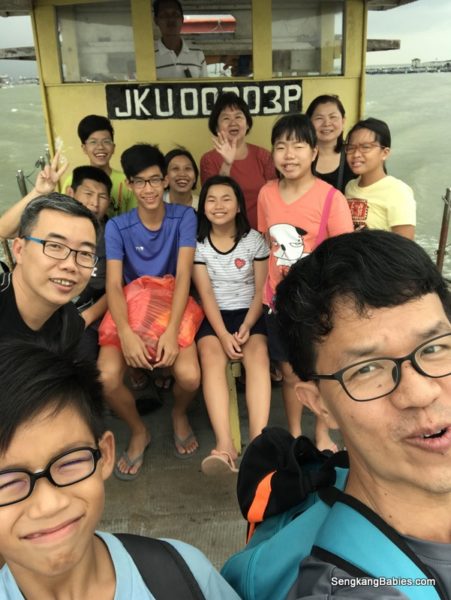 We would not mind visiting Kukup again. We would prefer to drive and explore more of Kukup's neighbourhood towns, maybe even hike Gunung Pulai.
The package price of Sgd95 is really value for money, with everything in. I need to mention the endless food again (LOVE!)
Beyond the food and attractions, Love Freedom chalet and staff treat all guests like VIPs. Splendid hospitality and friendly service, thumbs up.
You can contact "爱。自由度假屋 Love Freedom Kukup Resort" on their Facebook or +60 12-752 5134
We have uploaded our Kukup family trip photos into our Fanpage album (here).
—Shoutout for Pontian 笨珍 —
If you are driving to Kukup, do pop by Pontian before you head home to Singapore. It is about 20km North of Kukup Jetty.
We might have heard of Pontian Wanton Noodles, this is the real deal 🙂
Another old town, our friend JohorKaki has some good recommendations and attractions for Pontian. Just visit http://johorkaki.blogspot.com and search for "Pontian".
-Coffee at Kheng Guan Hiong 瓊源香 (GPS 1.476322, 103.392390)
-Wanton noodle at 笨珍昭意雲吞麵 (GPS 1.490221, 103.393240)
-Sin Kee 新记云吞面 (GPS 1.482607, 103.392368)
ps.. Follow our Instagram tag #SengkangBabiesJohor for more JB adventures