Imagine a Sekinchan family trip.
Golden padi fields stretching as far as our eyes can see, all ready for harvesting.
适耕庄 Sekinchan is such a piece of abundance. Infact, 适耕庄 (Chinese name) liteally means land-suitable-for-farming, 鱼米之乡.
Sekinchan is in Selangor, 1 hour North of KL. It is about 5 hours, 440km from Singapore (estimated driving speed of 120 to 140kmh).
You know you have arrived at Malaysia's rice bowl when you spot endless fields of padi.
Our Sekinchan family trip was timed to see golden Padi fields, estimated around mid May/Jun and Nov.
We did say Harvesting right, seeing monster tractors in action were COOL!
Right photo below, the padi factory. You will also notice many high-rise buidings designed to nest swallows and their saliva (燕窝 bird nest)
Rice Factory GPS (3.520942, 101.128885)
There are tours to guide you about padi process, from planting to harvesting to packaging and buying of  by-products (photos at Google link)
The other highlight for us at Sekinchan was our accommodation. We were staying in container boxes!
Farm Ville Cafe & Homestay (GPS 3.500811, 101.111003)
Pretty innovative and abstract right, there is a small pool too!
We had more details about containers in this post, but you can see photos at Google link. (Just take note that the boxes can be hot during the afternoon, full blast the aircon)
This is view from our window, Green and yellow!
Map of Sekinchan attractions.
If you like nature, old-town, and lots of seafood, try Sekinchan. There are enough activities for families to enjoy a laid back 3D2N.
This is the famous Beach at Pantai Redang (GPS 3.502855, 101.094474).
You can swim but do not expect white sandy beaches.
At the canal entrance, you can spot fishing boats heading out to the sea.
We spotted many "tree-houses" along the coastline. This beach is popular for kites and fishing.
Next up, Dinner. There are many stalls next to the beach area. The stalls are a bit run down, do not expect food court hygiene hee hee 🙂
炸騙集团 caught our name! The shop name means "deep-fried syndicate" haha.
Our "seafood dinner" consists of fried squid, prawn (is it mantis shrimp?). Total bill was only RM40, we ordered a second plate of squid as it was good.
You will not miss this Coca Cola landmark. Folks would climb up to second floor for a better view of surrounding.
Cool refreshments are always welcome 🙂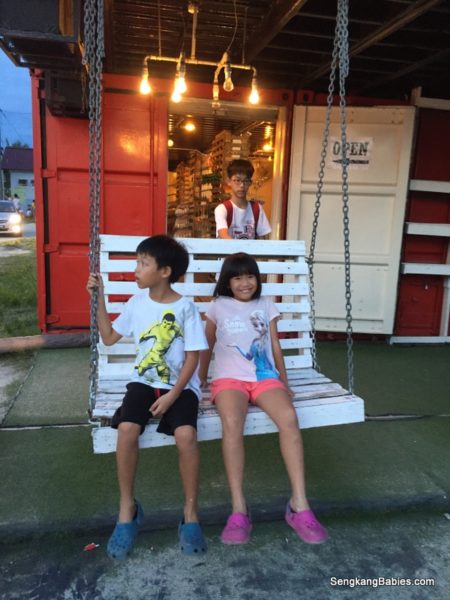 Breakfast was a 10 minutes walk for us to Sekinchan's town area.
You will find coffee shops, bike shops and a wet market. This place is very crowded in the morning.
We did pass by a popular old school coffee shop. (Kedai Kopi )
Wanton noodle seems to be popular with locals.
Bike shops all along this street (GPS 3.506692, 101.106362), prices start from RM30 to RM50 (Quad bike) for 1 hour (or is it 2?).
This padi stack (or roll) Ah Ma's house (Grandma) is popular for photo props.
阿嬷的家 The House of Ah Ma (GPS 3.50760, 101.10848)
You can find nostalgic stuffs and food, popular with souvenir hunters.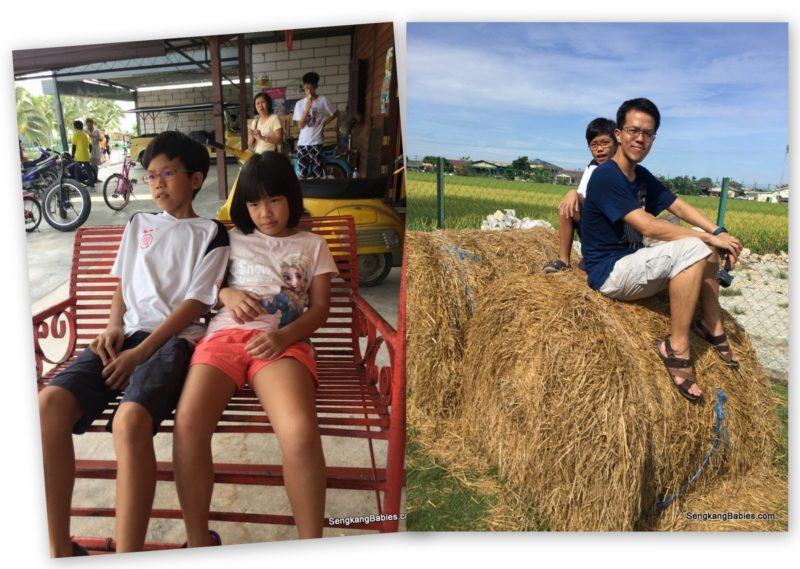 This egg crepe is their best seller. It may look plain but it is tasty.
Mango King (3.52782, 101.13948)
You will likely see tour coaches before the mango trees.
We had the sweetest mangos ever, and busloads of visitors kept popping up. Try to enjoy the mangos under the trees, for enhanced novelty feel.
If time permits, visit "fishy" Bagan fishing village (3.506837, 101.094621)
Trawlers are back in port, and fishermen busy repairing their nets. Try to spot eels and other local catch.
After seeing the seafood source, seafood restaurants for lunch.
No1 favourite would be 建旗海鲜饭店 (Restoran Jiann Chyi, GPS 3.504834, 101.099031), but queues can be up to 1 hour! We ended up with neighbour "Hai Kang" .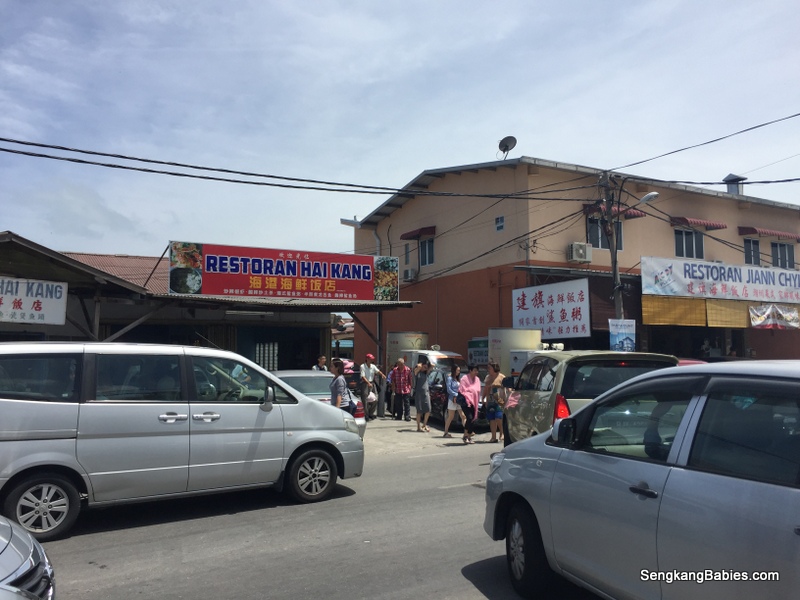 We enjoyed our seafood lunch although Google Reviews are less positive.

After lunch, there are some shops selling local goods (土产). Do buy the normal or coconut egg tart but skip the cendol.
Cycling offers a good experience to exercise off the seafood calories. Fresh air, green landscapes, but do avoid the huge quad-bike haha!
We struggled to sustain momentum for this bike over an hour and we got 6 pairs of legs!
Quad-bikes does looks cool for family portraits and Instagram haha.
There are minimum cars on the road but we must still exercise vigilance. Just stop anywhere and pose with the padi landscape.
More details can be found on Sekinchan website http://www.sekinchan.org
Do pop by our Facebook photos, Day 1 and Day 2.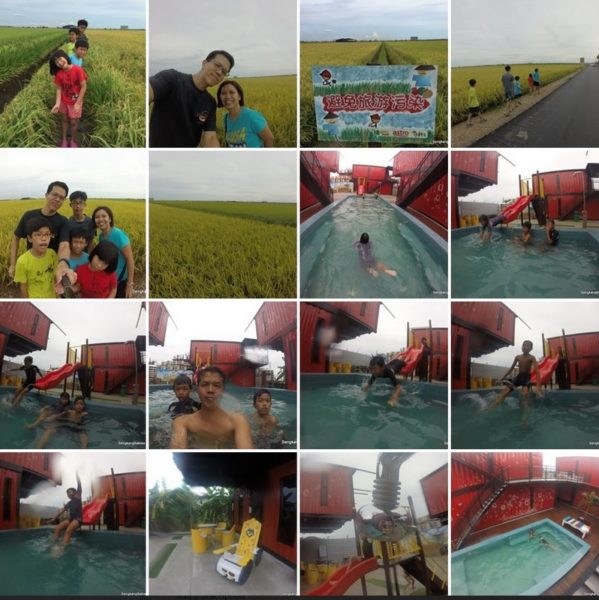 This trip was taken in May 2016, we are two years late 🙂
More about our Container hotel at this link.
.. read our 2018 Sekinchan Padibox stay
ps.. We would like to highlight another Fun pace near to Sekinchan. Do Google for 天空之镜 Sky Mirror. I enjoyed my sand-bank and clams exploration with my boy, blog post below.