Our Sinar Eco Resort review hopes to share more about family friendly activities. We have heard a lot about Sinar Eco Resort (GPS 1.440437, 103.521374, check Google Map for more resort photos).
The location is deep within Palm Oil Tree Plantation, and Pekan Nanas is the nearest town. If you hike Gunung Pulai (which we hope to do one day), Pekan Nanas is a popular gathering point before/after.

Before we share the Fun part, let us get logistics out of the way first. For some reason, GPS directed us to a dirt track.
Refer above collage of Google Map screenshots.
Top photo is correct, we should turn left after we spot (in sequence) "Public Bank Pekan Nanas-> Petronas petrol station-> Mosque".
The bottom collage photo was where we landed based on Google Map.
(hey Google, I drive an MPV not ATV)
Navigation
Fortunately, Sinar Eco Resort has shared a navigation guide for us. Set your Google Map to "Public Bank Pekan Nanas" (The pineapple icon).
From Public Bank Pekan Nanas, drive straight for another 500m (passing Petronas and mosque before turning left). It is a 9km drive through Palm Oil Tree plantation.
Do watch out for potholes and uneven surfaces. The road will converge from 2 lanes into 1 lane as we go deeper. As Mobile signal might be patchy, look out for the blue Sinar Eco signboard.
No wifi. Reality strikes when we check in. Although it is not 1995, but you can rest assure there are plenty of activities in Sinar Eco Resort for 3D2N.
Read on for more Sinar Eco Resort review on the activities.
1.Freedom, be spontaneous
(The farm is safe for kids to explore)
The menu offers Bike, kayak, swim, Atv, tractor, rabbit and chicken, billiard, karaoke, horse riding etc. Try everything 🙂
The menu does not tell you how to relax and do nothing, just lepak and enjoy the peaceful surroundings 🙂
We would recommend getting the bundles for more savings.
Before we continue, let us share one of our favorite activities at Sinar Eco Resort, ATV and buggy ride (mud is complimentary but fun!)
View this post on Instagram
Guests would need to check-in at the main block. Our accommodation was at this block, smaller sized families might enjoy the "containers stay" novelty (up to 4pax).
You can check out the accommodation rates and photos on Sinar Eco Resort website.
We stayed in Nature Breeze room for our family of 6 pax. There is a common hall per floor.
What I like about Sinar Eco Resort compound is the abundant green foliage. From our hall, you can see the cafeteria across the carpark.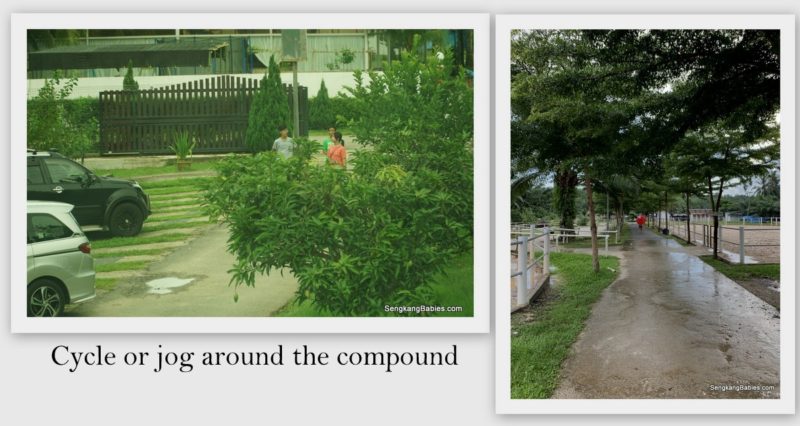 First activity for visitors would be a tour around Sinar Eco Resort. The friendly hosts will drive you around.
Families will get a flavour of what resort has to offer.
On subsequent days. Adventurous folks can choose to cycle behind. It is just a short 15min ride to cover the resort.
2.Farm animals, big and small
Animals big and small will be spotted all around.
Cowshed has a lot of dung, but kids enjoy feeding the cows.
The goats and horse sheds would be much cleaner 🙂
You can opt to feed the baby goats with milk too.
Feeding carrots to the horses, they look majestic and strong. But kids are always wary of the slimy tongues.
Many hungry goats, and there is one huge alpha Billy.
It stands taller than Boon Yee (no3).
Do look out for cute calf too.
Most dogs are caged, but a few will be roaming the compound. Harmless, and they do not fight with the cats or goats.
Most of us urban folks have few opportunities to get close to live poultry in Singapore. The chickens, ducks and geese welcome us to their enclosure.
I thought chicken coop look like Melbourne's colourful Bath Houses, but we did not spot newly hatched eggs. Feeding the chicken was fun, if only we can try to catch some of them.
Kampong Family
Cats are the most popular section . Maybe Sinar Eco Resort should let the rabbits out…
Milk for the goats, it is not for human consumption.
3.FOOD, never go hungry 🙂
After feeding the animals, we need to feed the humans too.
..and there are 5 meals per day! All meals will be served at this glass cafeteria.
Delicious and healthy home cooked food, breakfast porridge was my best dish.
You can top up RM20 (per pax) for a BBQ dinner too.
I teased the kids whether the wings are from the same chicken we saw earlier?
Weather was very unpredictable during our stay. We got frequent showers, but there are plenty of inhouse activities to keep us occupied.
4. Plenty of activities!
Kids play billiards every night!
Movie screening and you can buy fireworks too.
But your family (especially the kids) should enjoy the ATV rides.
Dirt and mud is part of the game, so choose some dirty clothes beforehand.
Driver need to be minimum 16 years old. 大舅's family enjoyed the spins too. 
The buggy ride feels like Guards' Light Strike vehicles.
ATV is RM25 and Buggy is RM40 per three rounds. Although the laps are small, go for the novelty thrills!
Coated in MUD!
Wait, there are more activities for your selection. The children pool and train playground for smaller kids.
Swim, jump, hop, cycle. Anything which pleases the kids and families.
River cruise happens every evening around 5pm. It is more relaxing than kayaking. Explore the river downstream.
If you run out of ideas, you can get your models to pose for Instagram too :p
5.Family Friendly resort
Beyond the activities, guest can expect top notch servicing and smiles from Sinar Eco Resort staff. Genuine and friendly, they go out of the way to ensure our kids have a wonderful time.
Our kitchen Auntie was super chatty and help us buy jackfruits on her errand trip. By the way, Pekan Nanas is famous for pineapples.
Thank you Sinar Eco Resort for the wonderful hospitality. It was a relaxing 3D2N stay for us. Kids are asking whether we can smuggle the cute kitten home 🙂
Do pop by Cheekiemonkies' review for more photos.
Our 3D2N Video (YouTube)

More details about Sinar Eco Resort:
-Contact : +6013 757 2434
-Website: https://www.sinarecoresort.com
-Facebook: https://www.facebook.com/SinarEcoResort
-GPS: 1.440437, 103.521374
-Room rate (per night per pax) : Adult RM 220, child RM 200
Sinar Eco Resort do offer transport shuttle from Singapore too, do give them a call. More photos uploaded to our Facebook album .
ps.. our Trip is sponsored by Sinar Eco Resort. In case you wish to explore more attractions nearby, click on Kukup (village life), Legoland and Gelang Petah (Seafood) for your research