We will share about our FUN Bangkok Day Trip in this post.
Maeklong Railway Market is not new to many tourists. Everyone knows the special market which a train goes through (without crushing any vegetable or fruits!)
But Maeklong Railway Market is 80km away from central Bangkok, public transport and drive will be 2.5 and 1 hour respectively.
It makes sense to bundle your trip with nearby attractions. We love Amphawa Floating Market (there are at least 3 floating markets in the area). (We do not know which one more suitable or has more street food.)
So we book a day trip through Klook (this package), price from $270+ . COMFORTABLE 10-seater van zip us to our destination. If I was driving, I might need to navigate or sit out huge jams 🙂
If you are rushing for time, checkout our YouTube Video first

#01 Ride into Maeklong Railway Market (GPS for Lat Yai, 13.436389, 100.049167)
Ok, everyone know the famous Train market, why not ride the last kilometres into the market!
A novelty for us, old-school train was an attraction itself, fellow passenger enthusiasm, and the receiving crowd at the market haha.
The track itself seems like a good spot for photos and wefies too. Do listen out for the Train horns.
We took the 2pm train, journey is only 10 to 15 minutes.
\
It is not easy to climb up the train, we need to pull the kids and elderly up. We were told train tickets are not necessary haha, just hitch hike.
Packed like sardines, but no one is complaining. This is one of those unique travel memories for keepsake. If sweat and crowd is not your thing, go to the market direct :p
GPS above is for Lat Yai (last station before Maeklong Railway Market, known as ตลาดร่มหุบ in Thai). Your train will end inside the market at (GPS 13.407422, 99.998507).
Super crowded. Locals call Maeklong Railway Market Crazy Market haha.
We had a quick lunch down the road, many folks will take the opportunity to walk along the track for selfie.
Do hold on to the kids, and do not stand at the edge. You never know who might accidentally push or shove you, it can be extremely dangerous when a train is less than a metre away!
Look at the video above to get an idea of the crowd and adrenaline!
#02 Wat Bang Kung temple
(GPS 13.445556, 99.941111)
Part two of our Bangkok Day Trip brought us to a special temple. Our guide told us the name is similar to lobster (?).
The temple is also known as Banyan Tree temple.
The most famous thing is the mini temple enclosed within the tree. The roots has gone around the temple.
You can see Buddha's golden Leg through the roots opening. Photo (below right), temple is in the "tree".
Quite an amazing spectacle. The temple and the Golden Buddha.
Do walk behind the compound, you will see statues of Muay Thai fighters and horses. Feeds are available for purchase, be warned horse tongue is super sticky and yucky haha.
There are many floating markets in the vicinity, all are packed with snacks and souvenirs. We only went to Amphawa (ตลาดน้ำอัมพวา), and it was authentic enough for us.
So many boats cruising up and down Mae Klong river. Some are park alongside the river, becoming a floating kitchen.
We were not too  adventurous to try the boat's menu, so we grab only side street snacks. Plenty of options and prices are very reasonable.
It was not as touristy as some other market.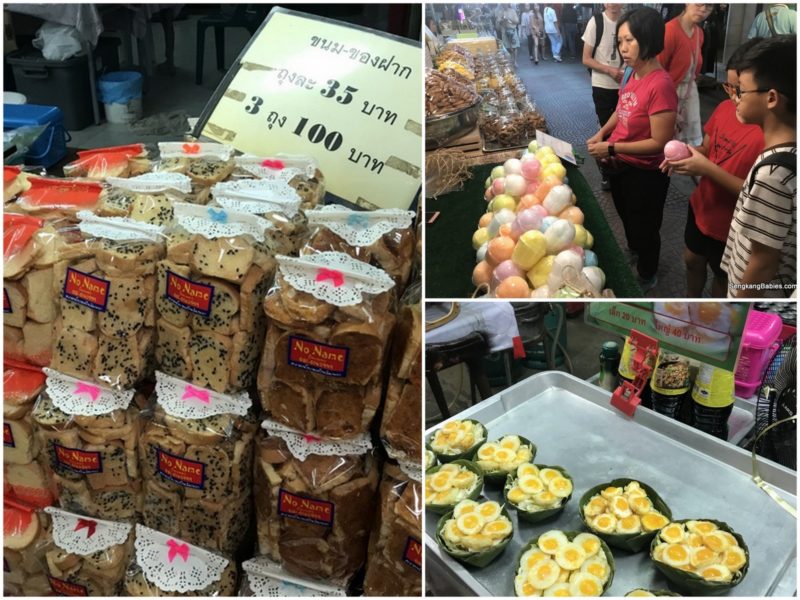 Photo below-right is the signature fish from this area. Their mascot 🙂    
It is more spacious after you cross the bridge.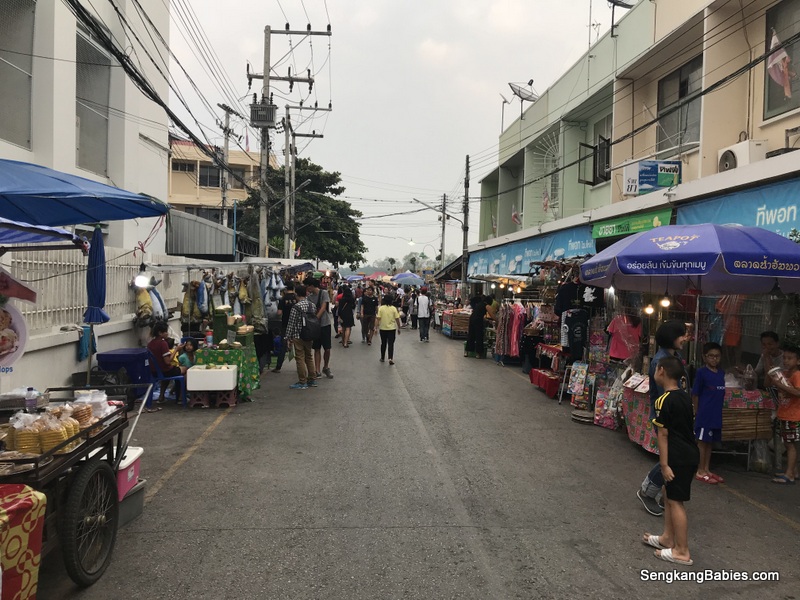 This stall is very popular with Thais, long queue but we were worried our stomach might not be used to the mixed-rice dishes 🙂
The best food for me at Amphawa Floating Market is this stall selling grilled fish. I went back for round two after everyone gave thumbs up.
Taste a bit like grilled cuttlefish.
The last activity for us was a long boat to watch fireflies along some Maekong river tributaries.
Maybe we left too early, sky was not dark enough, we could only spot minimum fireflies.
The mini cruise was a lovely opportunity for me to catch a power nap.
Additional Tips:
-Do take note our Bangkok Day Trip is a whole day package, and meals are not inclusive. The attractions pavements are not wheelchair or stroller friendly.
-Our Amphawa Floating Market was authentic and cool. We heard some floating markets would actually fleece tourists when you try to buy souvenirs
-The journey started at around 7:30am and we reached Bangkok city around 9:30pm.
-We will highly recommend this package if you like to explore another side of Bangkok. the Train, the Floating Market and the Banyan Tree temple are pretty unique.
..ps..
Our Bangkok Day Trip is sponsored by Klook