Love Bangkok, then you will love Bangkok Street Food and Massage options. Massage is 1/3 the price of Singapore!
We know Singaporeans love massage too, as we constantly hear Singlish around Bangkok streets haha.
There are of course more food and shopping options at Bangkok's night markets (Talad Neon, Talad Rot Fai etc). But we will leave that for another blog post.
Bangkok Street food galore! I had prepared many food GPS (all >3.5* Goggle reviews) but unfortunately family did not like pork leg or burgers too much. Hope you chaps will find the food GPS at my Google sheet useful :p
The venue distance and orientation in Column E (eg South, NE,NW  etc) are with respect to Phloen Chit BTS, near to our homestay residence.
One more tip we can share is using Google Map's Location services to discover the most popular (and reliable) eateries nearby. Read Google Map Hack post.
Shall we start with Burgers.
1)Daniel Thaiger Burger (Rated 3.5/5, GPS 13.744869, 100.556875)
There are many popular burger joints in Bangkok.
Tavern and industrial feel, this cafe should be popular with those looking for happy hours.
Most burgers are paired with craft beers. Burger smells heavenly and meat prepared according to my request,  medium rare. Maybe we have tasted better Burgers in SG before, so this burger is only so-so for me.
2)Brainwake cafe (Rated 4/5, GPS 13.737706, 100.567864)
Love the interior decoration, there is a small library. Grab a poetry and enjoy your cuppa 🙂 The cafe seems to shield us from the outside heat and bustling.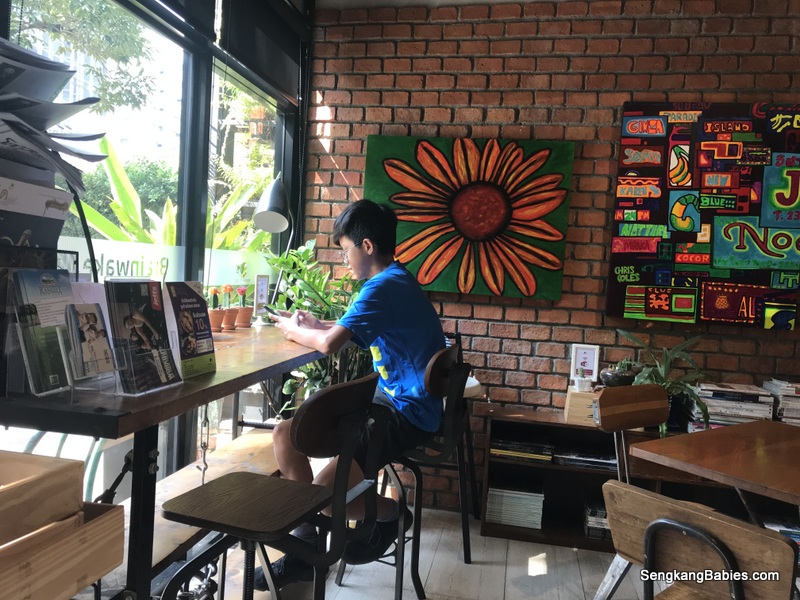 As it was near to Christmas, our sugar roll came with a Santa.
Very popular with Japanese expats. There are many food options, and taste nice.
3)Rung Reung Pork Noodle (Rated 4.5/5, GPS 13.728284, 100.570485) needs no advertisement. You will see the queue before the noodles.
Although queue is long, we need not wait long for a table or serving.
This noodle stall has limited choices menu, but all are good! Yummy Fish crackers for appetiser.
Tender meat pieces, delicious gravy, all infused into the noodle strands. We had to order more servings to share 🙂
Do not be intimidated by the crowd or the humble setting, you will not regret this eatery.
Rung Reung is famous, but the next one is a hidden gem. We found it by mistake!
4)The stall does not have an English name, so you cannot Google it. We were actually targeting the opposite stall (ป้าวิไล บะหมี่แสงจันทร์) but went into the wrong stall by mistake.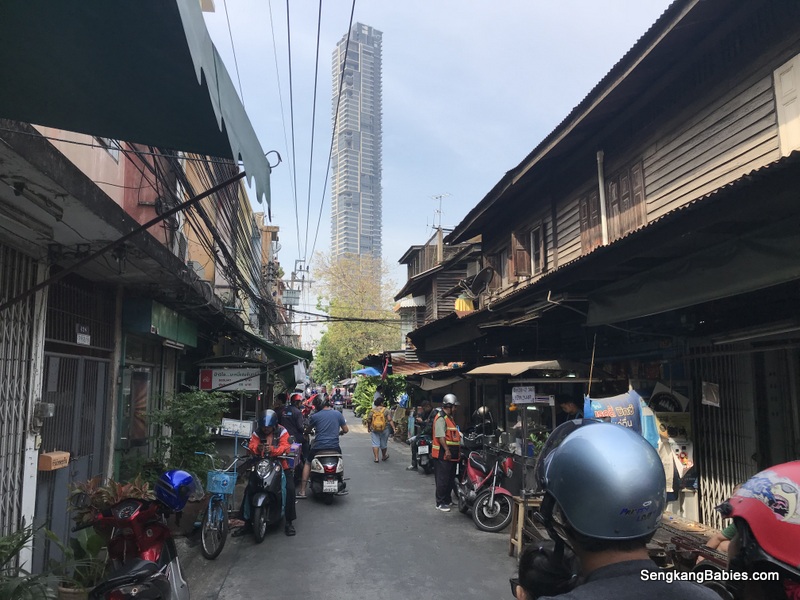 We arrived at 1040, shop just open but queues were already forming! Prepare to wait 20 30 minutes, both stalls have limited seating space (less than 20).
So how do you know which one is which?
The one we visited has a super-friendly Auntie, the opposite stall has a blue frame gate, manned by 2 young chaps.
Both stalls are relatively popular, but ours had non-stop locals patronising. (Both pedestrians and motorbikes)
Sometimes, I wonder whether tabao (takeaway) is faster than dine-in :p
We waited 30 minute for our food (!)
The Char Siew, The Wonton the noodles are all so good!
One bowl only 40 50 baht! Total THB 250 for 5 bowls. Long wait but super-worth it.
5)Drool!
You might have heard of Bangkok Roasted meat (pork) before, and Mr Jo consistently ranks top.
You will feel a bit guilty, but this snack with the crunchy skin is simply irresistible! So crunchy I went back order second pack.
Mr Jo (Rated 4.5/5, GPS 13.709114, 100.514215). There are 2 or 3 roasted meat stalls nearby to Mr Jo too)
Mr Jo is just 400m from our "unknown" Noodle shop (from point 4). While waiting for the noodles, I went Mr Jo to tabao first.
One package is THB 120 (about SGD6, not really cheap)
Surprising, the locals are not queuing for roast pork, but for pork innard soup (photo here). Just walk in to the glass shelf and point at the packs of roast meat.
Hint:Do not microwave the leftover roasted meat for supper, the oil cannot be unseen :p
6)Google told us about delicious Mango sticky rice from Mango Tango too. However the branch near Siam Square might not be family friendly, they require everyone to place an order before we can get a table.
Not everyone wants a dessert or drink, so why should we need to waste money or food for the kids. We boycott the cafe.
But out cravings for Mango brought us to the Mango Tango branch at Central World. Finally got to taste our sticky rice (Rated 3.5/5 for Sticky Mango Rice)
7)McDonald (Rated 3.5/5, but my kids will rate fast food 4.5/5)
I mentioned before that I have cravings for Pork Burgers whenever I travel overseas. Well, I hope kids will share my taste 🙂
McDonald (Opposite central World) in Bangkok sells t-shirts too! We also noticed the menu has a lot of fried chicken options #ConfirmWeNotAtKFC
The Fried Chicken is nice and popular with many diners!
Actually, point 7 and 8 are not really Bangkok street food 🙂
Hunting for Bangkok Street food, means there is a bit of walking. Unless you are on Grab or Taxi. Sometimes, walking is faster than the jams.
8)After more shopping and walking, Japanese dinner for us at Ramen Kio (rated 3.25/5).
Coconut or bubble tea, street food or cafe, there is always something to quench our thirst. Coconut are mostly fresh and only THB 30. Perfect for the sweltering heat.
Do share more Bangkok Street food with us 🙂
Below G-Sheet list the Food GPS around Bangkok (Google Sheet link)
We will be sharing more about our Bangkok Family Itinerary. Meanwhile, you can read our Thailand adventures here:
-Instagram #skbThailand
–Khao Kho Itinerary
–Sea of Clouds at Tanrak Talaymok Resort
(Khao Kho Photos are here and here)
–Bangkok "Itinerary" with Klook
–Bangkok Street food we like (and food GPS)
–Little Zoo Cafe (Facebook photos)
–Bangkok Bike Tour (Facebook photos)
–Maeklong Railway and Amphawa floating markets (Facebook Photos)
Do follow Facebook Wong Nai for more hilarious Food Videos too :0