Our 5D4N Chiang Mai Family Itinerary 🙂
(We spent 10D9N in Thailand, and beautiful Chiang Mai enchanted us)
If you want shopping, go Bangkok.
If you love nature and culture, go Chiang Mai.
4 nights were not enough for us at Chiang Mai!
Follow out hashtag #skbChiangMai for the updates on Instagram (skb= SengkangBabies). All photos already uploaded on Facebook, links at end of page.
I have group the GPS and directions for the attractions below into North, West and Center, so it is easier to plan your Chiang Mai Family Itinerary.
It is easy to drive in Chiang Mai once you are out of the city-area, folks in Chiang Mai are very patient and we did not experience any cursing or horns during our stay there! We hire a driver and 10-seater van for some days, rate is about 3,000 baht per day (SGD 120).
#TIP 01 :- Take note out-of-city attractions might need 2 to 3 hours transport time (including jams), so always have "Plan B" in your itinerary (ie Must-Go, Nice-to-See etc)
Chiang Mai is famous for temples.

#TIP 02 – Before you go further, and if you are the nature culture loving folks, then you must know the following Thai words :
Namtok – Waterfall
Doi – Mountain
Wat – Temples
Chedi – Stupa
Ok, now you can hitch the next Red Tut Tut ride in Chiang Mai. This city does not have any BTS system, so a lot of commute would be on bikes or 10-seater Red tut tuts.

Let us start with our best experience, no-rides elephant from (1) Elephant Jungle Sanctuary (EJS). We learnt that Asian elephant's spine are not designed to ferry people, thus some agencies are encouraging No-Rides elephant experience.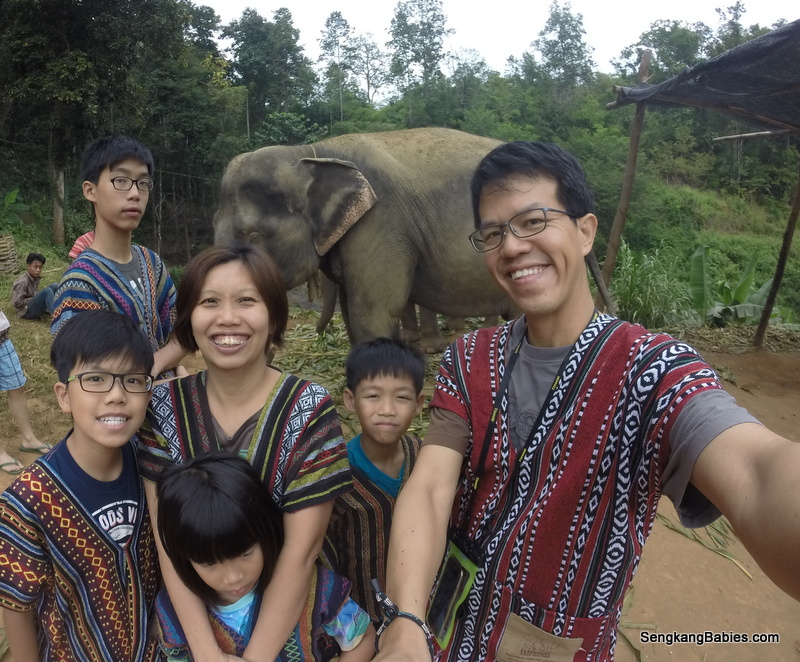 We would recommend a half-day tour (one day would be overkill, I mean how much bananas can the elephants consumed). You can spend the remaining daylight to visit the night market (look under "Center") below.
Video (link) : Fun with the gentle beasts

– Recommended duration – Half day (more than enough)
– Fees – Adults THB 1,700 (about SGD $65), Child THB 1,300
– GPS 18.658668, 98.648556
* Do take note transport will be provide by EJS, you cannot drive in yourself
** The fees are not cheap, but the experience is priceless
*** Two popular no-rides establishment are Elephant Retirement Park and Elephant Jungle Sanctuary (we chose the second one as their Instagram #ElephantJungleSanctuary has more interactions between humans and elephants)
#TIP 03 – The most important thing you can do before reaching Thailand is grab the maps and brochures from Thailand Embassy Orchard). This might sounds weird but you will not find brochures in Chiang Mai airport itself!
===== WEST ====
Map below is the recommended attractions around (2) Doi Inthanon (Thailand's highest mountain at 2565m). Just pick your best spots 🙂

#TIP 04 – Take note some attractions on Doi Inthanon will need toll or entry fees.
Ask your guide or driver beforehand. Come weekends, the road leading up to the temple is always congested.
Doi Inthanon hiking at a cool 15 degrees, a light jacket would be sufficient as we can still perspire from hiking. Take note winter period can drop to 5 degrees.

From the map above, we love the following activities :
a) Point 09 – Hiking at Kio Mee Nature Trail (Hire a guide at the entrance for 200Bht + 100Bht tips). 2 to 3 hours round trip, go slow and whole family can enjoy the beautiful landscape, cool weather and mist. With smaller kids and elderly, u-turn at point 10, and exit at the same location (takes a leisurely 2 hours) (link reference)
b) Point 10 – If you only got 60 minutes, go for "Ang Ku Luang" Nature Trail. You will see and touch moss floors and trunks. Highest point of Doi Inthanon.
c) Point 8 – We ran out of time to visit the King/Queen chedi (Naphamethinidon and Naphaphonphumisiri), looks majestic from far.
d) Just choose any two waterfalls, all are majestic. (actually kids and spouse might find all waterfalls identical after the second one hee hee)
e) Point 4 – Royal project flowers and landscaping, but flowers might not appeal to everyone. I love the beautiful landscaping, showcasing the farmers' produce
Hiking, waterfall, or flowers in the cool weather.

– Recommended duration – 3 to 4 hours (about 2 to 2.5 hours transport from city)
– Fees apply at various attractions
– GPS 18.555768, 98.482446
– Minimum Age limit : Everyone can hike
===== NORTH ====
We noticed the North area (Mae Rim) has a high concentration of adventure and sports, so many ATV (all terrain Vehicles) outlets!
If you only have time for one waterfall in Chiang Mai, do (3) Buatong! Water will not be as spectacular as those normal "cascading" types, but you can CLIMB UP this waterfall! Look at this video and you will know why they call it Sticky Waterfall!(Video link).
Do visit our Photo album as I highlight some inherent dangers which come with "waterfalls".
– Recommended duration – 2 to 3 hours (optional 30 minutes picnic on the green meadow)
– Fees FOC
– GPS 19.070030, 99.080118
– Minimum Age limit : Everyone can climb, but adult must accompany behind child, it is still a waterfall and any slip could mean serious injury
After a tiring and exhilarating morning, drive 45 minutes South towards lunch (we recommend Baa Baa Black Cafe lunch and cakes) and let the kids recuperate in the car.
(We have added delicious cakes and pastries photos in photo album below)
(4) Siam Insect Zoo is just 7 minutes away from Baa Baa Black Cafe, and it is the coolest insect museum we have seen (or touch) yet.
Staffs are always so eager to push a bug or chameleon to you haha, seriously Fun! So many learning moments and photo opportunities.
– Recommended duration – 1 to 2 hours (stay longer if you love creepy bugs)
– Fees – Adults THB 200, Child THB 150
– GPS 18.918132, 98.908408 (45 minutes from Buatong waterfall)
– Facebook

If time permits, we would recommend (5) Doi Suthep Temple on the way back to city (Golden Domes or Chedi, we can classify Doi Suthep under zone "Center" too). Doi Suthep is one of the most famous (and grand) Wat in Chiang Mai, it offers a scenic city view too.

– Recommended duration – 1 to 2 hours
– Fees – Adults THB 200, Child THB 150
– GPS 18.804317, 98.919974 (50 minutes West of Chiang Mai railway station)
– You can climb 306 steps up, or take the lift
** We would not recommend you to jog or cycle up the steep hill, we saw many sports enthusiasts!
===== CENTER ====
Where most folks should loiter around for city life, old-city landscapes, tons of cafes. Weekends are night bazaars and night markets. You will also notice a lot of tourists on bicycles, we want to try it next time 🙂
(6) "Old City" Day and Night
You can tour the "Old city" in the daytime, at least ten historical temples (and ruins) to explore.
Enter via Phae Gate GPS (18.787735, 98.993235).
Night Market – weekends only (3 to 4 hours including dinner and snacks.
Food, jostle with the locals, side-walk massage (cheap!) and souvenirs hunting.
Streetfood (we love BBQ aroy!) is everywhere. There are some hawkers selling mango sticky rice outside temples, we tried the one outside "Wat Che Diluang" (GPS 18.786979, 98.986580) and it was good 🙂

If time permits, or if your kids are Ninja Warrior or bouncing castle fans, head over to (7) Grand Canyon Water Park. Look at the photos and you will know why adrenaline junkies will spend hours here!
– Recommended duration – 2 to 3 hours
– Fees 300 Baht (price increased to 350 baht)
– GPS 18.695777, 98.890330 (15 minutes from airport)
– Minimum Age limit is 5 years old
– Closure at 7pm, 6 pm during winter time
– Facebook and Website

(7) Our lovely Airbnb home away from home (read our review)

Additional tips :
Above GPS locations are group into "North, West and Center" based on estimated direction from Chiang Mai Railway Station (GPS 18.783692, 99.016787). We did not really venture East (villages) and South. If you head North 3 to 4 hours till Thailand's borders, Doi Ang Khan, Chiang Rai and Pai awaits 🙂
If you are looking for shopping centres in Chiang Mai, you would be disappointed. All our 5D4N Chiang Mai Family Itinerary photos have been uploaded :
– 5D4N Chiang Mai Family Itinerary
– Day 1 photos — Airbnb stay, Grand Canyon Waterpark
– Day 2 photos – Doi Inthanon
– Day 3 photos – Buatong waterfall, Siam Insect Zoo, Doi Suthep temple
– Day 4 photos – Elephant Jungle Sanctuary, Old city
Follow out hashtag #skbChiangMai
Shoutout : In case you need a Local Expert to explore more of Chiang Mai, checkout the packages from  TakeMeTour group (itinerary package).