We are sharing some of the adventures for Danasan Eco Adventure Park with family.  We were supposed to spend half a day at the park, but the rain (and mud) has other plans.
Our family were still looking for more adventures, after Kawasan Canyoneering and Whale sharks Oslob. Danasan's sky-cycling and ATV caught our attention.
Danasan Eco Adventure Park is like a theme park for adventures, suitable for the whole family.
You can do horse riding, ATV or Karting. Or try something more thrilling like trekking, waterfall and cave exploration. The extreme one is called Skydrop (Youtube link).
Our own experience captured on video (YouTube video)

Daredevils can try rappelling, skybike!
But first, you have to survive the hilly terrain, and drive in 20km .
Why would anyone want to build an adventure park so deep inside the mountain?
Road conditions need to be upgraded too. Those with car motion sickness better be prepared.
Danasan Eco Adventure Park with family will keep you busy. If keen, you can even camp or book one of their "hostels" for a night in the mountains.
However the activities booking system (packaging) can be a bit confusing (booking via Klook). Pink, Yellow and Green bundles etc.
I would prefer Danasan Eco Adventure Park to promote a one-ticket-for-all-activities instead.
1.ATV for us
The mud and drizzle was a little letdown, but we proceeded anyway. The whole Danasan Eco Adventure Park compound is huge.
We rode the "countryside" and throttle to our delight.
The video above would capture more of our Fun 🙂
Many corners in Danasan for exploration. If not for the rain, we would be able to explore more activities.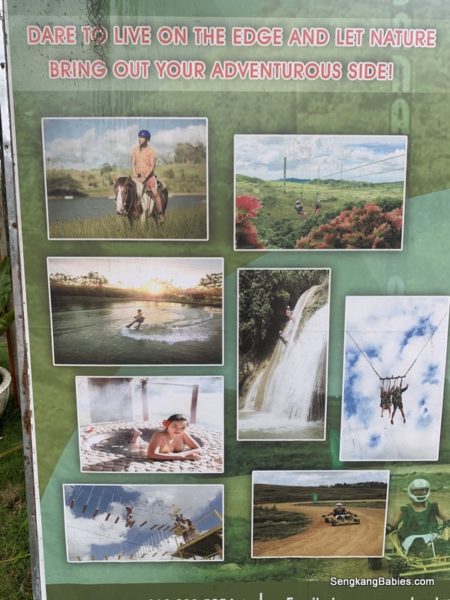 2. Speedway (something like Gokart)
Anyway, the rain got bigger and the ground muddier. Since we were already wet and dirty, not much difference.
Kids opted for Gokart fun.
Do not run into the cute lambs !
Look at the puddles. The rain never stopped for the 3 hours we were there.   
Shower with a hose, so much mud to scrap off yucks. But kids were game and keen to explore more.
View from the top.
3. Skybike crazy and zip line
We had to zipline to the "start point" for the bicycle.
It was freezing cold to zip through the rain 🙂
Cycling in the sky (5 stories up) was a novelty for us. Skybike is also one of the most instagrammable activity for Danasan Eco Adventure Park.
Participants will get to cycle two laps.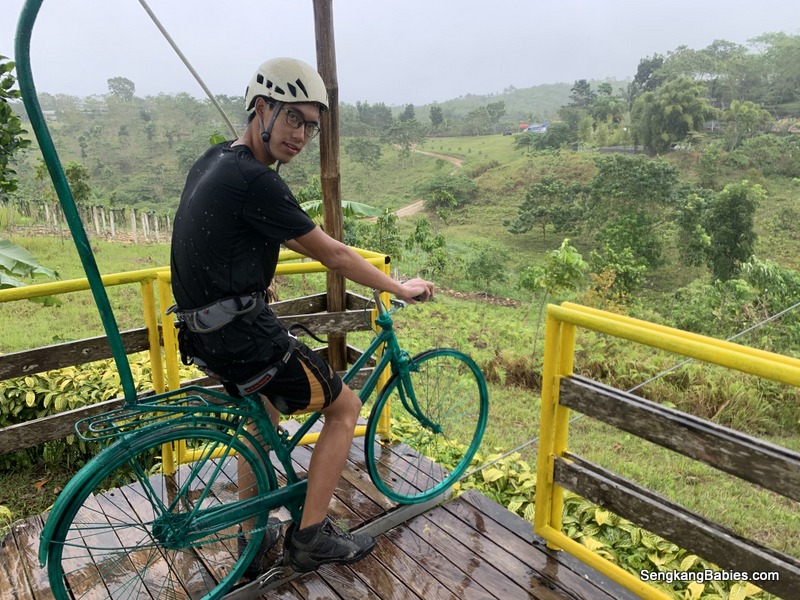 Our package came with a simple lunch. Chicken thigh tasted heavenly in the cold.
You may check out Klook's promotion at this link.
We are still working on the rest of the blog posts, meanwhile do drop your queries to andy@sengkangbabies.com
More photos are uploaded in our Fanpage albums :
–Moalboal Panagsama stay
–Whale shark at Oslob
–Kawasan Falls
–Half Day Cebu City Tour (and nice food Sugbo Mercado)
–Danasan Eco Adventure Park
-Free & Easy SM Seaside
Cebu Blog posts:
* Cebu Family Itinerary
Day 2 Oslob with Whale Sharks
Day 3 Kawasan Falls canyoneering with family
Day 4 Free & Easy
Day 5 1/2 day Cebu city tour
Day 6 Danasan Eco Adventure Park (more adventures!)
Day 7 Free and Easy
Day 8 Fly home
Do pop by our Instagram Hashtag #SengkangbabiesCebu  and Story for our summary.
Disclaimer : Our Danasan Eco adventure Park tour is sponsored by Klook. Private package is inclusive of van transfer from Cebu Hotel.