Day 4 brought us to attractions along Highway 11. Of course, the coastal views and breeze are a magnificent sight too.
(we had cycled from Ruisui to Yuli to Antong the day before)
..but first, we had to crawl 5 km uphill from Antong! This is Route 30 cutting across the mountain. You will meet many cycling enthusiasts who are here to challenge the slopes.
We can cycle up slowly, but no3 (Yee)  would be wobbling. It would be safer for us to push.
We will be cycling from Hualien to Taitung (tunnel), then through ChangBin, ChengGong, and finally Donghe Dulan (長濱,成功,東河). Estimated distance is 70km.
We have blog about Dulan 都蘭 surfing earlier (blog post).
Discover other interesting venues (and GPS) and attractions along Highway 11 in our Taiwan cycling Itinerary (refer Google Sheet link)
*Do take note Google Map might recommend shortcuts along the way, but we would recommend newbies to stick to main highway. Some of the shortcut paths are narrow and covered with thick bushes

Not forgetting to enjoy the scenic mountainous views even when we are catching our breaths.
0920 reached tunnel and posed for photos.
Good luck when you see this tunnel, we had conquered the hardest part of our cycling journey (4D3N cycling Itinerary from Hualien to Taitung).
Tunnel was 2.7km long and super cooling. Shout and hear our own laughter echo down the tunnel.
Tunnel was a downward gradient for us, good compensation for the initial uphill struggles.
At the tunnel exit, do pose at this decoration "東部海岸國家風景區遼望台". The tunnel starts at Hualien 花蓮 but ends at Taitung 台東, we can see the blue sky and ocean merged over the horizon.
Enjoy the landscape views.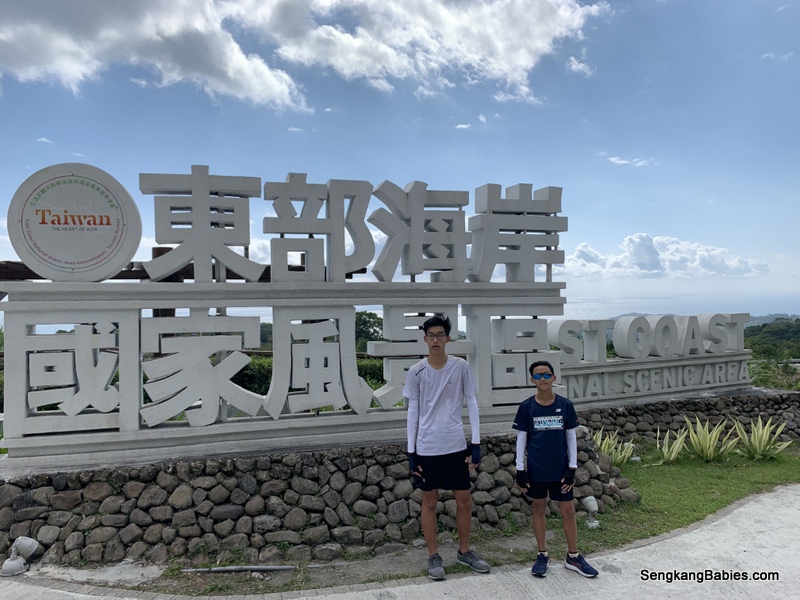 385m elevation, no wonder. We had underestimated the slope.
Nevertheless, Highway 30 is still the shortest (and maybe easiest) way to cut across the mountains.
Thank you Hualien Adventures for the route recommendations!
Do take note the downward speed can easily reach 50kmh, and has multiple bands.  Even a crash at 30kmh will be awful, kids should be mindful. Thankfully, cars will give you a wide berth when overtaking.
At the leg of Highway 30, another popular Instagram spot. The road seems to dive into the sea!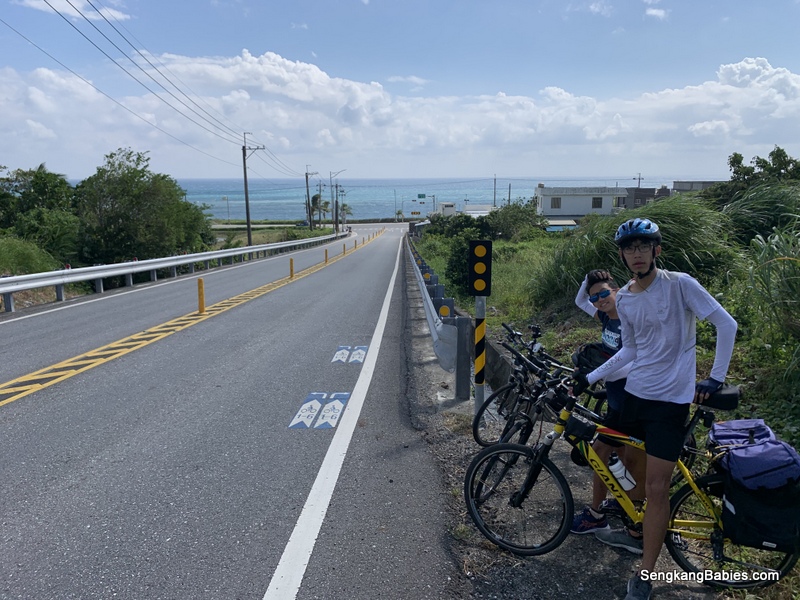 If time permits, turn left at this junction for 14km and you will reach King Kong Avenue 金剛大道. No giant apes here, but an open expanse with a famous road flank by green fields. Expect optical illusion of road heading into the sea.
We gave it a miss and headed South :p
You may visit our Taiwan Custom Google map for an idea of our cycling route, and nearby attractions. ("Black icon" means skipped)

Relive video:

The Pacific Ocean will accompany us all the way to Taitung 🙂
Waves all around, and super windy. Fortunately not head-wind, but tough luck for those cycling in the opposite direction.
Temperature was still a warm 27 degrees.
Had a lull period at 烏石鼻, we did not cycle all the way to the end as it was a steep slope. We were already contented with the coastal view from this hut.
Some say Taitung is like mini Hawaii.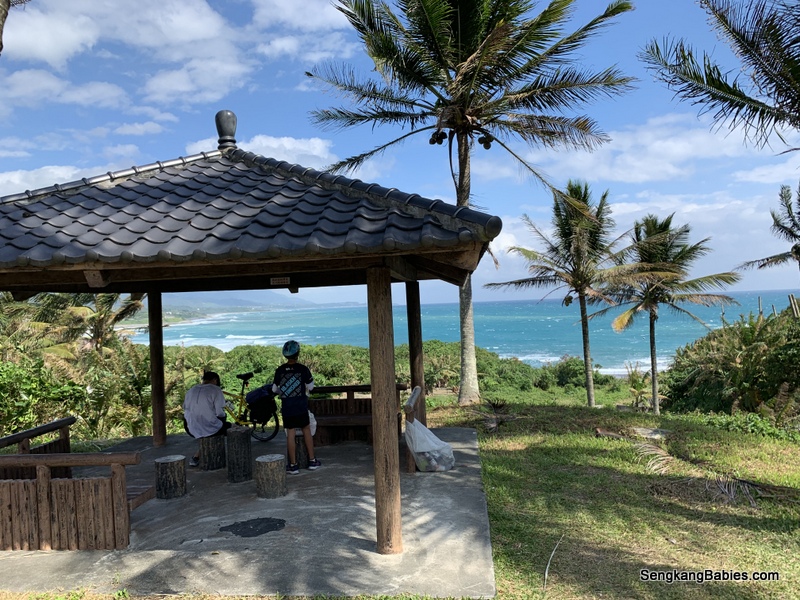 Do take note that there are quite a few slopes along Highway 11, especially after ChengGong stretch.
Go slow and easy, we are near the last segment of our cycling journey. What goes up must come down.
The next stop was out of curiosity. While researching for stops, this male genital 男人石 next to 石雨傘風景區 caught my attention.
A good distraction for our ride haha, but locals worship the penis deity.
Literally "Stone umbrella", 石雨傘 showcase the strong wind and waves. The wind will actually pick up small black pebbles and pelt visitors! (we are not exaggerating)
We can admire how the force of nature is shaping the rock formation.
Although we are cycling along the coast, the mountain range are never far away.
三仙台 SanXianTai Bridge is one of the famous icon along highway 11. We had stopped nearer to 比西里岸部落 Pisirian, hoping to capture some wooden animal decorations.
..but the wooden deer was no longer available. Are they remove permanently?
We only got a closeup look of these giant concrete structures (photo below), which are used to prevent coastal erosion.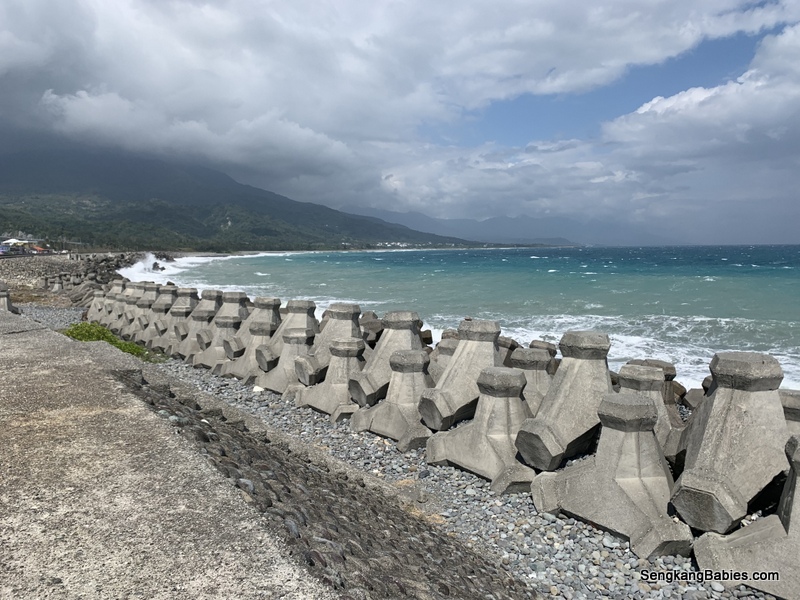 三仙台跨海步橋 Sanxiantai Arch Bridge is one of the famous icons along Highway 11. Those interested can spend 3 to 4 hours hiking to and fro to the island.
The arching bridge looks like a dragon.
This spot is nice for a siesta moment, enjoy the strong breeze.
Reached 成功豆花 around 1100. This was our halfway point. Cold or hot sweet dessert before we proceed.
Shopping for water and Pocari at local supermarket.
Had wanted to visit "交通部觀光局東部海岸國家風景區". The "peak"offers a panoramic sea view, but it demands a 100m steep climb. No thanks.
Reach famous 東河包子 for late snack.
You might spot biker gangs too, like these Harleys.
Cross the road for another round of snacks. 7-11 should pay us for all the advertisements :p
We are only 14km away from our hostel WaGaLiGong (in Dulan).
You will spot similar vans from Donghe onwards. Surfers can just place their surfboards on top or motorcycle sidecars.
Reach Dulan around 4pm, you may read about our cool surfing experience in this post 🙂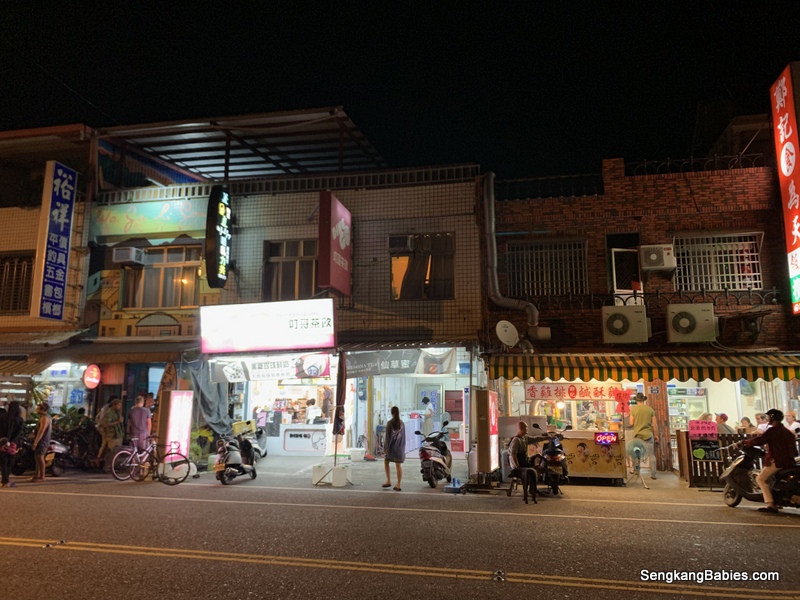 View this post on Instagram
Stay tune for more adventures and photos.
Do follow our IG Story too #sengkangbabiesTaiwan #SengkangBabies花東
You may reference our Taiwan cycling posts at this tag SengkangBabies花東 : *Google Sheet itinerary (GPS inclusive)
*4D3N Cycling itinerary and summary
-Day 1a-Hualien-Taiwan Railway Online booking
-Day 1b-Hualien-Taiwan Giant bicycle rental and Hualien attractions
-Day 2-Cycling Hualien to Ruisui (Google Map GPX)
-Day 3-Cycling Ruisui to Yuli, route 193 is SO beautiful! (Google Map GPX)
-Day 4-Antong to Donghe (Attractions along Highway 11) (Google Map GPX)
-Day 4/5 – Surfing at Dulan
-Day 5 – Taitung top attractions, Kaohsiung, Home
Video: Cycling Hualian to Ruisui

Video: Cycling Ruisui to Yuli (so pretty!)

Cycling Highway 30,11 Yuli to Taitung

ps.. Do follow our Cycling adventures on Instagram hashtag #Cycling