Sharing our Driving tips for Malaysia, we have just return from 6D5N self drive holiday in Malaysia, spending 3 nights in Ipoh and another 2 nights in Genting Highlands. Do you wish to drive to Malaysia, or you need some Driving tips for Malaysia?
Click to visit our Malaysia destinations (Legoland, Desaru, Malacca, Port Dickson, Putrajaya, Genting Highlands, Cameron, Ipoh, Redang, Penang etc)
Why do we visit Malaysia so frequently?
Food is our primary drive, followed by white sandy resorts on the East coast. The strong Singapore Dollar exchange rate does mean we can have greater purchasing power in Malaysia 🙂
Traveling with a family of six overseas by plane or cruise does exert pressure on our purse strings. Driving up north will allow us to enjoy savings, and have a holiday near home.
We know a lot of friends are curious about driving to Malaysia, but have a lot of concerns. Media reports of carjacking, smashed window and snatch thieves or kidnapping does not help to allay our fear. If you drive fast, you also have to worry about being caught speeding and paying kopi-money fine.
Allow Daddy to share some general pointers and Driving tips for Malaysia, and clear some doubts about driving up North.
1. Safety
This is always the first question "Is it safe to drive in Malaysia?"
Daddy will try to avoid the hotspot like Petaling Jaya(PJ) and Johor Bahru (JB) where carjack incidences are more prevalent.
However, some Singaporeans have been conditioned to believe that the world out there is as "safe" as Singapore! We should heighten our sense of alertness when overseas (not only Malaysia).
1a) park head-in and turn your steering wheel fully clockwise or anti-clockwise. If someone tows your car from the rear, our car will swing and hit the wall or neighbouring cars
1b) Use a steering-wheel lock to secure the car after parking
1c) install GPS tracking system to trace car should it be hijacked
1d) If possible, do not dismount from car to settle disputes. Drive off to nearest Police station.
1e) If you need to leave your notebook in the boot, remove the battery first. Some crooks can actually use scanners to pickup notebook existent (I cannot verify this)
The best anti-theft measures will not stop a determined thief, but it might encourage him to choose an easier target. If an incidence should occur, do not struggle, our family's safety is always Top priority.
2. Navigation
GPS helps a driver to navigate along the highway, but you should expect to be lost occasionally within the town.
When GPS fails, it helps if you can orientate some landmarks along North South highway.
Example driving northwards towards Ipoh (Perak) at around 140kmh (without break), you will pass Malacca (2.5hour), Port Dickson/Seremban (3hours), Exit 214 (4hours) detour towards Sepang/KLIA (KL International Airport) and Shah Alam, Rawang R&R (5hours), then Cameron Highlands (6hours) before Ipoh (7hours) and Penang (9 hours).
You can also reset your ODO to "estimate" the distance to the next stop. As a gauge, Genting Highlands is around 4 hours.
2a) If we miss one exit, do not be anxious, just exit at the next exit. Fyi, there are at least seven routes up Genting Highlands!
2b) Do not over rely on GPS.
GPS often recommend the "shortest" path, which might throw your car into a traffic gridlock! One good example is Genting Highlands towards Singapore. We would recommend to head towards Seremban (KLIA) bypassing Kuala Lumpur City.
**updated 2013Dec – do pop by our GPS tips too
2c) The Toll-Exits and Highway KM (kilometre) marker (numbering system) do not always run in ascending order :p
Click for more details about Malaysia's highway and numbering system.
When we are lost, we do appreciate how easy it is to navigate in tiny Singapore :p
If we are really lost, ask the locals for directions.
Otherwise, for point 1 and 2 above, and especially first timers, we recommend that you convoy up North.
3. Driving condition
Malaysia is big, driving from Johor to Penang takes 8 hours, we can cover anywhere in Singapore within 45mins. There are so many hilly bends, town and village roads are laden with potholes, cows and goats might become road blocks !
Some road conditions which you will encounter and improve your driving skills.
– highway (point A to B might stretch for 200Km, or hours)
– long distance driving leading to fatigue (have schedule stops to rest the legs and bladder)
– hilly terrain (Cameron is easily 30% more tedious than Genting)
– single lane (knowing when to overtake is a skill)
– night driving with low light
Daddy will emphasize on hilly-roads. We always assume it is harder to climb the hills, but it is much harder to descend. Brake might overheat, losing braking effects momentarily. We only need gear "D" in Singapore, but up/down hill, we need to engage engine brake, and sometimes gear "2" or "1" and maybe even off aircon for that extra ounce of Bhp.
If you can drift like Initial D, do not bother to read further :p
4. DIY (Do it yourself) services
4a) Tolls. We need to pay toll fees to use the highway. To avoid jams, you might wish to consider a Touch & Go system.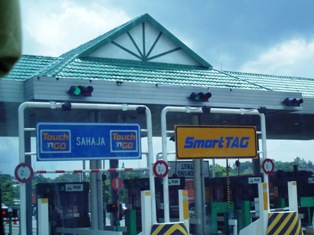 4b) Petrol refuel (pay first then pump). Do take note some stretches of road will not have a petrol station for over 40km, example Malacca to Machap, so monitor fuel gauge carefully.
4c) Rest & Relax (R&R) for Toilet and Food pit stops. Choose those popular (ie crowded) ones to avoid putting self and family as baits for robbers. Click for R&R listings.

4d) check tyre pressure and water radiator level. Do you know where is your spare tyre, and how to change one?
5. Additional tips
5a) You will definitely encounter reckless drivers, or speedsters who tailgate you at 180kmh, just give way. You might runaway with road-hogging in Singapore, but try this on North South highway at your own peril.
In case you are not sure when to give way, these are the signs :
– there is a long string of cars behind you
– the car behind you is signalling "right"
– the driver behind is tailgating so near you can see his pimples
– driver behind has highbeam or horn you for the last 10 mins !!
Speed limit in Malaysia highway is 110Kmh, but cars are known to clock 200kmh easily.
Give way to faster cars, period.
5b) Anticipation is critical.
Always assume the truck or coach infront will suddenly swerve into your lane, without signalling !
When you brake hard from 150kmh to 80kmh, the car will take some distance to slow down.
Drive at your comfortable speed limit.
5c) Improve our car handing skills. That extra seconds (from reflexes) can help us evade an accident.
–> http://sengkangbabies.blogspot.sg/2011/02/defensive-driving-course-by-footworks.html
5d) You will be surprised but North South highway's condition surpasses Singapore's expressways. We have minimum aqua-planning in Malaysia, but try going above 80kmh on CTE lane 1 during heavy downpour, and you will feel your car glide over the puddles.
** do not attempt if you have not experience aqua-planing before ! **
Video (Youtube Link): Heavy downpour on Malaysia highway

5e) If you choose to return to Singapore on a school holiday Sun, expect jams of up to three hours at both Woodland and Tuas customs! You will realised the meaning of bumper to bumper, or side mirror to side mirror 🙁

5f) To check outstanding Malaysia traffic summons:
– Register an account at "myeg.com.my"
– Login, select "DBKL" and "Check and Pay Summon".
*note* you do not need to key in real DOB and address.
5g) If cars high beam you from the opposite lanes, look out for speed cameras
More Driving tips for Malaysia :
– http://www.goodyear.com.my/labs/safety_wetdriving.asp
– http://www.aas.com.sg/?show=content&showview=12&val=274
Daddy told us he miss those days before "SengkangBabies" were manufactured. He and Mummy have their passports in the car, and can drive in for supper anytime!
If you are still contemplating driving into Malaysia, try a short orientation to Desaru or Kukup first. Both are within 2 hours drive and offer decent seafood.
The Custom processes like Passports, tolls and checks can be confusing for first timers. If not, Johor's road signs will surely confuse new drivers 🙂
Do pop by our Malaysia itinerary, click here. Have a safe and enjoyable trip 🙂
*disclaimer This blog post aims to share our driving experience with more families who might wish to drive up North but are hesitating. The points listed are only our recommendation. There are always new skills to pickup whenever we drive to Malaysia.
*updated 2016 Jun
– Car thefts prevention
– Safevue Car Dashcam review
**updated 2019 Sep – Johor Massage recommendations -> https://sengkangbabies.com/holiday/johor-massage-recommendations