[ Sponsored ]
This pool is an Oasis at EO Residences! No wonder kids wish to go swimming every day.
We are impressed with the amount of lush greenery and landscaping all around us.

It took us about 4 hours to drive North to KL city (including lunch), familiar landmarks like Petronas Twin Towers and KL Towers can be spotted over the horizon. It must be at least 10 years since we last visited KL (Kuala Lumpur).
Most of the time, we bypass KL(吉隆坡) on the way to Genting, except 2010 Sunway Lagoon, and 2013 Kidzania (PJ).

This time round, we were invited to KL's E&O Residences for a 3D2N stay. It was a good opportunity for our family to catch up with what KL has to offer.
E&O residences is located at the heart of Kuala Lumpur metropolis, yet we are insulated from the bustling streets, traffic jams and hot weather. Luscious landscapes, water bodies ensure guests enjoy their vacation and rest.

Lobby checkin.

E&O Residences' 2-bedrooms suites are 1400 sq ft, just look at the spacious hall.

Bedroom and dedicated study room, did I mention wifi signal is good and free?

Elegant and luxurious bathroom.

Good thing about apartments are they allow you to cook something light, or wash and dry, and yet we can always rely on room service (just like hotels) to clean up if we are lazy 🙂

Video : Boon Xin is too short for the basin (hahaha), and swimming pool FUN!

View of KL Twin Towers (Petronas) from our room, Towers look magnificent, day and night.

Kids quickly make themselves at home, it means they are comfortable with their rooms 🙂
Friendly staff at E&O gave the kids some toys and drawing kits in case they need additional activities.

Who could resist the alluring green view from our full screen window. The pool is so inviting!

Kang loves the pool, so do we! You will notice that the pool is fringed by tall trees, providing shade and that sanctuary feeling.

E&O Residences' pool comes with jacuzzi pools and a view of KL Twin Towers.

Kids help themselves with the jacuzzi pools.

Boon Xin is trying to tip toe and show you she is 1.2m tall. Smaller kids will need to bring float along to enjoy the pool.

There is a mini playground corner next to the gym. While parents jog on the treadmill, they can keep a close watch over the kids.

Love the feature wall. Just follow the steps to fold a boat or an aeroplane.

Relax on the swinging beds, do not swing too hard after a heavy meal :p
Needless to say, this swinging beds are very popular with guests.

Lush green landscape all around us, can you spot KL Tower through the roof?

Monorail station Rajah Chulan is just a 10min walk away. Just hop one stop to Bukit Bintang, where food and shopping awaits! Think Lot 10, Sungei Wang, Berjaya Times Square, and many more food options.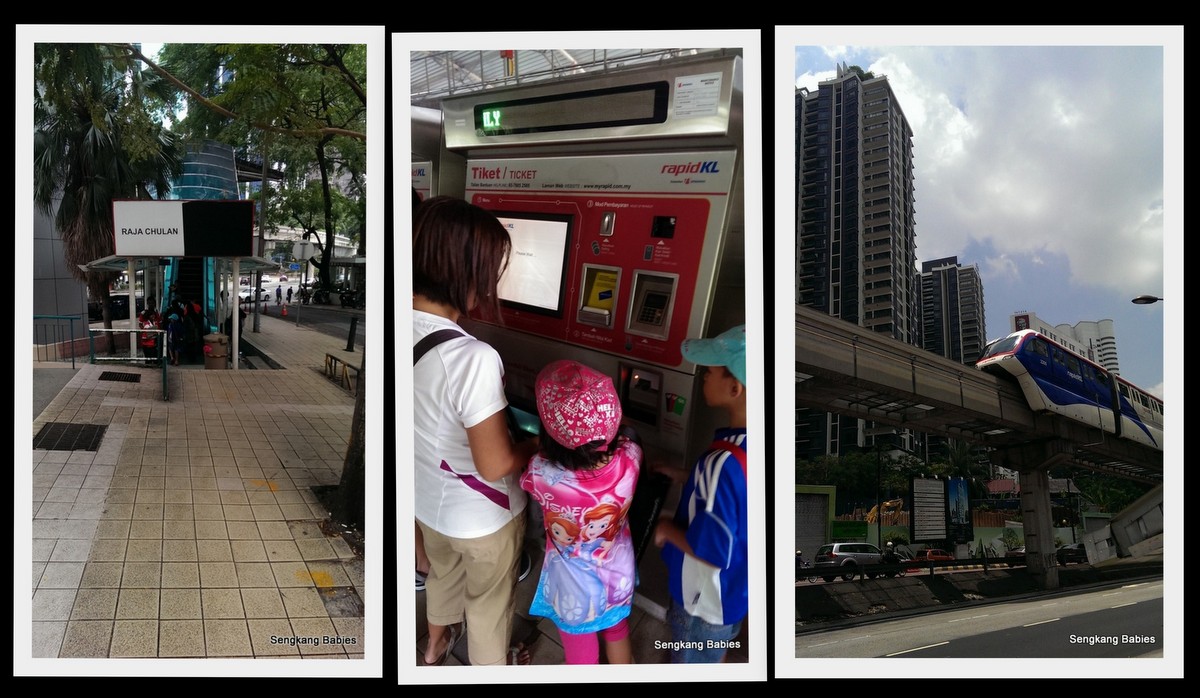 Thanks to E&O Residences, we have rekindled our interest in KL and realised 3D2N is not enough to explore KL. Get the latest updates from E&O Residences Website and Fanpage.
Additional tips to enjoy KL :
– leave the car in the carpark and take public transport. GPS is not always pinpoint accurate, as the streets are too closely interlinked. Long detour if you miss one junction. Even locals will tell you to take the train.
– One station from "Rajah Chulan" (nearest to our apartment) to "Bukit Bintang" (for shopping and food) cost RM1.20
– E&O Residences is 10 min walk from KL Towers, and 15 min from Petronas Twin Towers (refer E&O map)
– the one-bedroom suite at E&O Residences were fully occupied during our stay, do enquire early to make your reservation
– do pop by our Malaysia road trip and safety recommendations (Genting, Cameron, Ipoh, Melaka, Cyberjaya, Legoland etc)
We will share more food options on day 2 and 3, meanwhile, our 3D2N photos are available on our Fanpage (Day 1, Day 2, Day 3)
Read our KL 3D2N itinerary :
– Day 1 E&O Residences
– Day 2 walking to KLCC
– Day 2 Dinner at Jalan Alor
– Kuala Lumpur Good Food recommendation