I was happy to find White Water Rafting in our Fiji itinerary.
From our face (and sandwiches) , you can sense our group had a lot of Fun! But believe me when I tell you we were dead tired and shivering after 2 hours of paddling (halfway point only)!

Earlier, we arrived dry and ready to taste the class 2 rapids.

Very hard for our raft to flip as rapids is class 1 and 2 only. Joyce (middle) is very proud to survive the water ordeal! (Click for my kids' Sabah white water experience).

After a short 15min hike (25min if you are less fit), we reached the water entry.

Our group is the last one haha.

Love the narrow canyon as we row along. The sheer steepness on both ends are nothing short of spectacular. Shout and hear your echo along the corridor. And songs we did hymn and sing along, so many talented singers in Team Fiji (checkout our video below).
I shall spare you the dialect "Greetings" (haha cultural exchange) between Singaporeans and Fijians!

They call this the Christmas rock, because it fell from the cliff around Christmas period. Look at the massive boulder!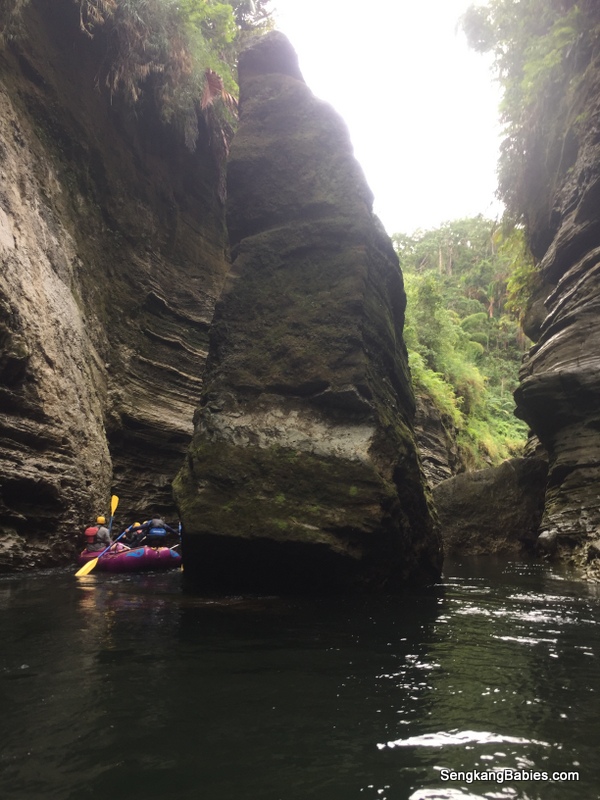 Wannanavu! (Fiji for AWESOME!). Must remember to have FUN and Joy otherwise you will only be complaining about cold weather and bulging biceps :p
Our guide Joe, thank you for hosting us Rivers Fiji!

The funny thing for me (and most guys) are hearing the gals complain about their messed-up hair, eye-liner etc wahaha! Their favourite term is CUI (3) (similar meaning as cannot-make-it, smashed, or devastated).
Yet, all their modeling-like poses look so chill and chio! Talk about professionalism 🙂
(obviously, you will not see me posing some CUI photos on this blog haha)
Ok, I digress.
The beautiful scenery along the way does distract us from the constant paddling. (one more time, Row Row Row your boat).

A handmade leaf filter wahaha! Love the authentic effect 🙂

We will see at least 5 to 6 waterfalls, some are more majestic.

Video (link): Cui, Singing, Paddling, having an awesome time!

Two boats for the Singapore team.

Anticipation and tension, as our raft inch nearer and you can hear the roaring rapids.

Beautiful "lagoon-like" stopover, our picnic venue.

While the lifestyle bloggers were bravely posing for their OOTDS, I did two jumps into the water and could not hold my GoPro straight! (I was shivering with COLD! Checkout video above 20 second segment).

Thousands of layers of sediments. Some of the rock faces look like embedded skulls? (Hint : Do not strain your eyes too much haha)

Chill. Literally haha! The splashing water will really shake you up, SHIOK!

White Water rafting is my favourite activity in our Fiji Itinerary, even though it soak up 5 hours of paddling 🙂

I have already Dayre up to day six on SengkangBabies, Day 4 link . Do pop by Nuffnang Dayre recap of our Fiji itinerary too (link).

Fiji trip photos on our Fanpage albums:
– Day 1 and 2 (Arrival and Radisson Blu)
– Day 3 (Sigatoka River, Village and The Pearl Resort)
– Day 4 (White Water rafting)
Blog:
– Day 1 and 2
– Day 3
– Day 4
ps.. Our trip is sponsored by Fiji Airways and Fiji Tourism. Vinaka!
#NuffnangSGxFijiAirways