This is our Fun Cebu family itinerary! We spent 8D7N snorkeling  with turtles and sardines, gawking at massive whale sharks and jumping 10m from waterfalls!
Do pop by our Instagram Hashtag #SengkangbabiesCebu  and Story for our summary. The links to more photos and other blogs are at the end of page.
Cebu family itinerary breakdown by days :
Day 1 reach Moalboal
Day 2 Oslob with Whale Sharks
Day 3 Kawasan Falls
Day 4 Free & Easy, Moalboal travel back to Cebu city
Day 5 1/2 day city tour
Day 6 Danasan Eco Adventure Park (more adventures!)
Day 7 Free and Easy
Day 8 Fly home
Adventures overload!
After touchdown, Rain, jams and Lechon welcomed us.
Our driver brought us to House of Lechon (franchise) .
You will definitely spot Lechon (roasted pig) and Jollibee every corner in Cebu downtown.
Malls are deck out and ready for Christmas.
If you are still unsure about Philippines culture. Say HELLO to Jeepneys, trishaws and traffic jams 🙂
We book a private transfer from Airport to Moalboal, where we will stay for three nights. Refer our custom Google Map link (black markers mean  attractions which we did not visit)
Journey was a slow 3 hours, as roads are jammed and packed with slower traffic like trishaws. (Click on custom Google Map link)
3 Nights at Moalboal
Moalboal, more accurately Panagsama area is famous for snorkeling and diving.
View this post on Instagram
Snorkel out 50m, and you will witness a sudden dip. This is the best stretch to watch the sardine runs!
We spotted two turtles, unfortunately my Gopro 7 did not record the second clip. Turtle was just 1m away from us, grazing the sea glass!
This one below was easily 1.5m by 1.5m in dimension.
Panagsama street, filled with dive shops and F&B options. Each meal here is 250 Peso+, more expensive than Cebu City (maybe 100 to 150 peso).
The turtles and sardines are easily reachable! Snorkel rental is 100 Peso per day, excluding fins and life vests.
Our Greece-like stay at Moalboal, D'Gecko.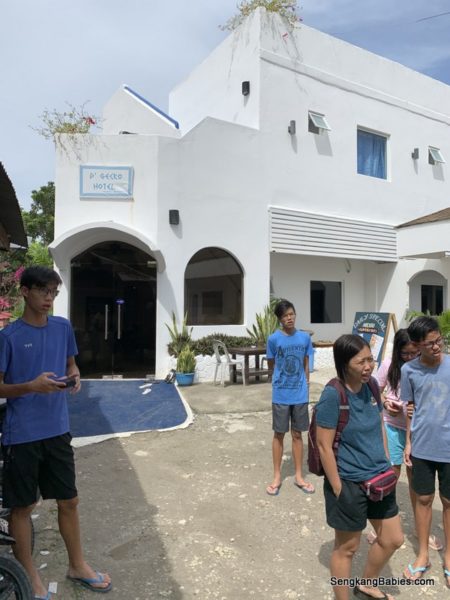 Have not visited Santorini yet, so this will have to do :p
Our preferred mode of transport. All  can squeeze into this trishaw! Forget about shock absorber or rain shelters :p
And there are plenty of potholes!
Panagsama front and white beach is famous with visitors.  And of course turtles and Sardines too!
Just look at Instagram Hashtag #PanagsamaBeach . These magnificent sights are just 50m away from coast!
Do catch the mesmerising sunsets too.
If you can free dive, go disturb the millions of Sardines like @evelynnnn_1021  wow!
View this post on Instagram
Day 2 Whale sharks at Oslob!
After seeing the video below, most would be in awe. I mean, this gentle Whale Sharks are easily 10 m long with a HUGE mouth!
View this post on Instagram
Front and behind, we spotted 4 of the majestic creatures. Kids were initially apprehensive, but quickly snorkel out to get a close up view.
We must try our best to avoid touching the whale sharks. I heard human touch could damage whale shark's surface membrane, exposing them to infections.
15 min away from the Whale Sharks venue, everyone hitch a Motorcycle to Tumalog Falls. Whee! quite dangerous but thrilling
Tumalog Falls has only a sprinkle of water, perhaps this is the dry season.
From the trail head, one can walk 45min (1.5km) to the first waterfall.
We would recommend the Badian Zipline! (500 Peso per pax).
"Superman" took 1 min to zip down. Say YES to adrenaline!
View this post on Instagram
Everyone can play "This-is-Sparta KICK" at the falls! Beside the water thrills, the emerald water was a sight to behold.

.. But safety first. Everyone must suit up with Life jacket and helmet. Just bring your Gopro or waterproof phone, NOTHING else.
There are 7 to 8 jumps to conquer, from 4m to 15m!
You can see the JUMPs in our IG story (link).
Video of Yee 10m Jump!

Besides taking care of our safety, the crew/guides are excellent photographers too!
The Unsung Hero award goes to Mummy Mengchoo. Although she hates stunts and hikes, she was GAME to join for the sake of family 🙂
Kawasan Falls is the No1 Cebu Family Itinerary for us 🙂
View this post on Instagram
Day 5 Half Day City Tour
Philippines is a Catholic country. There are many Cathedrals and churches on every island. Our guide shared how the first Spanish settlers converted locals to Christians.
View this post on Instagram
We started with the iconic Cebu Taoist Temple. The location itself is in Beverly Hills. Yes, the same as the one in California.
The richest folks will live on this hill overlooking the city.
Magellan's Cross is revered by Catholics.
If you are seeking more adrenaline, you will not go wrong with Danasan Eco Adventure Park.
View this post on Instagram
We did ATV, GoKart (improvised) and even cycled in the sky.
The rain did not stop our FUN!
Surprisingly, there are no night markets (food and souvenirs) like those in Taiwan or Thailand. If you are looking for nice food, try Sugbo Mercado.
And it is located right in the heart of Cebu IT Park (Call Centers heaven)!
We would like to thank Klook and Kawasan Canyoneering for  sponsorship and discounts for enriching our Cebu Family Itinerary.
Oslob Whale Sharks
https://www.klook.com/en-SG/activity/3643-snorkel-whale-sharks-oslob-cebu
Half Day Cebu Private Tour
https://www.klook.com/en-SG/activity/8013-private-rediscovery-tour-cebu
Danasan Eco Adventure Park
https://www.klook.com/en-SG/activity/17962-danasan-adventure-park-pass-cebu
Cebu Moalboal transfers
https://www.klook.com/en-SG/activity/12419-private-city-transfers-between-moalboal-mactan-cebu
Wifi router
https://www.klook.com/en-SG/activity/16561-4g-wifi-philippines
Badian Zip line and Kawasan Falls canyoneering!
https://www.facebook.com/kawasncanyoneering
We are still working on the rest of the blog posts, meanwhile do drop your queries to andy@sengkangbabies.com
More photos are uploaded in our Fanpage albums :
–Moalboal Panagsama stay
–Whale shark at Oslob
–Kawasan Falls
–Half Day Cebu City Tour (and nice food Sugbo Mercado)
–Danasan Eco Adventure Park
-Free & Easy SM Seaside
Cebu Blog posts:
* Cebu Family Itinerary
Day 2 Oslob with Whale Sharks
Day 3 Kawasan Falls canyoneering with family
Day 4 Free & Easy
Day 5 1/2 day Cebu city tour
Day 6 Danasan Eco Adventure Park (more adventures!)
Day 7 Free and Easy
Day 8 Fly home
Really happy that the whole family is game and adventurous, we tried many activities beyond our comfort zone 🙂
Oslob Whale sharks. Wow!

Kawasan Falls canyoneering, JUMP JUMP!