Hiking Broga Hill is on my wishlist (browse our Gunung hiking adventures here or Instagram #skbHiking), and to climb it with Boon Yee is a bonus. What Fun we had over 2D2N ! (photos link at end of this blog post).
The night before, I took no3 on a Father Son trip up North. Following tradition, one on one trip allowed me to bond and understand an individual "child" better, compared to a whole family outing.
The child cannot avoid me :p
(Read about Wei's Taman Negara and Kang's Koref Farm trip)
Our 爬山玩水 itinerary contains "Broga Hill, Blue Tears and Sky Mirror", the last two items sound so Exotic! (Day 2 blog)
0530 – Hiking Broga Hill (GPS 2.939444, 101.903333). We took about 2 hours to scale the 400m Gunung, there are total of four summits.
I was panting, but Boon Yee kept dashing to the front haha. Broga Hill is only 400m but steep at certain sections. I would say the first "summit" is the toughest!
Caught the rays of Sunlight creeping over the ridges and illuminating the clouds. Amazing feeling to celebrate the Start of another day with my boy. Super proud of Yee's adventurous spirit 🙂
The lalangs are taller than me, and we sometimes wonder whether we are on the right path. Take note the terrain is uneven and headlamp (not torchlight) is a must when hiking in the dark.
The last summit will have some HUGE boulders!
Nevertheless, Gunung Broga Hill is suitable for first timers and families, and you need not climb all the way to the 4th submit to enjoy Sunrise view 🙂
Celebrating another milestone with Yee.
Yee's Bruce Lee" attire, Keep Calm and Climb On :p
He told me turn every corner also can see hills and town, Broga Hill does offer spectacular landscape views.
Quenched our thirst with coconut juice, the Auntie quite enterprising and business is good.
Refer to GPS above, there is a makeshift carpark (in the middle of palm oil plantation) and toilet at the trail head.
Quoting our Village Head Simon Chan: "We transit from Hikers to Tourists". It roughly means time to EAT all the WAY!
Lunch at Garden Seafood (GPS 3.698333, 101.513333). Food is decent and we love the bun. This restaurant must be famous as I saw a photo of Malaysia PM's wife.
We are all super hungry, so everything would be tasty :p
Finally, reach our chalet at Bagan Datoh (also known as Bagan Datuk). This area is a Chinese Fishing village, quaint old neighbourhood and coconut trees sway along the coastal road.
Relieved to stretch our legs, after the hike and long bus ride.
9 Island Agency (环岛)'s chalet GPS (3.976111, 100.707292). Their Facebook group highlighted below.
Family-run travel agency, the whole village chipped in to support the tourism industry. Our stay, meals and boat rides are all managed by them.
Simple accommodation with hot shower and aircon. Yes WIFI available!
10 minutes walk to the "restaurant" at the end of the walkway. As this is a fishing village, expect strong fishy smell 🙂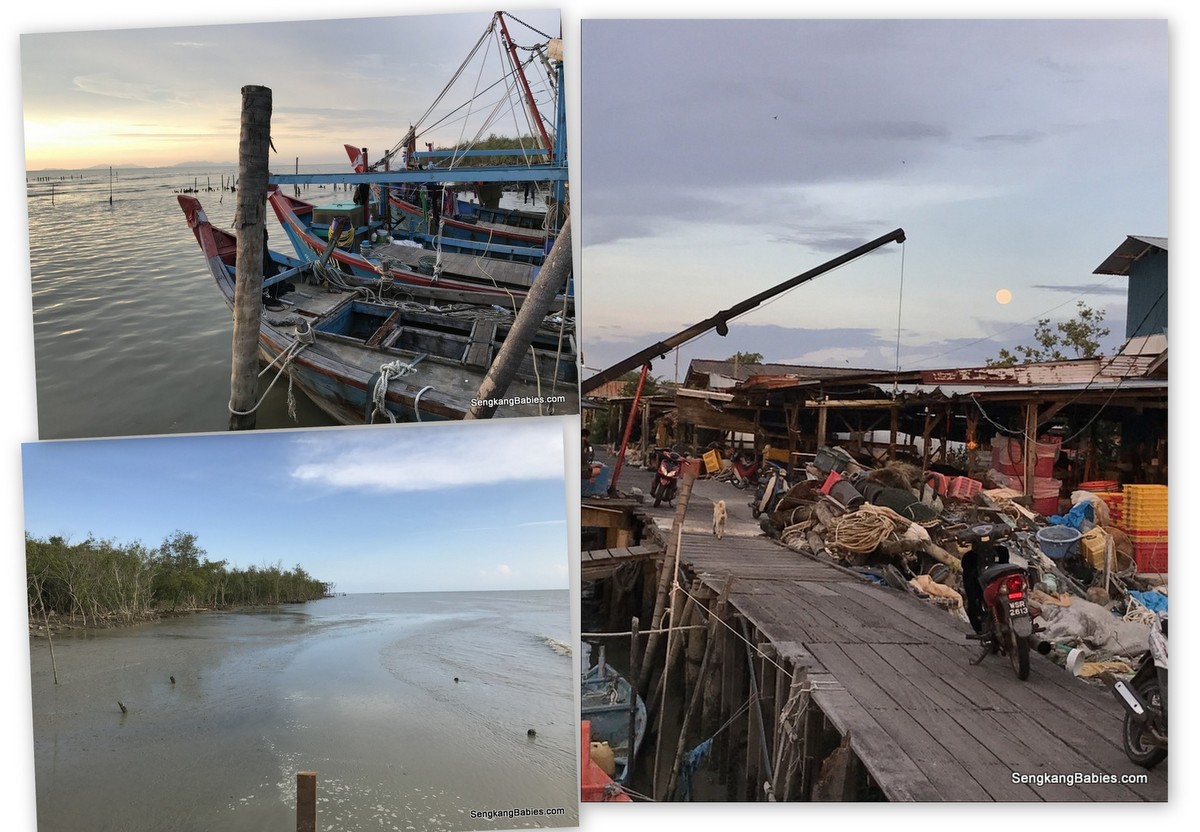 After a sumptuous steamboat dinner, we headed to the "jetty" to see a beautiful Sunset and take more wefies.
Tourists can do Karaoke at the dinner venue, spot a few fireflies (concentrated on one or two trees only), or simply enjoy the star-lit sky.
Ok, tram ride is also a hit with the kids 🙂
We ended the evening with a boat tour to catch the Blue Tears (蓝眼泪). Magical experience to "sail" towards the Sunset and blue hour.
The usual island to spot blue Tears is Pulau Sembilan. But Perak Tourism has banned tourist from visiting the island, in the name of conservation.
Although we could only scoop out the blue tears (actual micro organisms, "bioluminescent phytoplankton") from our boat, it was still a spectacular activity.
If we can go on the shore, and watch the waves turn blue, this is what you can expect! WOW!
From Broga Hill's Sunrise to Bagan Datoh's Sunset, I was Happy to spend a day of Fun with my boy. Together, we explored the rustic side of Malaysia.
That's it for Day 1 of our Fun itinerary. Stay tune for Day 2's highlight, LALA harvesting and 天空之镜 ! (Blog link here ). More tips listed:
*(Must See!) Do visit SengkangBabies Instagram Day 1 Video (link) and Adventure Village's SUPER nice drone footage! (video link)
(Instagram Video Day 1)
-Broga is at Semenyih, Selangor, and no permit required for Hiking Broga hill
**Check out Broga hill and Bagan Datoh Day One and Two photos on our Facebook album. FUN is guaranteed!
-Our "2D2N Malaysia Unlimited" trip was booked with Meetup Group "Adventures Unlimited", itinerary here . Join the Village (Facebook group) to link up with like-minded kakis
-Our Boat, chalet on Bagan Datoh is under 9 Islands Agency (9 Island Agency Sdn Bhd 环岛旅游有限公司)
-Why Pulau Sembilan is closed to visitor (The Star article)? We heard the islands will be transformed into a Marine Park
-Due to the sudden closure of Pulau Sembilan, travel agency is left with a lot of almost-new camping tents. All 50% sale, 2-men tent (or is it 4-men) only 80Rm
-Boat trip to Blue Tears is about 20 minutes, there are life jackets for kids
-Read our Hiking adventures on our blog (Gunungs, Panti, Belumut, and Instagram hashtag #skbHiking), not all are family friendly :p
-Check out some other bonding activities with my kids.
Boon Kang 3D2N (Farm at Koref), Taman Negara with Boon Wee, 2D2N Broga Hill and Sky Mirror with Boon Yee. 2019 Oct Taiwan cycling with Wei and Yee.
ps.. We would like to recommend Sekinchan 适耕庄 too, Malaysia's rice bowl. From Google Map, it is only 1.5 hour south of Bagan Datoh 🙂
(Sekinchan Blog post)