Our family is bigger so we normally go for apartments when we travel.
Besides having exclusive access to our own rooms, hall and even own kitchen, living together feels more like "Home Away From Home".
We are quite comfortable with "Rental options" for our holidays. During our recent trip to  Taiwan (10D9N link), we had an opportunity to explore two vacation units with HomeAway (under Expedia family).
The pictures below were taken from HomeAway app. Booking your perfect accommodation is only a few clicks away.

Let us share how HomeAway might make your next Holiday apartment a "Home away from Home".
The usual shortlisting criteria :
-Central location
-Near to train or public transport
-7×24 Convenience stores (Mrs might wish for shopping malls)
-Wifi and washer availability
You can even zoom in to your preferred neighbourhood (or train station) and find available HomeAway options nearby.
-Does the units fall under our Budget? Some folks might wish to splurge on a nice environment, but we typically just need a good bed and shower as we stayed out most of the time.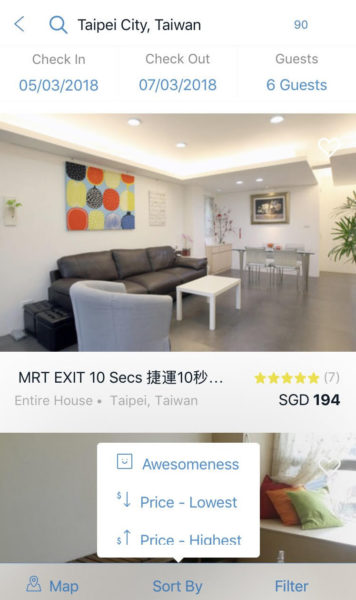 * Good reviews are very important for us, we need objective reviews of Host and unit. We value reliability, responsiveness and trustworthiness.
** Added assurance from HomeAway. The host will only be paid by HomeAway 24 hours after guests have moved in. This provide an added incentive for hosts to improve their customer service
Let us share some of the sample photos from our accommodations in Sun Moon Lake and Taipei.
1) We rated Lydia's unit 5/5, love the cosy settings and super friendly host. Unit is just next to Nanjing Fuxing station, details at this link.
2)The other unit is at Sun Moon Lake (one night). Comfortable and spacious loft but we only stayed one night. A pity, since there are many things to explore (and cycle) around Sun Moon Lake. More details on this link.
It is easy and convenient to book your next vacation though HomeAway options (portal or app). We will share more photos and amenities of our vacation units in subsequent posts.
Special shoutout to HomeAway for making our holidays more memorable 🙂
Do find the latest HomeAway promotions here:
-Facebook https://www.facebook.com/HomeAwayAsia
-Website https://www.homeaway.com.sg
Photo albums :
–Day 1 Aowanda, Cing Jing
–Day 2 Cing Jing
–Day 3 Xitou Nature Education Area, Monster Village, Sun Moon Lake
–Day 4 Taichung (Zhongshe flower, ShengXin station, Cycling, Fengjia)
–Day 5 Taichung (Animation Lane, Rainbow, Miyahara)
–Day 6 Keelung 基隆
-Day 7 Ruifang, Jiufen and Shifen
-Day x Taipei HomeAway and Neighbourhood
–Day 8 永康, Xi Men Ding, 象山, 饒河 Raohe
–Day 9 and 10 北投 Beitou, Toyshop, 士林 Shilin
Blog posts :
** Taiwan Itinerary for families 
–Day 1 Google Sheet, Aowanda, Cing Jing
–Day 2 Cing Jing Farm
–HomeAway Recommendations for Taiwan
–Day 3a Xitou Nature Education area (溪頭)
–Day 3b Monster village 妖怪村 and Sun Moon Lake
–Day 4 Cycling Taichung 台中 
–Day 4a 台中 Taichung  attractions
–Day 5a 台中 Taichung food Ice cream and Bubble Tea
–Day 5b 台中 Taichung Fengjia night market
-Day 6 基隆 Keelung
–Day 7a Jiufen attractions
–Day 7b Shifen attractions
–Taipei Neighbourhood around our HomeAway Vacation Home
–Day 8a Yong Kang Street and Xi Men Ding
–Day 8b Raohe Night Market, Wu Fen Pu and 象山 Elephant Mountain
Instagram #sengkangBabiesTaiwan
ps.. Our HomeAway accommodations are sponsored. For our HomeAway links (Sun Moon Lake Taipei), use promo code "HomeAwaySKBabies" and enjoy 8% off your booking (Valid until 31 Mar 2018)