Big Buddha (大佛) still looks impressive at Lantau island. Daddy and Mummy reached Him via ferry a decade ago, but there are more transport options now.

We hitch the MTR to reach Tung Chung (Lantau island 大屿山) in about 25 min.
This is the same line which can bring us to Disneyland.

Since 2006, tourists can reach Big Buddha via the Ngong Ping (昂坪) 360 cable car system.

Please buy your tickets online beforehand. Otherwise, you will have to queue twice for tickets and rides, which can be 2 to 3 hours during peak hours!
We chose one way crystal (水晶), and return trip on normal cabin. For those interested, there is a HKD250 package which covers return tickets and visit to two or three more sights.
Check out our video of our crystal cabin below.

Due to it's high attitude, Lantau experience frequent showers, it is advisable to bring your brolly along to protect against the elements.

We love our crystal cabin for it's see through awesome experience. Most of our kids love it, except someone who was apprehensive 🙂

Our cable car will even go past Hong Kong airport (Chek Lap Kok), try to spot the tiny airplanes taking off.

Tung Chung village is an old fishing village, but high rise buildings now dot the coastline.

After a few crests, we saw the Buddha far away, sitting on a lotus. Cheeky Boon Kang.

After a leisurely 25 min ride, we arrived at Ngong Ping Village.

Ngong Ping village houses some souvenir and F&B outlets.


There is an old cable car exhibit too.

The Buddha, as seen from different angles.

We met Heng Family at the foot. They have already conquered the steps. (Checkout their Hongkong experience.)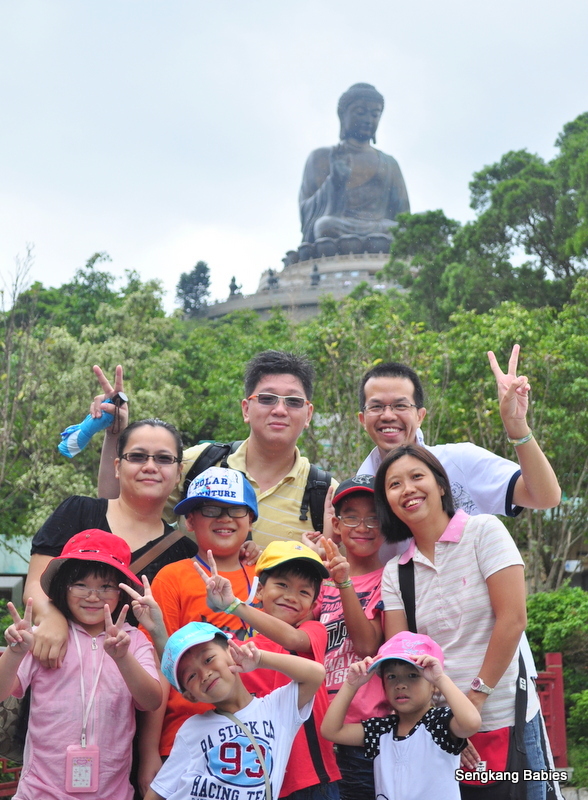 There are 240 steps to reach Buddha, Daddy had to hug Boon Xin halfway up :p

Then and now, dating and married.

At the summit, we do what tourists do. Enjoy the sights, gusty wind and photo taking 🙂

We heard Honeymoon's dessert is popular, and we order a few to ease our sweet tooth.

Daddy love the red bean and mango servings 🙂

Before boarding our return cable car, we noticed the mist has overrun the mountain.

Mist threaten to enshroud the Buddha, it is quite a sight to see the mist creeping up the slopes. We bid goodbye to Buddha.

The cable car back was more eXciting, our car was surrounded by mist and it is such a cool feeling. (You can get the same feeling at Genting too)

Video : Cable car cabins disappear in the mist

You can enjoy budget meal and shopping at Tung Chung Citygate Outlets.
There are a lot of shops and F&B outlets to cater to tourists. Prices are reasonable.
We hope you have enjoy our Lantau tour as well, do click for more photos at our fanpage.
More information :
Big Buddha –> http://en.wikipedia.org/wiki/Tian_Tan_Buddha
Ngong Ping cable car –> http://www.np360.com.hk
Our 6D5N itinerary.. do come back for more updates.
~~~ ~~~ ~~~ ~~~ ~~~ ~~~
–> Our 6D5N summary
Day 1 – Dim Sum, Ferry, Goose
Day 2 – Doraemon!, Tram, Ladies Street
Day 3 – Ocean Park
Day 4 – Buddha, ThePeak and Madam Tussauds
Day 5 – Street food, Disneyland !
Day 6 – Breakfast with Mickey, DisneyLand (part ii)