"Hello, please deliver nine nuggets to the White house".
That is Boon Xin calling McDonald. Yes, Obama already expressed his confidence to retain Presidency for four more years, when we visited in Sep.
That is how we started our tour of Madame Tussaud's mansion (香港杜莎夫人蜡像馆).

We had pop over to say Good Morning to Buddha earlier, and after lunch we head to another peak, The Peak (太平山). Kids are tired already.

Upon entry, Jackie Chan will greet you first. Take note you can only pose and buy the photo from Madame's designated photographer. Daddy sneaked in a quick one 🙂

The beaming Mrs and the Jealous husband. Louis Koo (古天乐) is suave beyond words.

Kids enjoy having breakfast with their McDull piggy friends. No bacon please, we pigs are too cute oINk!

Daddy found his Bro. Andy Lau (刘德华) and Andy Lee.

and kids found their favourite cartoon characters, like Astro Boy.

We discover our kids got talent. Wayang talent, not Musical talent haha 🙂

Daddy share with us why Saddam Hussein and Adolf Hitler are dictators.

Spiderman was ambushed by us, we saw a double "0".

Pop stars past and present, MJ moon walk please.

Teresa, Anita, Leslie. The Greats. They still hold a strong appeal among the ladies.

Xin took so many photos from Mummy's arm. She refused to come down and shake hands.

Everyone got their own idols, this Jay Chou (周杰伦) looks malnourished.

Daddy got too excited with Marilyn Monroe. Hello Smith family.

We found some Royalties and politicians, who granted us audience. Your Majesty and Highness 🙂

Quite embarrassing to disturb MM Lee during his Meet-People session at Tanjong Pajar, so we took the opportunity to chat with him about PSLE :p

Chinese PRC visitors will be staring at you when you act funny with their leaders. 同志你好 ! Kids ask why so many Chinese Presidents and Leaders on display?

Mr Gandhi free India from the British, we are still reading Shakespeare's Macbeth in Literature classes.

Seems like Mummy got a lot of handsome idols. Leon Lai (黎明) is one cool lad.

Now, our little gal knows her stuffs too. Boon Xin reads Superstars name like ABC.
Beckham, Alonson, Nadal, Ronaldo, shs choose the handsome ones! (joking)

We end our tour with Mr Fist of Dragon, Bruce Lee. Even Boon Xin is impress enough to show her thumb haha.

The sky is cool and windy in the evening. Fortunately, the mist were not blocking our views, splendid Harbour view greeted us.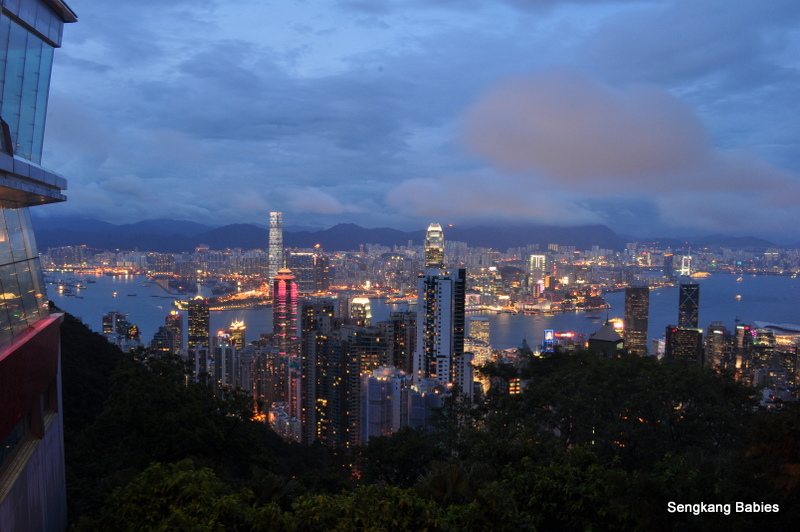 Views from the Peak

The sharp descend from the Peak. Bye bye Madame Tussauds.

When at Madame Tussauds, learn about historic figures, and legends. Be curious, be daring when posing. Enjoy your portraits and antics. Infact, Daddy lost his tripod for 20mins during the andrenalin !
More information :
– all the Stars and paparazzo photos are at our day4 Fanpage.
– Madame Tussauds
– Peak Train
–> Our 6D5N Hong Kong Family Itinerary summary
Day 1 – Dim Sum, Ferry, Goose
Day 2 – Doraemon!, Tram, Ladies Street
Day 3 – Ocean Park
Day 4 – Buddha, ThePeak and Madam Tussauds
Day 5 – Street food, Disneyland !
Day 6 – Breakfast with Mickey, DisneyLand (part ii)
All photos from Day 1 to 6 are available on our Fanpage:
–Day 1 photos
–Day 2 photos (Doraemon)
–Day 3 photos (Ocean Park)
–Day 4 photos, and Buddha lantau
–Day 5 photos (Disney)
–Day 6 photos (Breakfast with Mickey)