When we talk about food in Malaysia, Penang (Asam), Malacca (Peranakan) and Ipoh (Hor Fun) are always popular. We have been to Penang and Malacca recently, but the last time we set foot in Ipoh was 11 years ago.
Last week, we went on a food trail to Ipoh. It is almost 500km away from Singapore. We need to know whether Ipoh's white coffee is different from our supermarket's 3-in-1 version :p
Boon Kang loves his toast. Look at the Kaya oozing out of the crispy crust !

We know we are near Ipoh (Perak) when we can see all the picturesque hills surrounding the highways.

Breakfast. Our first taste of aromatic White Coffee, coupled with freshly baked egg tarts and bread toast!

Lunch. Ipoh is famous for salted chicken, we tried claypot rice too 🙂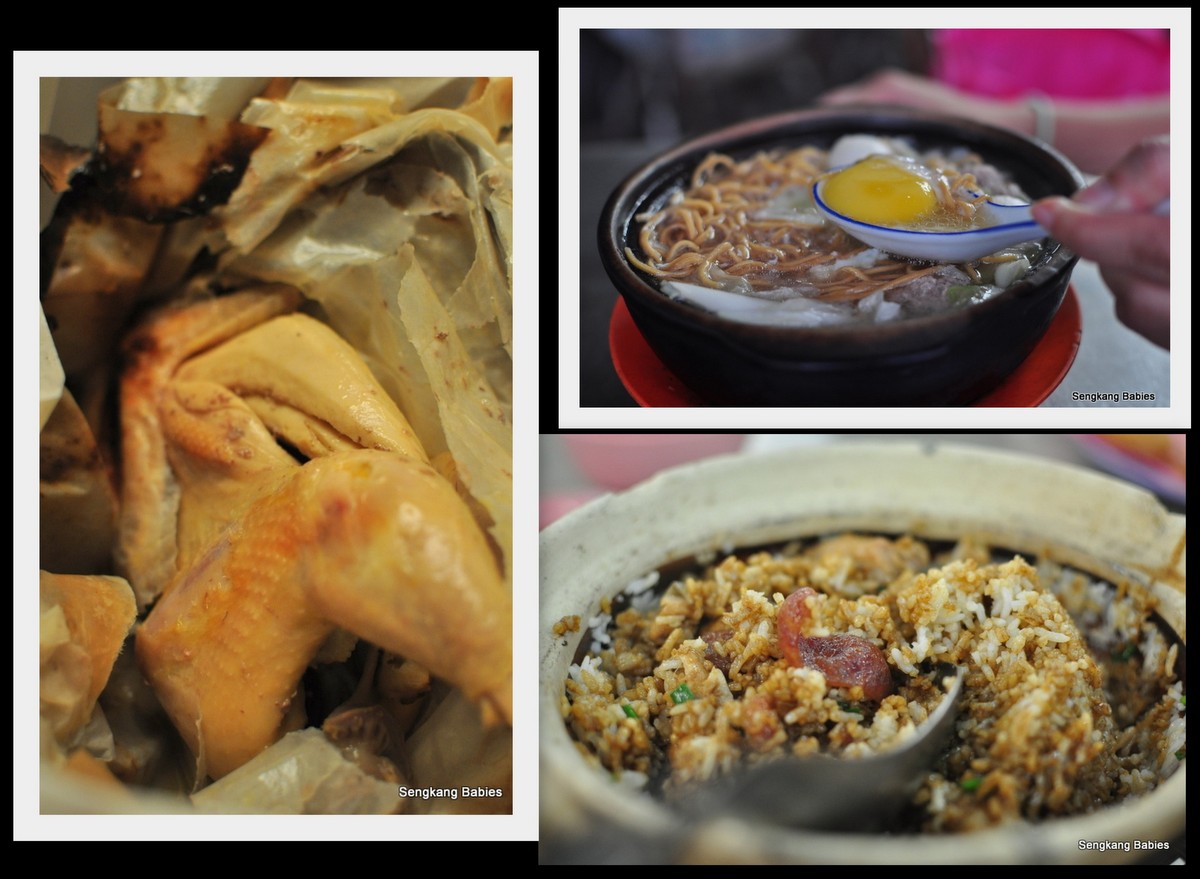 Tea break. Buns, desserts, or tim sum aplenty. Which one is good?

It really does not matter where we settle our meals, follow the locals. Drinking 豆花 (bean curd) in a car is so authentic !
Shopping. We should choose those brands not found in Singapore supermarkets right? Problem is there are so many brands to choose from ! (Bisuits, crackers, cuttlefish, Tau3 Sah2 Piah4, and Mah3 Ti2 Soh1)

We strongly recommend family with young kids to visit Lost World of Tambun. The petting Zoo, Hot Springs are a nice distraction from food experience.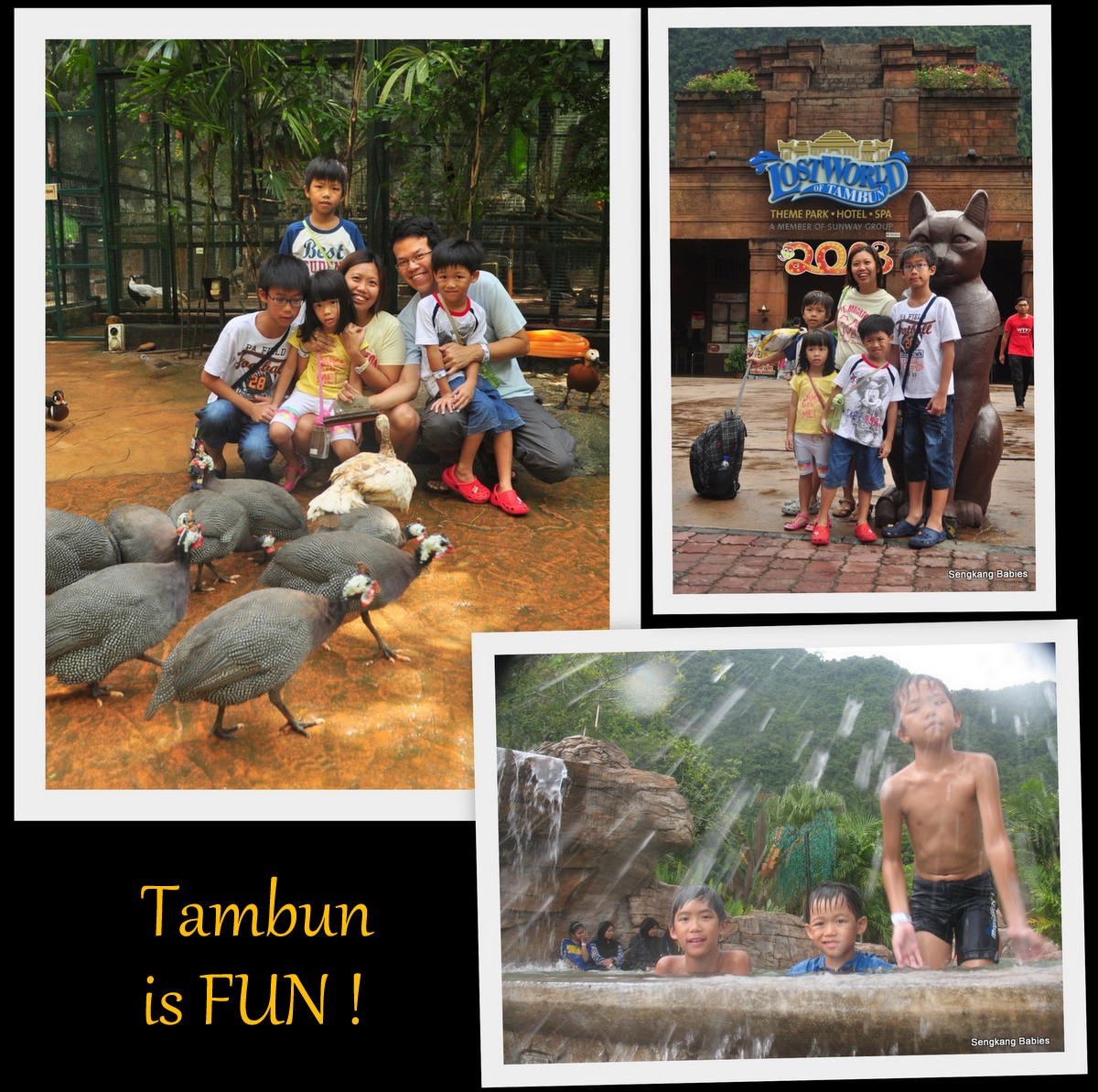 Dinner time. Yummy Bbq Chicken wing.

Cuttlefish kangkong at Woolley Food Centre. This is the best dish of our trip, voted unanimously by Mummy and Daddy. This 5 stars dish is very affordable, the satay gravy so fragrant and the cuttlefish so chewy. It appears on almost every table.
Daddy might have to boycott Singapore's Satay bee hoon :p

Dessert. You must try the cendol and ice kachang. We love Ipoh's version compared to Penang (Sweeter). The below left pic is actually a mixed-fruit and topped with chocolate ice-cream (just like a salad).

We did not force Boon Xin to sip off the last drop of Ice. It is that Good !

If you find the above street food appetising, it is only 30% of what we have savour !
Can you imagine why our waistlines have balloon over the short Ipoh stint?
Poor Boon Yee. He was stuffed with so many goodies on Day 1! No wonder he is hesitant about another mouth of goodness.

We will recommend Regalodge to our friends, we stayed three nights at this cozy hotel. Click for Tripadvisor and Hotel website.
Meanwhile, we will share more about the food locations in the next few posts. Meanwhile, you can drop by our Fanpage Day 1 album, or reference and google :
a) F&B names (to be updated)
– Salted Chicken
– Woolley Food Centre (Ipoh garden 怡保花园)
–
b) Blogs
– Eunice (TravelFolio)'s Ipoh list
– Motormouth ( An Ipoh food blogger)
– Ipoh Food GPS
c) Some of our food joints were from XinMSN's recent "Volkswagen Holiday On Wheels".
(link no longer valid)
d) How does Penang and Malacca street food fares ?
– Malacca Fenix Inn (Budget) Day 1 and Day 2 albums. Older Malacca post from 2010 Holiday Inn.
– Penang (HRC)
Although we drove 7 hours to reach Ipoh, budget air Firefly takes only 1.5 hours. In case you choose to drive, we have just blogged about our driving experience on North South highway too.

=== === === Read our Ipoh posts below === === ===
— Malaysia Driving tips
— Day 1 – Drive and Food
— Day 2 – Lost World of Tambun
** updated 2014Jun – GPS for food locations added
** Or fly to Penang then drive to Ipoh