Khao Kho Sea Clouds 云海 was the best experience for our family.
You might have seen the amazing Khao Kho Sea Clouds on your social media channels. Try Facebook "Travel Intern, Tripcanvas and Klook".
Khao Kho (in province Phetchabun) is also known as Thai Alps 🙂
Personally, some of Khao Kho best attractions are :
-Khao Kho Sea Clouds
–Sunrise (Phu Thap Boek, a bit far and likely need 4wd )
-Wat Prathat Phasornkaew (the famous temple)
-Windmill (farm)
We stayed at Tanrak Talaymok Resort (แทนรัก เขาค้อ, GPS 16.649768, 100.996217) for 2 nights. Had chosen this resort as they have good reviews and the 云海 looks good.
Sea of clouds (or 云海) simply refer to the thick mist or fog which forms when warm air meets cooler ground. It is more visible and thicker in a valley or over water body (rainy season the best).
We were seated at restaurant daily before 6am, just to catch Khao Kho Sea Clouds. You will noticed that special tour groups will come up to the same spot in their van "tuk tuks"!
Keen anticipation as the Sea of clouds slowly roll towards us! Spectacular, early birds catch the best views, definitely worth sacrificing our sleep.
In rainy months, the Sea Clouds can even reach the restaurant! (check out Tanrak Talaymok video! link)
Look closely and you can see the vehicles driving through the mist. We were wondering whether there are any occupants in the camper vans.

YouTube (link) Sea of Clouds at breakfast.

Non-stop selfies and wefies.
The Sea of clouds can linger for up to 2 or 3 hours. Breakfast with a nice scenic view.

Little cottage style, Tanrak Talaymok is famous for the front view of Sea Clouds, and their fresh produce (especially vegetables).
Enjoying the little plots of landscaping all over the resort. Love birds and Instagram friendly.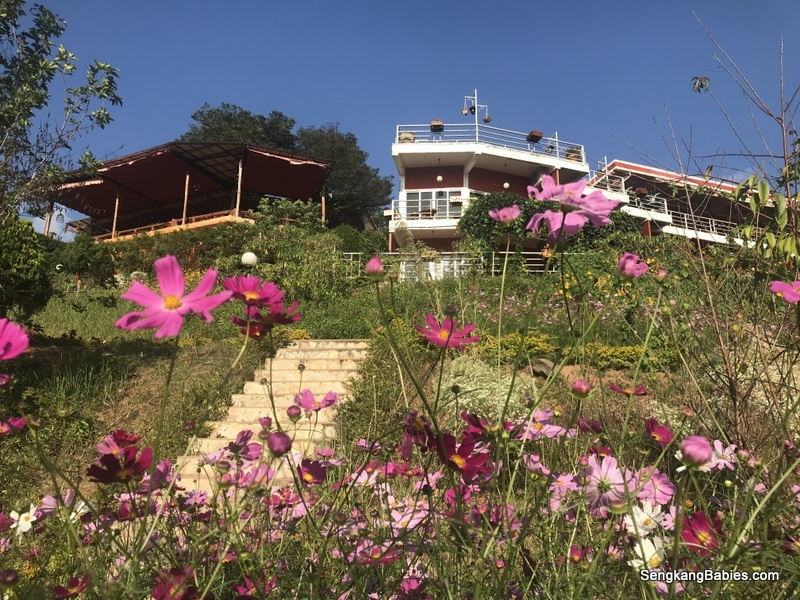 View from our rooms.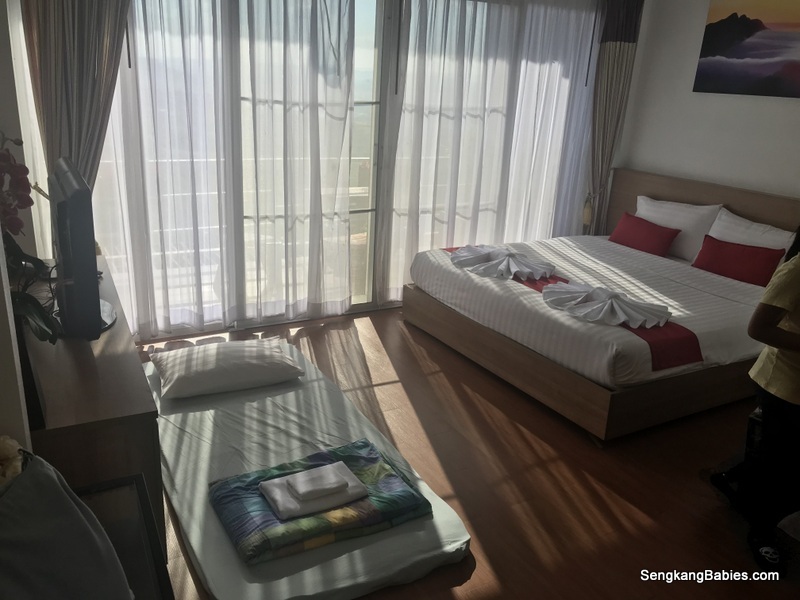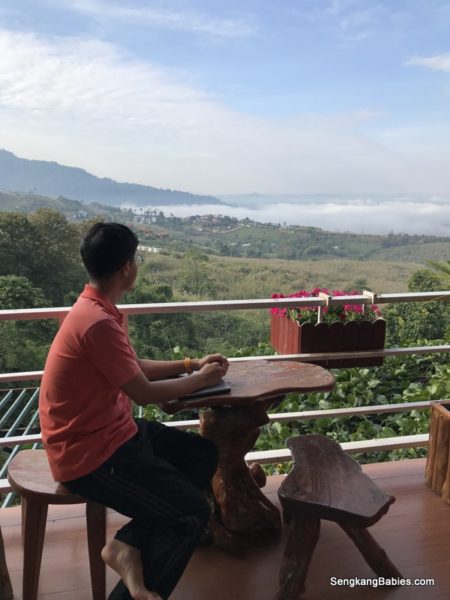 The reservoir could explain why the mist is constantly fascinating everyday.

Tanrak Talaymok's Green toilet makes you linger a bit longer.

Weather temperature will drop to 20 to 24 degrees in the evenings. I was lured to take a run, but the hilly slopes nearly killed my legs!
Do nothing,  just enjoy the glorious Sunset!

We had mookata dinner on one night. There is a small night market near to (Khao Kho most beautiful) Post Office.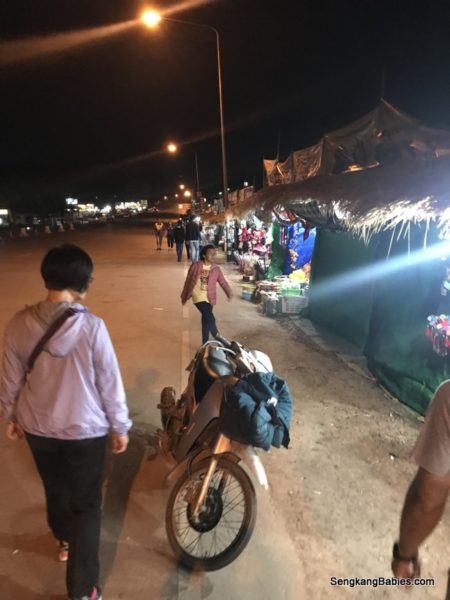 Street food price range from ฿35+.
There is a steamboat next door (Gps 16.631111, 100.995833). Mookata fees per head was about ฿199. (rated 3.5/5)
Perfect cuisine to warm our tummy.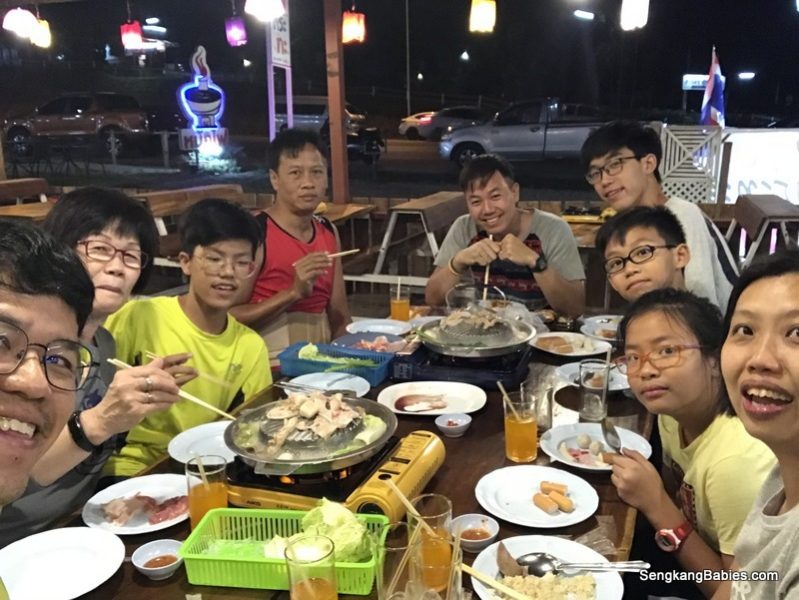 On another night, we dined inhouse at Tanrak Talaymok (rated 3.5/5). Restaurant is famous for greens and tom yam. You need to RSVP early to have a spot.
Earlier, this was how we travelled to Khao Kho. We met 叔叔 at Suvarnabhumi Airport first.

Followed by a 5 1/2 hour travelling time up to Khao Kho. It might be tough for young families.
We might recommend some midway stopovers. Lopburi or Saraburi for sunflowers, or Khao Yai (farms) is very popular with Singaporeans!
Rental van (and driver) would be ฿4000+ per day.
Along the way, snacks kept us sane 🙂
Could not remember what this was, it was some fried fish, but tasted heavenly.

Our favourite convenience stall, 7-11 🙂
You can microwave your breakfast,lunch and dinner .
We stop over at PTT Petrol stations enroute. Besides the 7-11, the toilets are super clean!

Interesting sights. As you drive further north, motorcycles helmets become optional.

As we reach higher grounds, you can spot sweet strawberries everywhere (you can pluck too). Grapes farms are available too, but depends on seasons for plucking.
We will share more about our Khao Kho activities in the next post. Meanwhile, all photos (and GPS) are loaded in Facebook albums here (day 1) and here (day 2 & 3) .
Follow our Instagram #SkbThailand for our Thailand adventures.
Do follow Tanrak Talaymok Resort Facebook for the latest updates.
Hotel service is good and friendly. One night is estimated $130 per room.
This resort website is down, and they understand minimum English.
We can reach them on Facebook Messenger or phone "+66 87 020 7014".
Oh, Talay is Thai for Sea, and Mok is Cloud 🙂
Do research this two blog posts for the best Khao Kho Sea Clouds experience. You might be inspired to camp too! Just imagine waking up early and catching the cloud from your tent!
https://readme.me/p/1298
https://readme.me/p/7353
If you want shopping, Khao Kho might not be suitable for you. There are only fruit farms, no animal farms.  Just chill and enjoy some fresh air 🙂
If you love Khao Kho, you will like our Chiang Mai Family itinerary. Chiang Mai is still our best destination in Thailand.
We will be sharing more about our Bangkok Family Itinerary. Meanwhile, you can read our Thailand adventures here:
-Instagram #skbThailand
–Khao Kho Itinerary
–Sea of Clouds at Tanrak Talaymok Resort
(Khao Kho Photos are here and here)
–Bangkok "Itinerary" with Klook
–Bangkok Street food we like (and food GPS)
–Little Zoo Cafe (Facebook photos)
–Bangkok Bike Tour (Facebook photos)
–Maeklong Railway and Amphawa floating markets (Facebook Photos)