[ Sponsored ]
Our Ice cream is GOOD ! Especially when the kids know they were involved in the "manufacturing" process.

SengkangBabies were invited to KidZania Kuala Lumpur (KL) earlier this month. At the Curve, AirAsia greeted us when we arrive. When Daddy told us that we can be pilots, kids' eyes brighten up.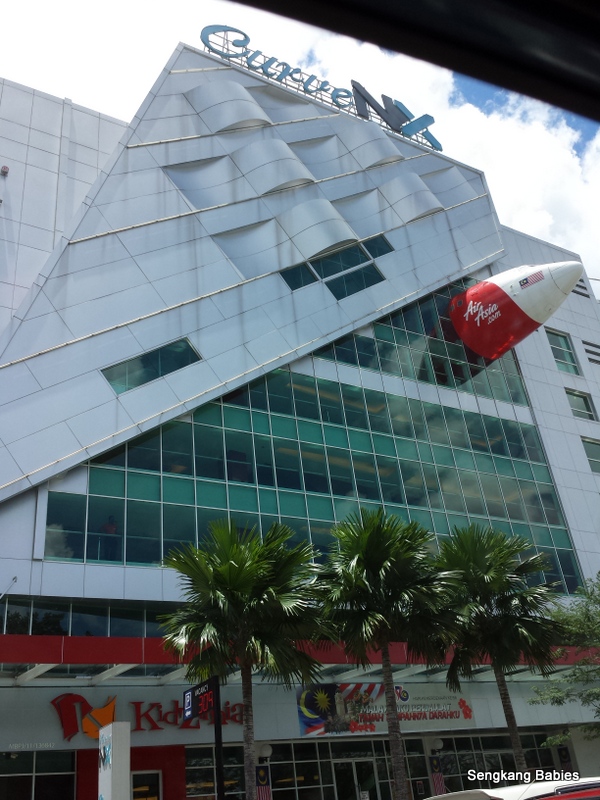 We all know how HR (Human resource) disdain Job Hopping. At KidZania, everyone is encouraged to try as many jobs as possible :p
With over 60 establishments and more than 90 activities spread over two floors, kids will be spoil for choice (no need JobsDB or LinkedIn!).
A) How can parents maximise the FUN ?
1 – Identify those must-do and nice-to-do jobs beforehand. (Click for interactive map). Once at KidZania, no time for planning, as kids will be pulling you in all directions !
Read the contract before signing The Job recruitment rules are pretty straightforward :
2 – Shortlist the suitable jobs (age, fun factor, estimated waiting time)
3 – Queue in the yellow boxes
4 – Each Job duration might last 15 to 20 mins
5 – Collect salary (KidZos)

Do take note adults can only catch the kids' activities from behind a glass panel. Older kids will have an opportunity to take care of the younger siblings. Kid/s learn to be independent, and follow instructions.
.. even when they all go to jail together.

No worry if the kids do not understand KidZania's National Language at first, they will pick it up along the way. But if parents wish to impress the kids, do your homework recital.
The first step for kids would be to cash in their cheques at CIMB bank. With the KidZos (KidZania currency), kids can start to work immediately.
** after a while, kids will run out of pockets to keep their stash of Kidzos, adults can volunteer to be the bankers.

Earlier, we saw the exposed AirAsia cockpit outside the building. Kids can actually serve Coffee, Tea or Orange inside the jumbo. Who wants to be a flight attendant or pilot with AirAsia?
Expect long queues, it is a pity the adults cannot see what is going on in the cockpit. We can buy the photos thereafter.

Postman anyone? The highlight is not the delivery, but the opportunity to man-handle the trolley at TOP speed. Kids need to deliver parcel to three spots and get the owners to sign on the delivery receipt.
Daddy had to keep shouting "Slow down!", "Watch out for strollers !" from behind oops.

Daddy the GPS.

At another corner, kids can clean the window panes, lay the bricks as contractor or painter. Daddy figure we need a junior contractor at home to fix-it next time.

Energy Technician. This was not one of our must-do job, but helmets always look good on kids. The tall ladder definitely looks inviting ! Everyone loves to Climb right?

The smaller kids always get to wave the stick and control the human traffic. Boon Xin has an easy job, she just need to act cute.

Working Full-day with the kids from 10am to 5pm, no wonder the adults are tired out. Mummy could do with a massage, and Daddy needs caffeine to keep going.
Fortunately, KidZania has a lounge to cater to the parents. No kids allowed heh heh 🙂

With Police so cute, the crooks will be caught easily, as they will be giggling at the oversized uniforms and forget to run away !

Be it Artist or Painter, one gets to express his creativity.

James Bond anyone? You can play Secret Agent and bungee jump from the third storey, or scale the wall like Spiderman! Thrill-seekers Hi-5 !

Sushi or Marry Brown (burger) never mind.

Kids will love to "cook" and prepare their own dishes ! Do take note we need to pay for F&B (Food and Beverage) careers, as kids will get to keep the we-hope-it-is-yummy meal.
Mummy thought the sushi (not Sashimi) is quite delicious !

Vitagen too wow! Our little scientist is concocting the perfect flavour.

With the hard earned money, Daddy say we can save for the PS/3 at KidZania Departmental store.

.. we were so happy until we saw the price!
We will need to slog countless OT (overtime).

Hand tattoo and face mask will be more affordable 🙂

More landmarks at KidZania.

Two vehicles will roam KidZania with their Sirens.
Ambulance – Kids can opt to be Paramedic or Patient. Most will choose paramedic, as patient earns less money. Imagine being tied to the stretcher haha, and the child still need to act sick.

The ambulance ride is definitely the highlight ! Yee-or Yee-or hear the siren blare down the street !

The other popular ride is the red Fire Engine. Everyone is queuing to be a Fireman. Kids get to ride a fire-engine, put out a Hotel fire, and get paid.
It is worth the 20 to 30 min queue !

Fire prevention tips. KidZania is all about education through Fun.

With their paramedic experience, the kids got promoted to ER. The emergency room even allow the Surgeons and Nurses to rip open the mannequin's ribcage and reveal the nicotine tarred lungs and pumping heart. They even got to rub the plates and apply a Shock to the poor mannequin.
…. CLEAR ! Shock! The heartbeat came online again….
Daddy told Mummy kids had seen too much TV dramas on Mediacorp CH 8.
How did they know about CPR?

In case we decide to run a Nursery next time, Boon Kang and Boon Xin will be certified. They were powdering the babies' butts.
Their smiles are priceless, adorable and CutE !

Tesco, NTUC or Cold Storage anyone? We did not have time to try this, but it seems fun to have a shopping list, checkout.

Just like real life, we earn income, we will get taxed, no one likes the Tax man 🙁
No wonder the Tax office could not attract any interns.

Maybe these two careers will prompt kids to take care of their Eyesight and Dental hygiene.

You can be a Car Salesman, Mechanic or even Test driver.
But the cars are too s.l.o.w.

Boon Wee is old enough to watch the news bulletin sometimes. What if he can be the TV broadcaster? It was interesting to immerse ourselves in the studio environment, and read from the script.

Those who cannot articulate well enough, can be the camera man, producer, sound man. Behind the scene setup looks professional, we can even buy the News-bulletin's replay Dvd.

Video : Check out their TV7 recording on this clip

Boon Wee was happy to select his own career. He decided to loan a Mobile phone and went sight-seeing in the town. His task is to identify and take photos of a few landmarks, maybe like journalist. We were glad that he was helping the younger siblings with the instructions too.
Happy workers, especially when you can drink your "own" Vitagen.

The last job of the day was to craft our own Mint Melt Ice Cream. This is Ice cream manufactured from sub-zero compress Nitrogen, so kids really get to enjoy concentrated ice cream.

Before heading back, we pose with our favourite KidZania characters. Did you notice all of them are still smiling after 6 hours of work 🙂

Like most theme parks, we spend some time at the souvenir shop for last minute shopping.

We would like to thanks KidZania Malaysia for the invite. Besides having Fun, our kids also learn about the importance of Money Kidzos. It was reassuring for us parents to witness the siblings helping each other out.
Tips for working smart in KidZania
– Go on a weekday, less queue, you can then opt to play some Fun career twice
– Do not miss the F&B (Food and Beverage) jobs ! It is so much Fun to make your own breakfast, lunch, snack, beverage and dinner !
– Take the opportunity to let kids know that money do not drop from the sky, and efforts matter
– Be Brave and watch our kids explore and venture out there on his own. He or she will surprise you with his independence
– Although most jobs indicate age 4+, instructions are easy and 3+ child should enjoy most activities too
* Do pop by Jobs@SengkangBabies for more cute photos !!
For latest updates, do pop by KidZania website and Fanpage.
Entrance Fees :
Adult RM 50, Kids (4-17) RM 75 (International Fees)
Opening hours :
Fri – 10am to 5pm
Sat/Sun – 10am to 3pm, 4pm to 9pm (2 sessions)
Location :
Curve NX
18 Jalan PJU 7/5
Mutiara Damansara
47810 Petaling Jaya
Selangor Darul Ehsan, Malaysia
GPS : 3.157743, 101.611202
~~~ ~~~ ~~~ ~~~
We hope you have enjoyed our KidZania Malaysia review, and we strongly recommend to let your kids job-hop at Kidzania Kuala Lumpur too. We cannot cover all the jobs in one day. Do pop by our friends' reviews too :
– CheekieMonkie
– PrincessDana
– TheKamFamily
– More exclusive photos (Hospital and Cockpit) from VenusBuzz
– MamaShoppe's Bangkok KidZania
– Singapore's upcoming KidZania in 2014
– Our Taipei BabyBoss experience
Z-U (See You !)
ps.. Do pop by our Safety driving tips in Malaysia too