Many adorable pets await at Little Zoo Cafe!
The caption below could be "Feed me".
There are two branches of Little Zoo Cafe in Bangkok. We went to the popular one (read long queue) near Siam BTS.
Cafe is 5 min walk from Siam BTS station ( GPS 13.744325, 100.531799).
Do take note Cash only payment. ฿350 (about Sgd 15) and ฿290 for adult and child respectively (child must be under 130cm).
Ticket price is inclusive of drink+dessert+sock.
Guests can only wear Little Zoo Cafe issued socks and crocs.
We waited for 45min before it was our turn.  Queues of up to 60min are common as guests can stay inside whole day!
(Hint: Maybe someone stay in queue and the others go shop/eat in neighbourhood)
We had a fun 2 hours lingering and petting the dogs, the cat and all things furry 🙂
As if the animals are not adorable enough, the names are even  fanciful too. Try asking the staff to identify Cheesecake and Butter (haha!)
All animals cute and Instagramable, but they need to work shifts too 🙂
Video (YouTube link) : Fun interaction at Little Zoo Cafe

If you have not make up our mind yet, look at these adoring eyes. They were seated on a bench waiting for us to approach them (even macho Dads will become soft-hearted)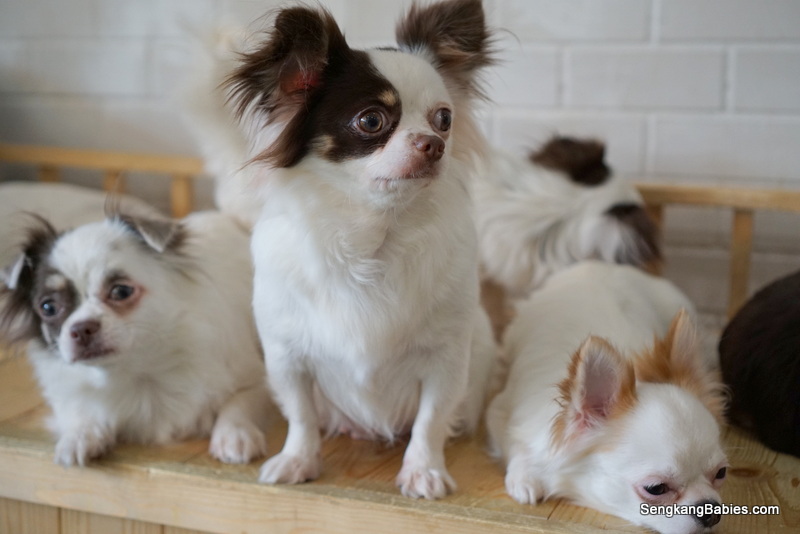 Walao! The dogs and furry friends look cute even when they are taking naps.
The bunny is bigger than the dogs.
The friendly parrot and owl. So many variety of pets at Little Zoo Cafe.
Side track to the desserts. This are meant for human consumption, do not feed cakes to pets! F&B is so so 🙂
The most friendly pals are the corgis. Elongated, ever friendly, there are three plump ones hee hee 🙂
Then you have Hippo (seriously haha, these guinea pig is called Hippo!)
Chinchilla, the one with bloodshot eyes. But this cute fellow is like a furball rolling from your limp to your shoulder to your head.
We cannot keep animals at home, so this is as close as we get to owning a pet heh heh.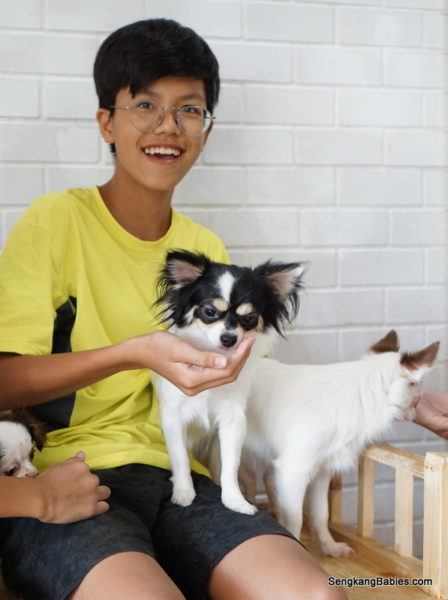 Tender loving care from Little Zoo Cafe staffs. You should see the mayhem when the lady boss appear, all the pets were chasing after her for a cuddle 🙂
One of the staff whispering to the resident cat. Cats got attitude, they do not like to socialise.
Kids feeding the dogs, Again. Hope the pets got to exercise afterwards.
Our kids got a lot of love to share. But our gal was a bit apprehensive at the super-friendly dogs haha 🙂
Sharing more "Family" portraits  🙂

Tell me, how can you not cuddle this fellow!
Hello Meerkat, she keeps digging for worms. Very active, and she sometimes come out and disturb humans too.
No worry, she is very curious and friendly. (Google Meerkat Manor for video series)

How much is that puppy at the shop?
There are many animal and pet cafes in Bangkok. The other famous one are Big Dog Cafe and TrueLove (Huskies, IG video below).
We chose Little Zoo Cafe because of the variety of animals.
Little Zoo Cafe Tips:
-No reservations allowed, only walk in
-Even though queue is long, Little Zoo Cafe control the number of guests
-We have already mention cafe does not accept credit card, only cash
-Little Zoo Cafe Facebook and contact +66 92 448 1116
-These animals move fast! You need to have Super fast camera or ask assistants to ask the puppies to "pose"
-The animals are well loved by the staff
-On occasions when there are spills, drinks and urine, everything is mopped away efficiently.
-It was a good opportunity for kids to take care of their little friends
-More cute animals can be found on SengkangBabies Facebook album.
~~~ ~~~ ~~~ ~~ ~~~
We will be sharing more about our Bangkok Family Itinerary. Meanwhile, you can read our Thailand adventures here:
-Instagram #skbThailand
–Khao Kho Itinerary
–Sea of Clouds at Tanrak Talaymok Resort
(Khao Kho Photos are here and here)
–Bangkok "Itinerary" with Klook
–Bangkok Street food we like (and food GPS)
–Little Zoo Cafe (Facebook photos)
–Bangkok Bike Tour (Facebook photos)
–Maeklong Railway and Amphawa floating markets (Facebook Photos)