I will share more about New Zealand cycling trails in this blog post.
As part of my New Zealand Road trip, I had packed multiple hikes and biking trips into my itinerary (read here).
The reason I chose Old Coach Road cycling route was because it was near to Tongariro National Park (35 to 50km drive), and the 2 hour route was within my tight schedule. I had stayed one night at National Park to explore nearby mountains, waterfalls and streams.
My 4k Video, FUN along Old Coach Road (YouTube link)

Relive video below

I was sold when I saw Old Coach Road's old railway line (Hapuawhenua viaduct). This is actually part of a 200km long Mountains to Sea route!
Those new to cycling trails in NZ just need to explore this link.
https://nzcycletrail.com
Map showing how I drove and pickup my bike at Ohakune
Old Coach Road is only 15km and will take you between 2 to 3 hours.
Recommended itinerary (refer custom Google Map above):
a. Rent and return your bike at Ohakune town (TCB vendor)
b. Vendor will transfer you and bike to Horopito start point
c. You then cycle South towards Ohakune
d. Return bike at Ohakune
For novices, I would recommend this direction for lesser upslopes, and route is easier to navigate(60% of slopes in the first half of route). You will see experts cycling in the opposite direction.
Shortlisting your bike vendors
-Some vendor has two while others has three time-slots. Check which one fits your itinerary and schedule
-Secondly, some slots might need minimum 2 to go
(Budget wise, most pricing are competitive)
I got my bike from the friendly folks at TCB, and book their Old Coach Road package. Make sure you book early to avoid disappointment.
Before we start, Old Coach Road is one of the easiest biking tracks in New Zealand. It only takes 2 to 3hr, 15km between Horopito and Ohakune.
.. but it is not straightforward for amateurs. It is not a ride in the park!
Let's Go! My Green ride, "My PRECIOUS" LOTR haha 🙂

Follow the "horse shoe" logo to keep on the right track.
Good advice about locking your bikes. Overall, NZ is very safe, but I would hate to be stuck in the middle of nowhere without my bike.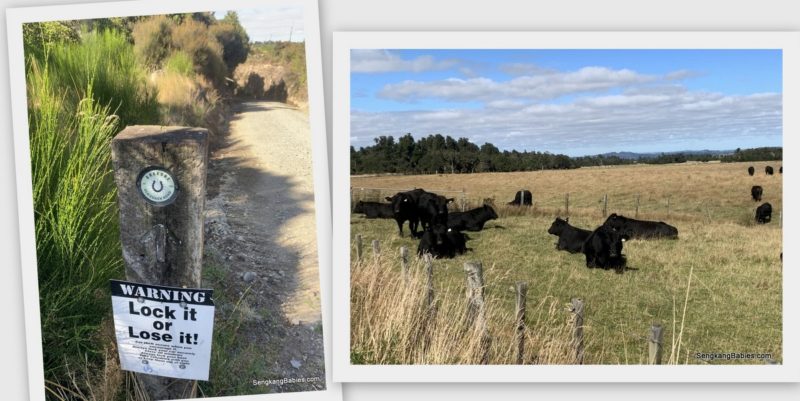 Near to the start point. The gravel road are hard to ride over, and the wheels keep sliding. The cows will be laughing at "tourists" struggling along the path.
Railway track behind me, this is a real one.

Cross the track and cycle deeper into the forest. I love the zig zag lines inside the forest.  Shady and quiet, it feels like you are the only one in the forest, and you might only meet another cyclist after hours.
Secluded, Peaceful and Beautiful route. FREEDOM!
The first half has two memorable upslopes which I could overcome with low gear, but I chose to push. Excuse me, my calves were still hurting from hiking Tongariro Alpine the day before.
Expect crickets and birds for company. Sometimes, I would be so elated that I needed to sing or shout out loud 🙂
As you cycle along, you will see some information corners. Posters will depict Old Coach Road history and neighborhood. Not easy for early ancestors to overcome the harsh forest camps.
Cycle past old bridges and foundations.
Taonui viaduct is rusty but still magnificent.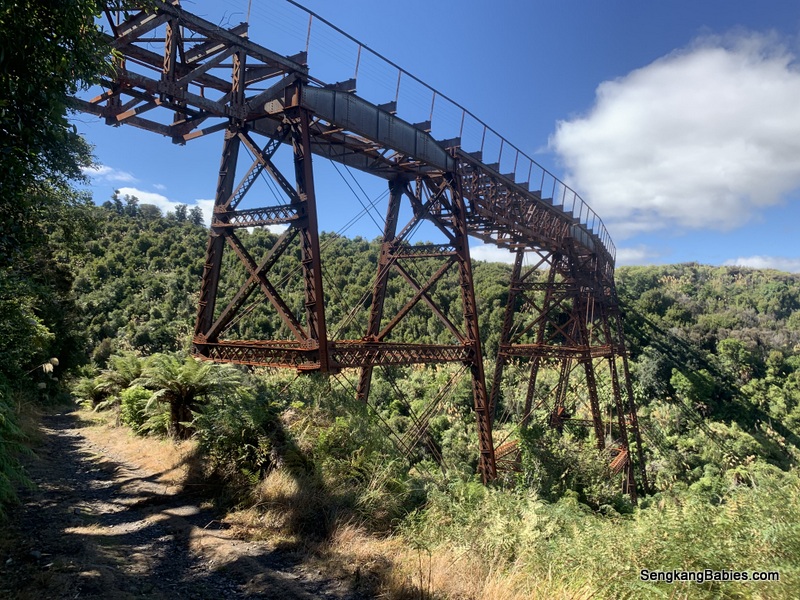 I really cherished my solo trips,  venturing out and crafting more memories of my own. Bring myself out of comfort box.
Own time own target. Me time!
History of Hapuawhenua Viaduct.
Pregnant and Placenta, now you know 🙂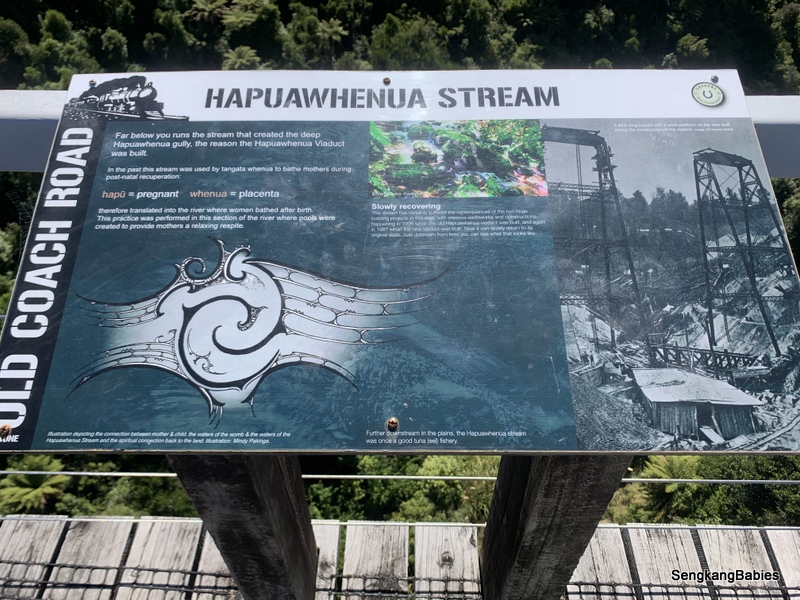 I had hiked Tongariro the day earlier and my calves were sore. But adrenaline kept me going, so much more to explore!
You can cycle or walk along the bridge, it is a TALL structure.
Sometimes, you feel like you are the only one cycling in the whole forest!
(unlike SG, where you are seldom 15 to 30min away from a junction and human contact).
I cycled through a dark tunnel, because I was curious what was at the other end (it is one way).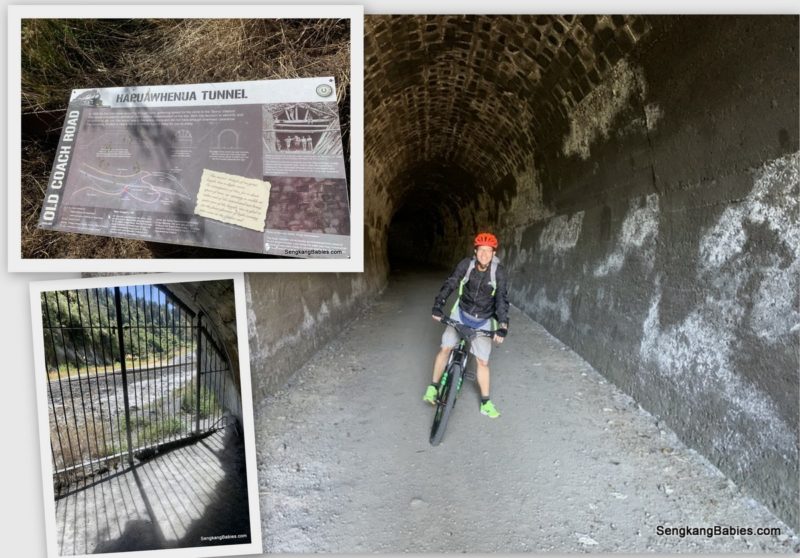 Summer is a good time to cycle, as the sun sets later. It is not too cold, light breeze and 15 degrees, I only had a light jacket with me. Do start earlier, I would not want to be caught cycling in the dark in the forest.
If you love exploration and adventures, and cycling in the middle of nowhere. New Zealand cycling trails has something for everyone, from families to multi-day cycling trips.
One more advantage of cycling in NZ. Weather is likely cool, no snakes, spiders or bears!
At this junction, I noticed the 2km distance needed 40 minutes. Cobblestone path lies ahead. Go slow as the road is uneven and rocks can be big!
Do enjoy the vast grassy landscape too.
More interesting nuggets. Travel times have reduced over the centuries. Maoris used to trek from North to South island in under 2 weeks!
You will exit to Marshalls Road and back to civilisation. This signpost and upcoming bmx pump track indicates you are near to the end point.

If time permits, you may detour to Ohakune Station just for fun.
You can explore a local train from National Park station to Ohakune for NZD $12.
Clear water and blue sky everywhere.
After returning my bike, enjoyed my lunch at Utopia. Friendly service, the lady owner (?) knows all the customers by first name!

Additional tips for cyclists:
– Bike rental would be easily $40 (inclusive a good bike and helmet)
– Ride easy, I had a haversack and rain jacket (waterproof your items)
– Pack First aid kid, whistle, night torch, biscuits for emergencies
– Always let someone know where you are heading to. Wilderness is huge and often has no mobile signal!
– Take the bike route/fitness recommendation with a pinch of salt. Kiwi folks are generally fitter
You might find out more about TCB packages (cycling and ski) from their website or Facebook.
In case you are exploring NZ too, do pop by our custom Google Map and Gsheet itinerary . Refer to our Custom Google Map driving route.
Do click on album below for more photos on our Fanpage(link).
Other New Zealand posts:
– New Zealand North Island road trip
– Hike up Pinnacles and staying in a hut
– Crossing unreal Tongariro Alpine in Summer (my best hike ever)
– New Zealand cycling trails – Old Coach Road (Freedom!)
– Cycling NZ with Cycliq Fly6
If you need more tips for your New Zealand road Trip planning or Self Drive tips, do refer to our Google map itinerary link and drop us a note.