The most efficient and fun way to explore NZ would be to do a New Zealand road trip, aka self drive. I extended my business trip in New Zealand (NZ) last February by 5 nights, squeezing in 2 weeks worth of attractions and adventures!
My blog would not be able to cover everything about my trip, this blog can only document my own fun experience . Itinerary planning is subjective, do drop me an email if you need more recommendations.
hint : Go to the end for the link to my NZ photos (300+), I would have more descriptions in the album.
KIA ORA! Follow hashtag #SengkangBabiesNZ for my NZ adventures. This is our 4th post about NZ, click the links to read about Tongariro Alpine hike (7 hours) and Pinnacle Hut stay ( 3 hours) and Old coach road cycling here (2 hours).
NZ is 3000 times bigger than Singapore, and Singapore is only slightly bigger than Lake Taupo! NZ has less than 5 million population and more sheep than humans (what!)
As you read on, you will realise how difficult it is to plan an itinerary. NZ is blessed with many beautiful mountains and bike trails (too much nice Instagram photos out there).
Hiking, Cycling, Bungee, cafe hopping and shopping, there is something for everyone.
I wanted to see and experience everything, but I needed to prioritise. (example, my Google link itinerary below listed at least 10 beautiful waterfalls!)
So many things to see and experience, so little time! Let us explore more New Zealand road trip tips
1) Car rental companies are abundant, and the daily rate are from 50 NZD onwards. If you book during off-peak and in advance, you will get better rates. Petrol is around 2 NZD per litre.
Campervans are very popular with tourists, especially families. There are various "backpacker" coaches to bring you around but travel time would be longer.
1a) Download app "CamperMate" to find the nearest camp sites or Holiday parks. https://www.backpackerguide.nz has all the tips about campervan, from rental,comparison to Holiday Park reviews.
Having a campervan does not mean you can park anywhere :p
2) New Zealand drives on the left side of the road (same like Singapore) and drivers seat on the right. Get use to roundabout (always give way to vehicles from the right).
Refer to our Google map itinerary link . The "NESW" North, East etc) denotes the relative orientation (and distance) from Auckland Airport

3) New Zealand has so much to offer, this is after all beautiful Middle Earth! Many folks from Europe on winter-break will spend a minimum of 3 weeks exploring NZ.
Usual questions for those seeking a New Zealand road Trip:
-What attractions should I target? (too much waterfall and parks, or even LOTR)
-Should I drive clockwise or anti-clockwise around NZ?
-Should I return my car to Auckland or Wellington? Or ferry my ride between North South Island?
-Should I fly home from Auckland or Christchurch etc?
6D5N NZ Self Drive itinerary: Auckland> Taranaki> Tongariro National Park>Rotorua> Coromandel> Auckland
Our Custom Google Map driving route.

4) Google Map distance estimation is always too ambitious, there are many mountain and hilly terrains around NZ. Not recommended to go fast in new terrains, and there is no shortage of potholes on gravel roads.
You will encounter numerous unplanned stopovers. Some cars will be parked along designated "scenic spots". Imagine a mini picnic, munching on sandwich while admiring the scenery.
Besides, there are a lot of farms in the hilly areas, farm animals herding is very common (cows photo, delay for 30 mins) . You might experience road works on single lane roads too, driving at 20kmh for up to 5 km haha.
Cater for extra time to return your car too. I was late and it was a mess to offload my barang barang (souvenirs and laundry) from car into suitcase. Do take note most car rentals do not drop-off at Auckland airport, but at their retail office 3km away.
5) Drive SAFE! Driver fatigue is a killer, have enough rest and hydrate well. When you feel like dozing, pull over for a washup or a 15 min power nap. Apples kept me awake.
Speeding tickets are designed to hit you in the pocket (read TripAdvisor for real life summons stories). City area and highway speed limits are 50kmh and 100kmh respectively. Most Kiwis obey the speed limits,  I am guilty of speeding on a few occasions…
The no1 rule for NZ self drive, cater extra time!
6)Another first for me. .
Using a coin to buy a carpark lot duration. Locals will use Mobile App to park. (I suspect NZ city parking is much more expensive than SG)
7) My budget accommodation are hostels and backpackers lodge. Look at the tips above again, decide where would you stay 1 or 2 nights (setup as a base). You do not want to pack and unpack every night.
I enjoyed chatting with the international travellers, wide spectrum of society. Met folks from France, Germany (openly gay couple), Spain, Hong Kong (Uncle participate in annual cycling and run) and even Peru (sisters, I thought they were Philippinos).
Read on for my North Island explorations. The ratings out of 5 is my personal view.

a)My stay in Auckland was at Sofitel Auckland
Very comfortable near marina area( not my own budget), this marina stretch comes alive with sunset, Happy Hour.
a1) Visited Mount Eden (rated 3/5) in Auckland. There is a crater at the top, and offers a splendid panoramic city view. Many climb and jog to the submit to enjoy the sunset.
a2) View from Sky Tower (rated 3.5/5) This iconic tower is a landmark in Auckland, and can be seen from all corners of the city. From the top, spot marinas and sails, surrounding islands, and the pink bike path caught my attention ( I thought it was a water canal)

You can pay to Skywalk and Bungee from the 328m tower too! (no thanks)
But New Zealand is more than Auckland. We must leave the city to explore the abundant natural landscapes.
Ask anyone and 99% will tell you South Island is more beautiful and scenic than North Island. Unfortunately, I only had time to explore the North, and my 6D5N New Zealand Road Trip only touched 20% of North Island!
I would need minimum two weeks to explore the South 🙂
a3) From Auckland, we have some day trips. One was at Waiheke Island (3/5 for me, 4/5 if you love wine tasting), famous for its wineries.
b) I started my own itinerary by driving 300km South towards Mount Taranaki (Egmont).
(Would be 4/5 if I hike to hut)
Also known as Mount Fuji of New Zealand (no disrespect to Kiwis), hikers will enjoy the marvelous reflection at the tarn (photos on Instagram).
I was sold at the picturesque frame, alas I failed to complete the hike. This was the single regret I brought home from NZ.
But I learn valuable lessons from this disappointment:
– catering "extra time"  for driving
– leaving non-important items (DSLR and tripods) from your hiking backpack
b1) Along the way, I picked apples at Fruitdale Orchards (GPS -37.709511, 175.237092 ). Depending on the season, the farms will offer different fruits. Just Google PYO to find nearest farm (PYO stands for Pick Your Own)
Irresistible experience (rated 4/5), just $3 per kg. This was also the first time I see and pick apples off the tree!
Below URL will be helpful for you to find your apples and farms 🙂
http://www.pickyourown.org/newzealand.htm
b2) There are many detours in NZ for your planning considerations. Nature lovers rejoice! Part of the fun from New Zealand road trip is to go for spontaneous stops.
Example, something happening like Waitomo Caves (Rated 4/5 the caves were magical for me). Black water tubing looks cool (GPS -38.264773, 175.114157). Imagine glow worms in total darkness, and floating along the cold tunnel on a tube! (YouTube video)
We only took the walking and boat tour. Amazing spectacle, the glow worms are like mini-leds (or stars) flickering from the roof!
Visitors will be impressed with the stalagmite and stalactites too. Not easy to witness them link from roof to floor. These structures only grow 1cm every 100 years! My colleague sang a beautiful hymn inside the cavern, magical!
b3) Visit real KIWIS (the flightless birds would be rated 3.5/5) at Otorohanga Kiwi House and Native Bird Park (GPS -38.179735, 175.213383).
Video: Cutest Kiwi video I have seen! (credit IG @lucileevb )
View this post on Instagram
It is very difficult to find kiwis in the wild, thus most folks opt for sanctuaries. The kiwis are raised from young and released to the wild. Do take note of the feeding timing.
You will notice that most attractions entrance in NZ starts from NZ $20. Big families might need to budget and be selective.
b4) There are too many waterfalls in NZ! Bridal Veil Falls was along the way (Rated 3/5, GPS -37.907279, 174.900674).
b5) Before we reach Egmont (New Plymouth) neighbourhood, and if low-tide conditions, do pop by Three Sisters and the Elephant Rock (GPS -38.819399, 174.580365). This area is also famous for the black sand along the beach, facing Tasman Sea.
b6) I am more an adventure junkie rather than foodie. But the cafes I Googled and visited are all fabulous.
Good flat white, tasty treats and super friendly folks! Pop into any small town cafe and it is likely the bosses will know all their customers by names 🙂
Craft beers anyone? I am sure there are many pitstop to quench your thirst (drink in moderation, do not drink and drive)
b7) Sheeps and cows dot the beautiful landscapes. You will spot some horses too. These animals are all over the place, grazing like nobody's business.
b8) Back to our New Zealand Road Trip. From Tongariro National Park, I drove NE towards Rotorua.
A few famous attractions dot the journey. Driving along Lake Taupo circumference for almost 1 hour plus!
The majestic Huka Falls (GPS -38.648827, 176.088371). So much water gushing down the narrow channel! Feel the thunderous ROAR.
b7)Wai O Tapau (Rated 4/5, GPS -38.358189, 176.368995) would be cool, but I was late and attraction was about to close. A pity to miss the colourful geothermal spectacle. Truly, one of nature's wonders.
b9) Kerosene Creek (rated 4.5/5, GPS -38.334545, 176.385927 ) is a secluded gem. You have mini waterfall and ponds, all filled with hot spring water! Super relaxing to sit under the cascading water to sooth away the fatigue.
Rotorua area is world famous for geothermal climate.
b10) Another popular site at Rotorua is Redwoods Treewalk (rated 4/5, GPS -38.156972, 176.272971).
Admire the huge trees, and maze-like trails.
In the evenings, lanterns line an overhead skywalk. Crowds arrive non-stop late into the night. Do take note "forest entry and hike" is free, but tickets apply for skywalk.
There are many activities at Rotorua to keep families entertained for 3D2N.
Be it white water rafting, hiking or cycling, too many choices around this area. You are never far from the trees, water and adrenaline (Skydive and zorb too).
b11) Kuirau Park (rated 3/5, GPS -38.133360, 176.243800 )
Since I could not visit Wai O Tapau , this free park was the next best option to see some hot spring "bubbles". Do not set your expectation high ok.
b12) Hobbiton Movie Set at Matamata (Rated 3.5/5, GPS -39.015607, 175.711357). This attraction is packed with tourists, but no hobbits.
Ok, who does not know Hobbits? Bilbo, Frodo or Sam, where are you?
We learned more about backstage filming and logistics. The hobbit doors at the Shire is only for those under 1.6m :p
My 1.8m frame makes me feels like Gandalf.
b13) Google told me Windows Walk, also known as Crown Mines walk,
(GPS -37.422875, 175.721483) is highly recommended. (rated 4/5)
This area is a decommissioned gold mine in Karangahake Gorge area. It got the Indiana Jones feel, and the "cliff windows" give you a peep into the amazing valley-like pictures.
Highly recommended if you adore nature (in case you are cycling, park your bikes before the trail)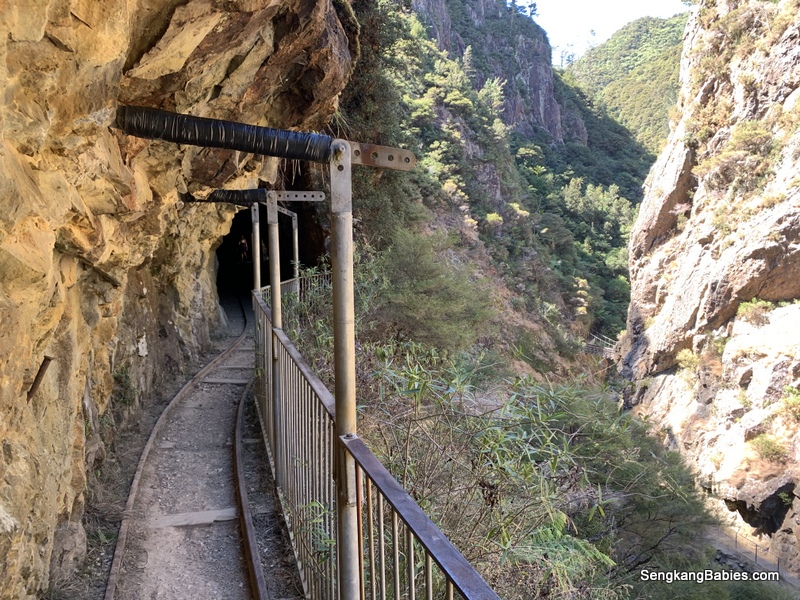 C)NZ is perfect for adventures & self discovery
There are trails from Beginners to Advanced stages. I had planned for 3 hikes and 2 cycling trips, too ambitious :p
I fell in love with the various hiking trails (Kiwi call hiking Tramping).
Did you know NZ does not has any venomous snakes and spiders, nor bears or crocodiles to hunt humans. HOORAY 🙂
c1) Do take note of the different fitness benchmark between Kiwis and Singaporeans. Kiwis grade their hikes and bike trails from 1 to 5 (5 is Expert level maybe requiring 3D2N). My 2 hours "Old Coach road" was considered Level 1 "easiest". I thought it felt like Level 2 or 3 (Intermediate). (rated 5/5 for sheer fun)
There are a lot of gravel trails, and at least 2 super steep slopes.
However down slope on gravel-stone paths are more dangerous than uphill. Sudden hard braking might make you lose control of bike.
I was over-confident in the initial stage, going down slope on a narrow zig-zag trail, braked too hard and fell hard (thanks for helmet protection, YouTube video link here).
"So much for Level 1 beginner trail :p "
By the way, your outdoor itinerary should pack for both dry and wet conditions. NZ weather is highly unpredictable.
Photo below. Left(2 hours cycling) and Right(Pinnacles hike).
c2) I did a 4 hours trail at Tongariro National Park too. Besides the famous Tongariro Alpine crossing (19km), there are plenty of smaller trails and waterfalls to explore. (Rated 4/5 mini hikes)
Like Tawhai Falls aka Gollum's Pond. This is the same Gollum from LOTR. Or you can attempt Taranaki Falls trails. There are three tracks from Whakapapa village(3 paths). I thought it felt like a mini Tongariro Alpine hike. Many waterfalls can be found around this area.
C3) Solo driving was part of the Fun. Getting lost on New Zealand road trip, driving on roads for up to 30km without any signboards or human contact. You keep wondering whether you miss a junction, no thanks to patchy GPS.
Forgotten World Highway (Highway 43) was still the fastest route from Egmont (Mount Taranaki) to Tongariro National Park. With a name like Forgotten, you can expect a scenic and quiet drive.
Few cars trespassed this route, and there are plenty of gravel pavements and potholes (pity my poor Toyota rental car). I heard some folks purposely take 2 days to enjoy the "ulu" nostalgic route, including a home-stay.
鸟不生蛋, this road and towns are pretty deserted, but there are still gems to discover (like some old cowboy towns, tunnels or lavender farm)
Do take note this Forgotten highway is 150km long, and is known for accidents.
C4) Besides the adventures, I enjoyed the ME time. When you travel alone, you do not need to worry about kids food and stuff 🙂
It was up to me to decide what to do next. I can have plan A, B ,C etc no rush.
c5) Photo below, booking your mountain hut stay. iSite (Information sites) are New Zealand Tourism offices.
Grab your maps, get friendly advice and souvenirs, or book your accommodations and services.
Talking about souvenirs, Chocolates and Manuka are popular. My kids love Whittaker  white chocolate, each bar is only around $4 or $5 NZD.   (Easily available from Countdown supermarket)
Leaving you with more photos from some of my best hikes 🙂
Pinnacles (blog, rated 5/5) for the best sunrise and Sunset in North Island.
Amazing Tongariro Alpine Crossing (blog, rated 5/5) in 7 hours. Moon-like surface.
Additional Tips:
-NZ only has Uber and no Grab
-You do not need much cash in NZ, 99% of my transactions were covered with credit card (I only brought 200 NZD cash for 12 days)
-Plenty of food options. meals at cafe would be from NZD15 + . Although pricier, the food portion can feed two (or 1.5 pax). my cafe experience (from Google reviews) were all splendid. Good food, best coffee and friendly staff.
-NZ hostels start from NZD $25 per night
-North or South island? Those who have been to both all recommend South Island. Scenic spots, unspoiled nature, glacier views, but you would not be disappointed with North Island.
Always have Plan B. Differentiate Must-See and Nice-to-See, I had to drop a few spots due to lack of time.
-Being connected is important in New Zealand. For GPS, contact points (in case we go missing), and searching for cafes. Ok, updating our social media too.
I used Starhub's 30 day 3Gb for 18. (M1 has a similar solution but rate is more expensive. Normal wifi router is more expensive in NZ)
-If you love stars gazing, be prepared for milky ways all around! If you are lucky, you can even spot Aurora in some remote spots off South Island!
Grab this app "Star Chart" to identify the stars.
I only had 6D5N and I chose mostly nature attractions. Refer to the map above, I drove 1500 km on the round trip. My plan was to cover 3 hikes, 2 cycle trails, 3 waterfalls, and one kiwi sanctuary :p
I would recommend minimum 7 days each for North and South Island. Would be ideal to have a co-driver, it can be tiring and boring to drive alone.
Do click on album above for more photos on our Fanpage(link).
Other New Zealand posts:
– New Zealand North Island road trip
– Hike up Pinnacles and staying in a hut
– Crossing unreal Tongariro Alpine in Summer (my best hike ever)
– New Zealand cycling trails – Old Coach Road (Freedom!)
– Cycling NZ with Cycliq Fly6
If you need more tips for your New Zealand road Trip planning or Self Drive tips, do refer to our Google map itinerary link and drop us a note.
No matter how you plan your NZ Itinerary, you will only bring back fond memories from this beautiful lands.
Video from our Facebook : There is some snippets of Sunset and Sunrise at the Pinnacles