After a goodnight's sleep, the kids are anticipating a dip in
Hardrock's signature pool and slides.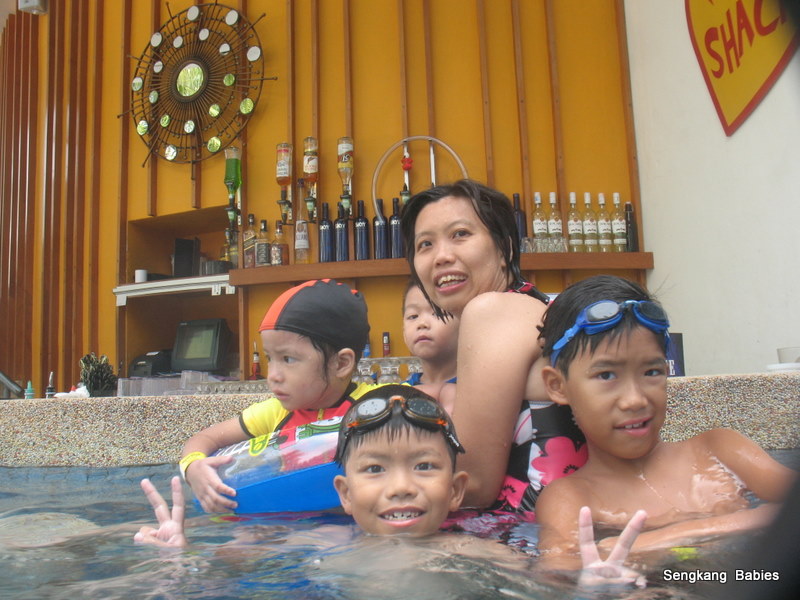 Watch the videos to see what we have been doing whenever we dip into the pool !


The cool Slides!


When we are thirsty or hungry, Banana split awaits at the pool bar.


We sign Wei and Kang for some Lil' Rock-ventures. If parents wish, the kids can stay from 1000 to 2100, and learn dancing, language, and squeeze in water-play, movies, and paper aeroplane sessions in between.


We thought Yi and Xin would appreciate the indoor slides and caterpillars more. Smurf and Mr Bean entertain us in the afternoon.


.. more splashing water session with kids…


For dinner, we had planed to go to Mcalister Road, but alas the street was closed. So our Taxi uncle brought us to another hawker center further down.

Tips . Taxi drivers can be your food ambassadors, they know where to find the best food.
No, Gurney drive is too commercial and touristy, but I supposed our families of six would still prefer all-under-one-roof joint compared to a well hidden street-side stall 🙂
So what did we woof down? Some food are repeated, simply because they are that Good !
Example, the Kway Teow is different from our earlier experience at Long Beach (Batu Feringhi).
ps..I forgot the name of this location, but let your guide see this
Carrot-cake uncle, and they should be able to identify his GPS :p


Even when we got so many choices for our meals, we will always order one plate of rice. Poor Yi and Xin must have extra carbo and milk as the sour spicy dishes might not be good for their stomachs.


By the time we reach our hotel, the guitar has form a nice shadow over the hotel 🙂


Good night, and we shall continue our journey tomorrow…

** Our 4D3N Itinerary
Day 1 – Adventure Zone at Golden Sand Resort, dinner at Long Beach
Day 2 – Swimming and Club house (Lil Rock venture)
Day 3 – Butterfly Farm and Toy Museum
Day 4 – Sight seeing (Second bridge and Penang Sakura)
Do click our Fanpage album for more adventure photos !
.