[ Sponsored stay and meal ]
Fish feeding was definitely the highlight of Day 2 at Phuket (read our Day 1 Holiday Inn Mai Khao review). We hop on board a speedboat and tour around Phi Phi island.
The last time we were on a speedboat was 4 years ago when we island hopping at Krabi. Boon Xin was just crawling then. (Read our Krabi trip here)
But first, let us share our breakfast venue (Holiday Inn Phuket Mai Khao) with you. J's Cafe has a special corner for kids to enjoy their own breakfast (or birthday party). The table and chair height was designed with smaller kids in mind.
No wonder Boon Xin kept refilling her coco crunch.

We still have the option to dine together 🙂

.. or with our friends from Jbabies. Love the "sunken" couches.

We had earlier book a trip to Phi Phi Island. A van drove us 30 minutes to Marina Bay to our speedboat.

We wonder whether the kids still remember Hong Island (Speedboat) or Four islands (Long Boat) from 4 years ago.

We passed by a Vikings' cave before we cruise into Pileh cove (or lagoon).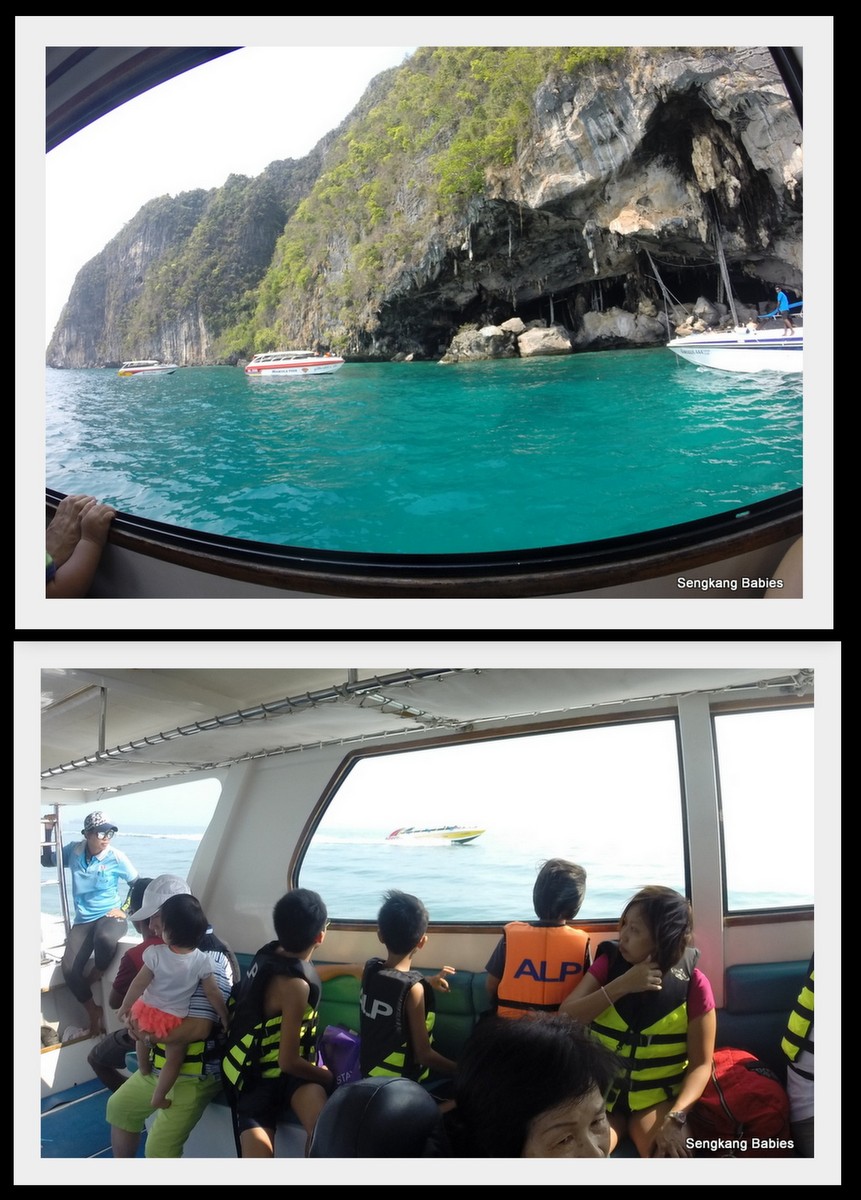 We did not hesitate to jump into the cool lagoon.

Speedboat thrills.

Maya Beach (from Leonardo Di Caprio's The Beach fame) was crowded!
Boats and people swamp the beach front and the water was cloudy.
We were disappointed with Maya beach, and I would not mind if we can leave "The Beach" earlier.

Guide was telling us that the only "romantic" time to visit is 6am before the crowd, and the corals have been damaged from all the boats' anchors. A pity there was no control and a beautiful beach now feels like a crowded swimming pool.
I should have researched (read Tripadvisor) earlier, will not recommend Maya Beach to anyone.

Video : Maya beach, Pileh Cove

A 15 min ride away, was the highlight of our boat trip (not sure whether it is near Randy Island).

Video with GoPro Hero3: Fish feeding experience, some kids might be intimidated by the fishes :p

It was a nice experience to feed the swarms of fishes. Just dangle your bread crumbs and the colourful fishes will dart in from everywhere.

The guide will dive deeper (max 20m depth) to hand us seafood like sea anemone or urchins 🙂

Love love love the clear and transparent water!

After feeding the fish, it was time to feed the humans. We had a quick and simple buffet, relax on the swing before we head to our last spot.

Koh Rang Yai is a quiet town. With the low tide, we constructed some sand castles and reservoirs under the hot sun.

Quiet beach, sandplay.

Our Phi Phi Island trip is a full day itinerary. We nearly miss the sunset when we got back to our resort.

Can you imagine enjoying your dinner with sea breeze and watching the sun sets over the horizon? For that few moments, Andaman sea's sunset turn everything orange hue, mesmerizing!

While you dine at beachfront Pesto Restaurant, you can also enjoy live band playing near the pool.
We love our grilled steak and pork cutlet but the squid is slightly undercooked.

The tomato soup and simple fried rice was surprisingly appetising 🙂

Seafood buffet is also available, but do remember to RSVP early. Pesto is always full house during dinner time.

Pizza for the hungry and tired kids, do remember to ask friendly staff to apply some mosquito spray.

More details about resort can be found on their Website, Fanpage and Instagram.
– Catch our Day 1 review of Holiday Inn Phuket Mai Khao resort and Day 3, 4.
– Photos of Day 2 Phi Phi Island tour on our Fanpage album
– Our stay and meals at Holiday Inn Phuket Mai Khao are sponsored, but Phi Phi island trip is own expense (THB 3,200 per adult and THB1,750 per child) with operator Hello Phuket)