Have you heard of Sky Mirror 天空之镜 before?  This exotic term is new to me too, but Google and IG hashtags provided some Fun clues 🙂
From Day 1, another term Blue Tears (蓝眼泪) was also new to me. It goes to show Malaysia has many more corners for us to explore and hike.
Continuing Day 2 of my solo trip with Boon Yee (read about Day 1 Broga Hill), we headed to the town of Bagan Datoh (Kuala Selangor). The small jetty near our chalet is called "Kampung Sungai Burung" (GPS 3.976111, 100.707292).
You only need to know that Sky Mirror was the best activity in our itinerary, and it it is FUN for both kids and adults. The two videos in blog below are enough to send my family there again.
No 1 Activity : Posing with your reflection is seriously Fun, anything Goes!
Look at our Instagram video and you will know how much FUN we had in 2.5 hours! There are many hermit crabs running around too 🙂
Looking at the map below for reference, Sky Mirror (estimated GPS 4.020000, 100.718333) is about 20 minutes boat ride North from our chalet (9 Island Travel Agency), or South of Pangkor Island (point 4).
Qiong(1) Ah! Our 20 minutes boat ride was filled with anticipation. Those who need extra adrenaline can opt to sit in the front row (bow). Kids could not wait to jump off the boat.
Sky Mirror sandbank was our playground, leave your inhibitions behind and just have FUN. No need to be shy as everyone will be trying to post Cute or Epic :p
There is a sense of Freedom on the temporary island. The sandbank is only exposed during low tide (on certain days), do check with travel agency for best timing to visit.
Before we reach the sandbank, I hinted to Yee we are visiting a "swimming-pool" in the middle of Strait of Malacca :p
We heard the entire sandbank could be as big as 100 football fields! Where do you wish to run again haha?
More camera tricks 🙂
You just need some creative juices and reflection to snap the best shot. If you are clueless on how to pose, just Google for examples 🙂
You will not go wrong with Instagram Boomerangs ( my favourite 天空之镜 pose, but it is Bolivia's salt lake)
No 2 Activity at Sky Mirror is digging for your own lunch! Although kids would argue that this is the best activity!
It was a challenge to see who can fill up their basket with lala first. You will see small crabs, hermits and all sorts of shells in our collection, but we only harvested the lala for lunch.
The mud is soft and therapeutic and after catching the first shell, there was no stopping!
Sky Mirror's fun experience went beyond my expectation. Boon Yee was reluctant to leave the "island" too.
Not listing mud spa as Activity 3 as no one cake their face with the black mineral :p (Sashimi is out too)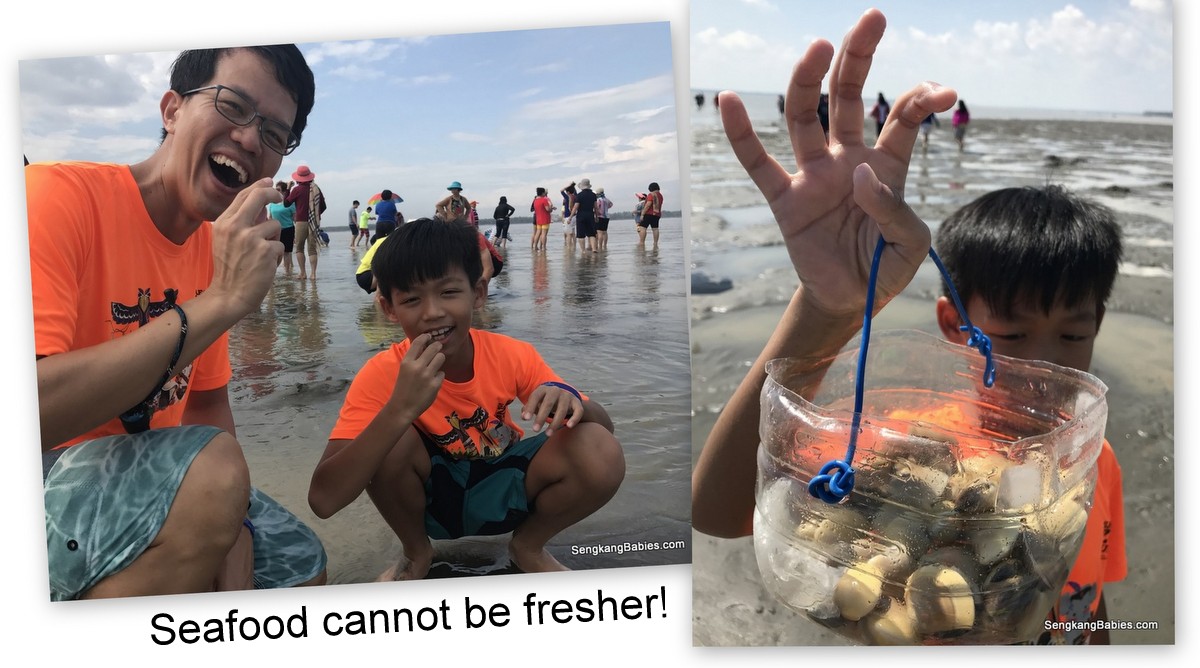 Back at the jetty, souvenirs for you and me, we would recommend the prawn crackers.
You can buy relatively new camping tents too ! We heard 500 tents need to be sold due to closure of Pulau Sembilan, you can Google "Pulau Sembilan camping". A huge loss for travel agency, a steal for the adventurers 🙂
Remember the lala which kids were busy digging earlier. Just tell the chef your table number 🙂
Look at the tantalising seafood platter! We were all hungry after a Morning of Fun!
Video (YouTube link) : Check out our second Sky Mirror video below
Tips  (Day 1 itinerary here):
-Walk barefoot
-Leave your heavy bags in room or boat. Just bring water, suntan lotion and camera
-Do check with travel agency (ours was 9 Island) for best time to visit (I would rate their customer friendly attitude 4/5)
-Plan for minimum two hours on the sandbank
-We did not see anyone swimming, I guess lala harvesting and photo sessions are enough to keep everyone entertained
*Wear your Brightest clothes for best effects. Do not place your barang barang infront of you during the shoot, unless it is a photo prop
*Taking photos with reflection is a skill. You need to find "still" water for best reflection. You need to avoid photo bombs (there could be 100 visitors on the island!)
-Travel agency will provide the colourful props, windmills, umbrellas, Sky Mirror sign etc
-Kids life jackets are available
**Check out Broga hill and Bagan Datoh Day One and Two photos on our Facebook album. FUN is guaranteed!
-Our "2D2N Malaysia Unlimited" trip was booked with Meetup Group "Adventures Unlimited", itinerary here . Join the Village (Facebook group) to link up with like-minded kakis
-Check out some other bonding activities with my kids.
Boon Kang 3D2N (Farm at Koref), Taman Negara with Boon Wee, 2D2N Broga Hill and Sky Mirror with Boon Yee
ps.. There are actually two Sky Mirrors in Malaysia. We went to the one at Bagan Datoh. Google 天空之镜 Sasaran (Kuala Selangor) for the other site
We visited Sasaran Sky Mirror in 2018 Nov, no lala here!
Refer map above, it is located 30 minutes South of Sekinchan #point 5 (GPS  3.214722, 101.192500 , Jetty area around Kuala Selangor GPS 3.342418, 101.250803).
*Read our 3D2N Sekinchan Paddy fields adventure here and here