We will share our Fun experience at Sky Mirror Sekinchan in this blog post. Did you know there are two Sky Mirrors 天空之镜 in Malaysia, the other one is further North at "Blog Bagan Datoh".
This is a backdated post (from 2018), we had earlier shared Day 1's Road trip from Singapore to Sekinchan 适耕庄. The yummy food (ie Klang!) and our cool Padibox homestay  (Read Day 1 Sekinchan link and 3D2N photos) .
YouTube link : Family Fun at Sekinchan and Skymirror
We chose agency "天空之镜 Sky Mirror Tour & Travel Sdn Bhd"  for our trip. They seem to be one of the more established agency around, with frequent Social Media updates and reviews.
From photo below, rates are adult RM100 and child RM80 respectively. We heard locals can get more attractive rates 🙂
Met early (about 7am or 7.30am) at their jetty (GPS 3.342471, 101.250663) and waited for our boat. The Jetty is about 26km from Padibox.
It is a 25min 30min boat ride to Sky Mirror Sekinchan. Jetty is in a mangrove forest and we headed out to open sea.
So call "天空之镜" is a piece of land which is only visible during low tide. Look at the crowd!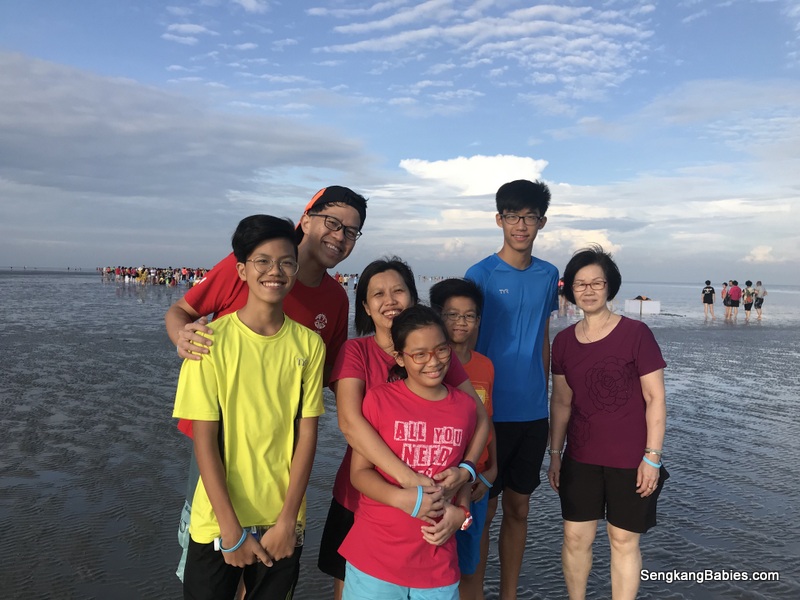 Your travel agency will bring the "props" and clue you on the photos. Visitors are advised to wear bright clothes for the best visual effect (reflections).
While waiting for our crew to setup their "studio", we can diy some special effect first 🙂
Photo memories.
"Professional" photos 🙂
Many folks are attracted to Sky Mirror's amazing mirror effect.
Beside Paddy fields, Sekinchan is also known for seafood. There are quite a few food options nearby.
Sekinchan is also known as 鱼米之乡 (Fish, Padi Town).
Google is recommending "Warung Ibu Nasi Ambeng (GPS 3.411179, 101.196887)" too. Every dish was delicious sedap!
Classic Nasi Padang (mixed rice) for us. Comfort food and addictive sambal.
Only one famous Mango outlet at Sekinchan. Mango King at GPS 3.527981, 101.139394.
Sweet and cooling, just grab the original mango, skip the smoothie.
Seafood restaurants and coffee shops are concentrated in two areas (refer Google Map link , about 4km North-West of Padibox).
Be prepared to queue during peak periods, some popular seafood restaurants would be pre-reserved for tourists.
We had our dinner at 鸿运海鲜饭店 "Restoran Bagan"
(GPS 3.505678, 101.097867)
Cycling was another highlight for us. Leisurely exploring the padi fields, green and yellow.
These fields remind me of  our recent Hualien Ruisui Yuli cycling trip 🙂
Sky Mirror Sekinchan is strongly recommended if you have not seen visited before. Families will have fun playing with their own reflections.
Personally, I would prefer the Sky Mirror at Bagan Datoh. You can literally catch your own shells, and cook them for your seafood lunch!
–Previous 2016 Sekinchan Trip (Farmville stay)
–Previous Skymirror trip (Bagan Datoh)
–Driving tips for Malaysia
-2018 3D2N Sekinchan Day 1 
-2018 3D2N Sky Mirror Day 2
Our 3D2N Photos are in our Facebook album, click here.
Tips: Paddy Fields will turn Golden around May/Jun and in Nov