[ Media Invite ]
How do you combine Arts and Science (prehistoric) together? From 25th Jan to 27th Jul, ArtScience Museum aims to do that with Dinosaurs: Dawn to Extinction.
Dinosaur lovers rejoice, there are a few dinosaur exhibitions in Singapore.

Earlier, we were brought back in time by renowned paleontologist and curator Dr Patricia Vickers-Rich (Dr Rich). She shared with the audience that dinosaurs are not only about T-Rex, there are so many smaller mammals which proved to be more important in terms of evolutions !
Dr Rich hopes visitors will gain a deeper understanding on how species evolved and adapt to changing environmental conditions.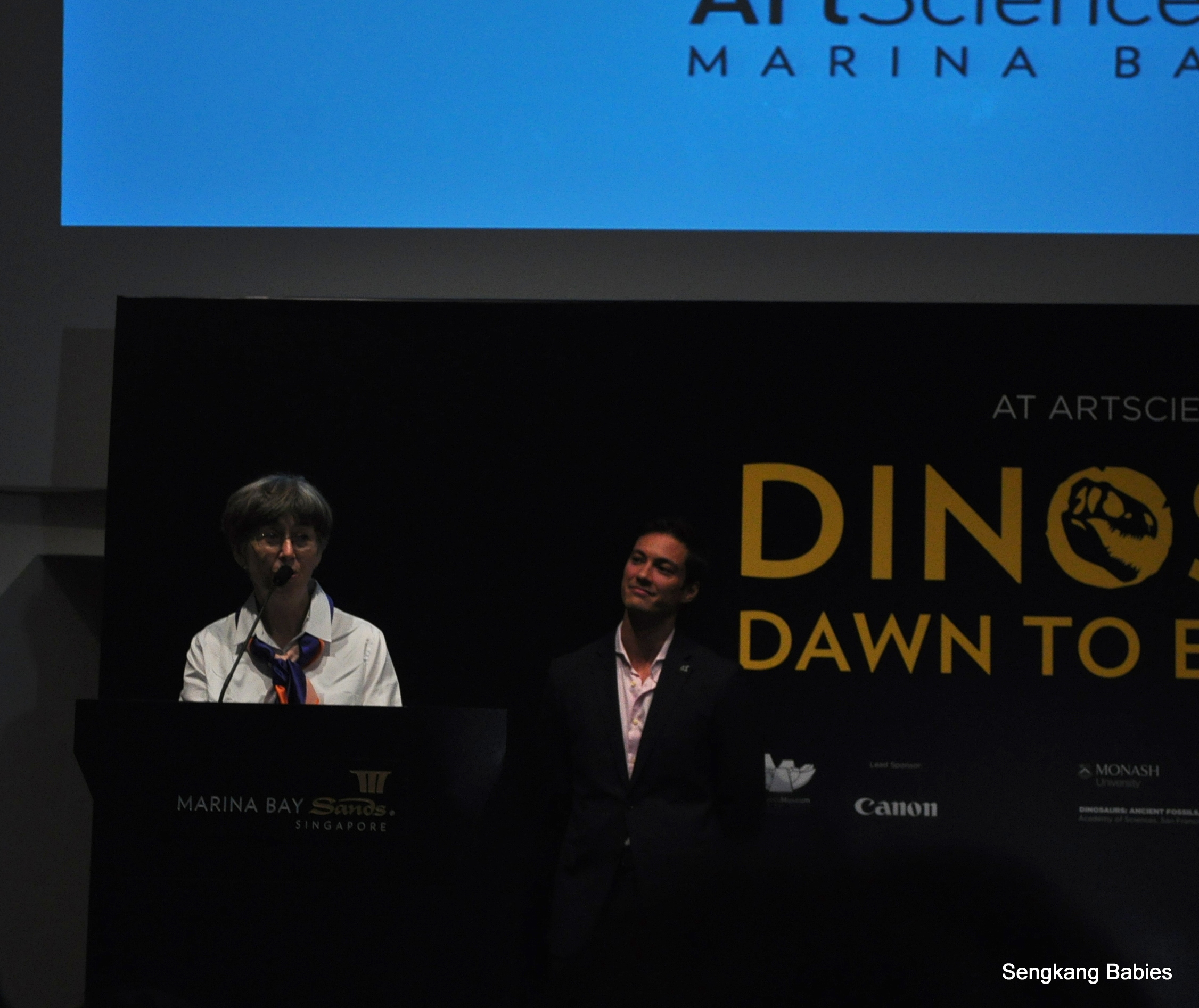 The huge wallpaper at the entrance throw the visitors (both kids and adults ) into perspective. Dinosaurs are Giant mean creatures which are always Hungry.
Is that not the perception from Jurassic Park movies :p

Dinosaurs: Dawn to Extinction aims to cover the era before dinosaurs all the way until their extinction. We got to know that this is first-of-its-kind exhibition combining four exhibitions from the renowned American Museum of Natural History, San Juan National Science Museum, SCI! Expo at Monash University and artist Peter Trusler.
Our exhibition's prehistoric timeline stretches back a whopping 600 Millions years !

The gallery has some impressive numbers :
– floor area – 3700 sq meters
– Over 400 fossils and models
– 50 original artworks
We are in ArtScience Museum.
If Dr Rich and her team of paleontologists are the "Science", Peter Trusler will be the "Arts". Accompanying the exhibits will be life-like and vivid portraits of dinosaurs in their prehistoric world.
Did you know Dinosaurs meant "Terrible lizards" in Latin?
Here is one of the fierce battle scene between predator and prey. The prey (Lessemsaurus) measures 19m and it has to fight off crocodile's ancestors.

During the late Triassic period, mammals start appearing. Being smaller means they are more agile and can hide easily.
One of them would evolve to become Human being's distance ancestors.

What can we learn from prehistoric creatures' teeth?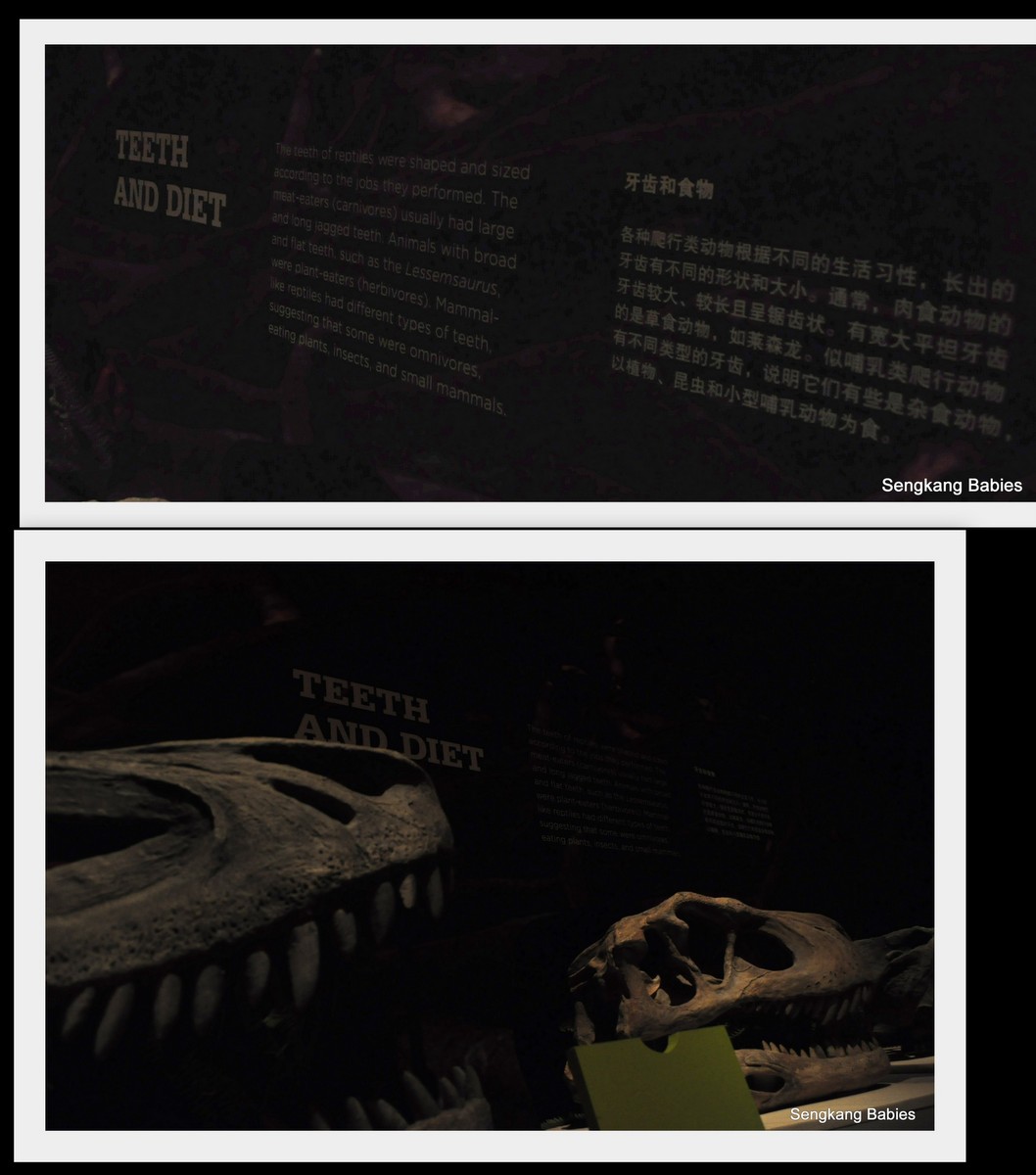 How does Amphibians (like this salamander look alike) adapt?

Traces of foot prints leading to more discoveries.

There is even a section with the skies blanketed by Aurora. Catch the Aurora in video clip below.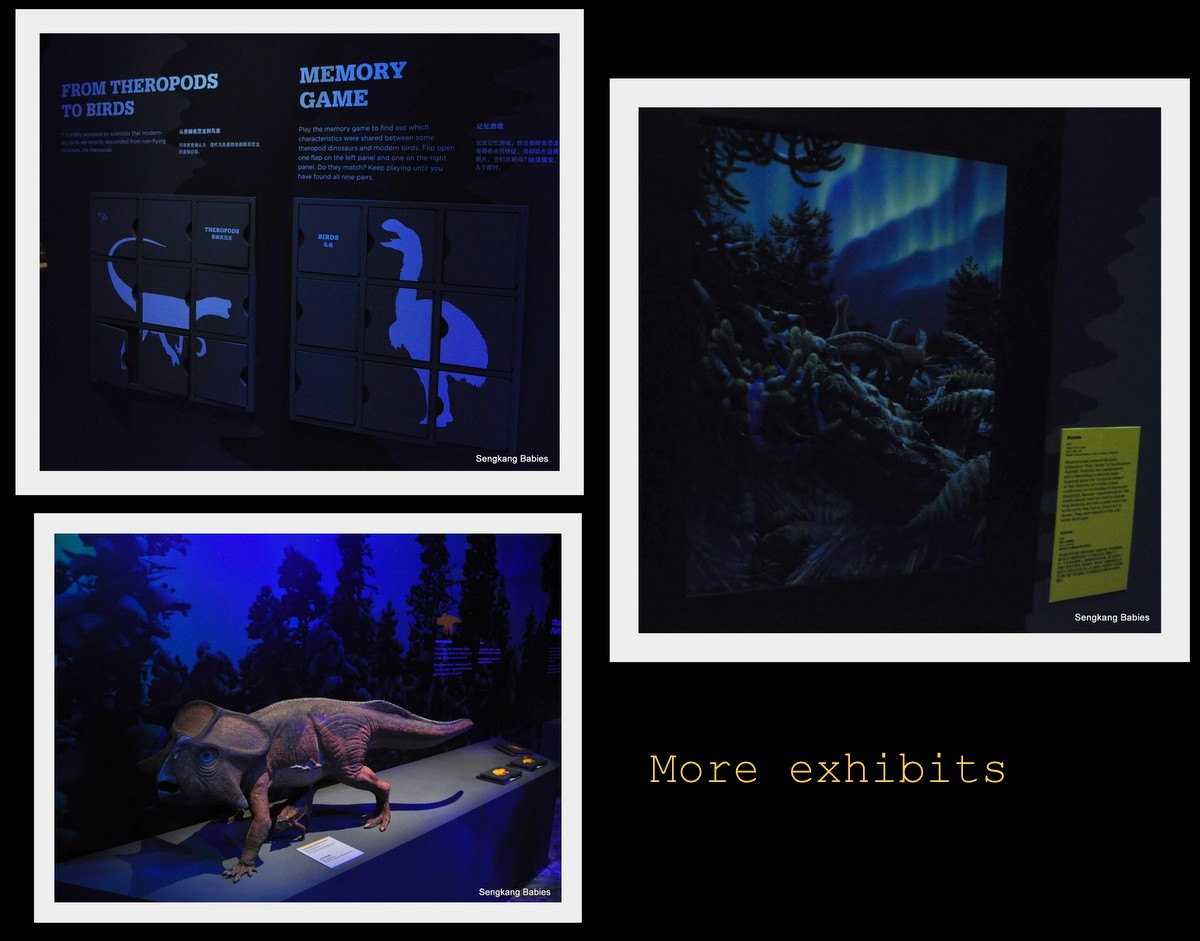 Video Tour of Dinosaurs: Dawn to Extinction

Where does Birds evolve from?

With the help of computer animation, we witness how an Apatosaurus could actually move.


(image credit ArtScience Museum)
Stegosaurus, with it's beautiful plates was one of Daddy's favourite dinosaurs.

A lot of kids are still fascinated with T-Rex's nemesis, the Triceratops.

T-Rex skull and foot print, arguably the most well known dinosaur.

If you are into science, history and all things prehistoric, you will need at least two trips to absorb everything at this exhibition.

Near the end of the Dinosaur's rule, paleontologists are still trying to figure out whether a Meteorite (or some other factors) wiped out the Dinosaurs.
Some of the relics survivors are still living in our world today.

At the end of the exhibition, we ask ourselves.
– What are we learning from the ancient animals?
– What cause the dinosaur's extinction? Can we humans prevent our own extinction?
– How can human beings protect our future?
Visitors will be able to enhance their interaction and experience if they download Dinosaurs: Dawn to Extinction app.

Your photo printout might even include AR (Augmented reality) dinosaurs !

Listen to Dr Rich's explanation or try to imagine what sounds dinosaurs are projecting.

Or you can imagine a Komodo dragon running after you, except this species (Megalania) measure 7m long !

At the children's section, kids can participate in "shadow puppets", or they can plan the dinosaurs' demise in a Stop Motion Dinosaur Wipe-out film. 3D printout and Storytelling are also available.
Do take note children's activities might need prior registration. Do pop by ArtScience Museum website for details.

Souvenirs for dino fans, there is a Dinosaur edition of Monopoly too !

Fellow paleontologist wanabes, Daddy Andy, Kelvin and Jerome. We are all excited about the Dino exhibits.

Crocodile poo awaits near the toilet entrance 🙂

Our kids are always curious about dinosaurs, even the purple one :p

More photos can be found on SengkangBabies fanpage.
Click for more details about Dinosaurs: Dawn to Extinction or ArtScience Museum's other exhibition.
Dinosaurs: Dawn to Extinction ticket pricing for residents :
– Adult – $20
– Child (2 to 12 years old) – $13
– Senior (>65 years old) – $18
Opening hours : Daily: 10:00am – 7:00pm
(including public holidays)
~~~ ~~~ ~~~ ~~~
ps.. We had visited Science Centre's "Titans of the Past" too, but Daddy suspect kids will prefer the dinosaurs at ArtScience Museum. Soon, Singapore's Natural History Museum will house three sauropods dinosaurs, with one of them 27m long !