[ Media Invite ]
What are the top 5 Kidzania Singapore jobs?
The choices are very subjective, as some might prefer sports, doctors, rides or even sports-themed careers. Most jobs were interesting (and adorable), and it is quite impossible to list the Top 5.
I would not hesitate to recommend Food-related careers (imagine junior masterchefs diy their own meals), kids look adorable in aprons and the food taste nice too 🙂
We had been to Kidzania Kuala Lumpur (KL) and also Taipei Baby Boss. Each experience is difference, and always memorable. Kidzania Singapore was another Fun experience for us (yes parents too).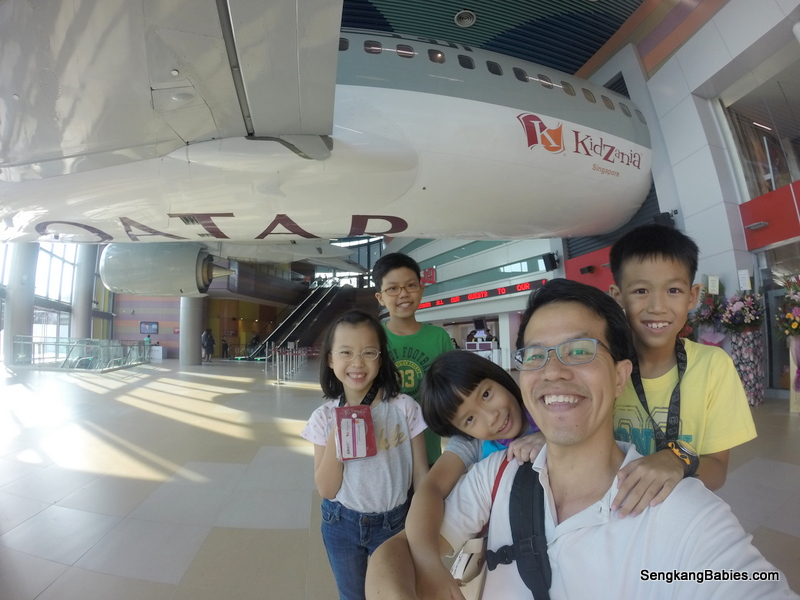 Kidzania experience in short, for first timers.
– Kids go to work, get paid and they can choose to pay for food or souvenirs. Parents just accompany and take tons of photos and videos 🙂
More tips to improve your Kidzania Singapore experience
1) Identify the must-do and nice-to-do jobs (Browse "Kids Activities" under Kidzania website)
2) You might complete between 8 to 10 jobs per day (estimate around 30 minutes per job, not including queuing time)
3) Read the "Insurance Office" Job description below
Capacity – maximum number of kids (kids queue up before the next session)
Duration – 25 minutes to complete job (if you are sending kids to multiple jobs, remember the end timing to pickup kids)
Age Suggested
Economy – Positive means you earn (ie Income), example 4 KidZos. Negative means you are paying for service (food, education, insurance etc), our example indicates -3 KidZos
4) Adults homework, master the common Kidzania lingo to impress the little ones (Kool!).
Kai – Hello
KidZos – Money
Zanks – Thanks
Z-U – See You
You know kids love their Kidzania experience when they use "Kai" at home.
5) Related to point 1, orientate the maps (First and second floor below). Plan your job itinerary route.
If lost, ask the friendly Kidzania staffs :p

You will not have time to "navigate or plan" the jobs once you reach Kidzania.
Kids will be pulling you in all directions!
Second floor house Qatar pilots and air crew. Queues of up to 45 minutes or 1 hour is very common.

The smaller siblings will usually follow the older ones.
Nothing is more satisfying for me, than to hear my kids tell me they wish to chart their own "career paths".
6) Take note some jobs have pre-requisites. Example climbing needs Insurance coverage, driving needs Optical check, Soccer player needs to register as Trainees first (25 mintes). This additional steps are reflective of real-life scenarios, but a bit inconvenient to "detour".
(I would prefer Kidzania to keep it simple, remove the pre-requisites)
7) Finally, choose Maybank debit card for the kids. All cash transactions will be electronic and easy.
Kids need not stuff their money all over their pockets.
Let us get started, HAVE FUN!
At the "airport terminal counter", are you ready to checkin and depart for your destination of Fun.

The first thing to do at Kidzania is to open an account and get your Debit card 🙂
After registration, we get 20 Kidzos, open a Maybank account and top another 30 Kidzos in your Debit card.
Every child will start with 50 kidzos.

Financial industry might have the best paying job, shortest working hours, highest pay cheque.

F&B career, always Fun and satisfying. Pick from KFC, Candy, Ice Cream, Pizza or Soup.

Bak Kwa from 林志源 too! (pity it is not real deal hee hee)

Some of the other corners which we did not have time to explore. Kidzania is spacious and you will see kids dashing excitedly from one corner to another. Moms and Dads will be chasing behind with cameras 🙂

Doctors and nurses anyone? Mount Elizabeth brings a few medical professions to Kidzania (Paramedic, Surgeon, Baby Expert, Radiologist) .Kids always look cute in gowns (our Mount E experience).
I hinted to Boon Xin CT scan is less fun than babies.

Kids undergoing Paramedic crash course at A&E, the highlight would be the ride in their ambulance.

..or treating an injured pedestrian. I hope Kidzania compensate Uncle David for his realistic portrayal 🙂

DJ you rock! Kiss92 Radio Station was the surprise package for us. DJs can groove and dance in the studio, looks cool in their jacket. They can do some broadcasting into the mic too 🙂

Police matters, your friendly neighbourhood police post.

Nope, no one was caught and impounded. Rather, kids quickly "volunteer" to break into the jail :p

Firefighters (SCDF) and Police work hand in hand to put out the fire. Kids can spray real water! I am not sure which real-life job pays you to take fun ride, wear costumes, spray water and put out fire.
Fireman rocks, thank you SCDF!

Sporty kids will find the Stadium (soccer pitch) irresistible.
Wear your "jersey", pretend you are Liverpool or Barcelona, and playoff another team.
Pitch size is about the same for futsal, but kids can really dribble and take penalty shots (poor Goalie, who is Kidzania staff :p )

Do take note you need to signup as rookie (trainee for 5 Kidzos), before you are able to play in the professional league. Total time is around 50 minutes. Besides soccer, we saw job openings for cheerleaders too 🙂

Delivery (KZ Express), this lady courier does not know how to topo (navigate) yet haha. During internship she kept nodding her head, come out blur :p
But Boon Xin did noticed postmaster has issued her two identical parcels to same customer.
Choose either delivery jobs (Vault or Courier) for some Fun trolley experience.
Courier gal is so adorable, I will not scold her even if she is late.

Delivering gold bars? (Vault)

Cosplay at Perenakan or Cowabunga(Ninja turtles) at Acting academy 🙂

Besides the popular Ambulance and Fire Engine, car lovers can go around in WTS' truck too. Be a Kidzania Tourist.
The other driving activity is "Driving School", take up a driving license and ride around a small circuit (With petrol station). Driving in Singapore (just like COE) is not cheap :p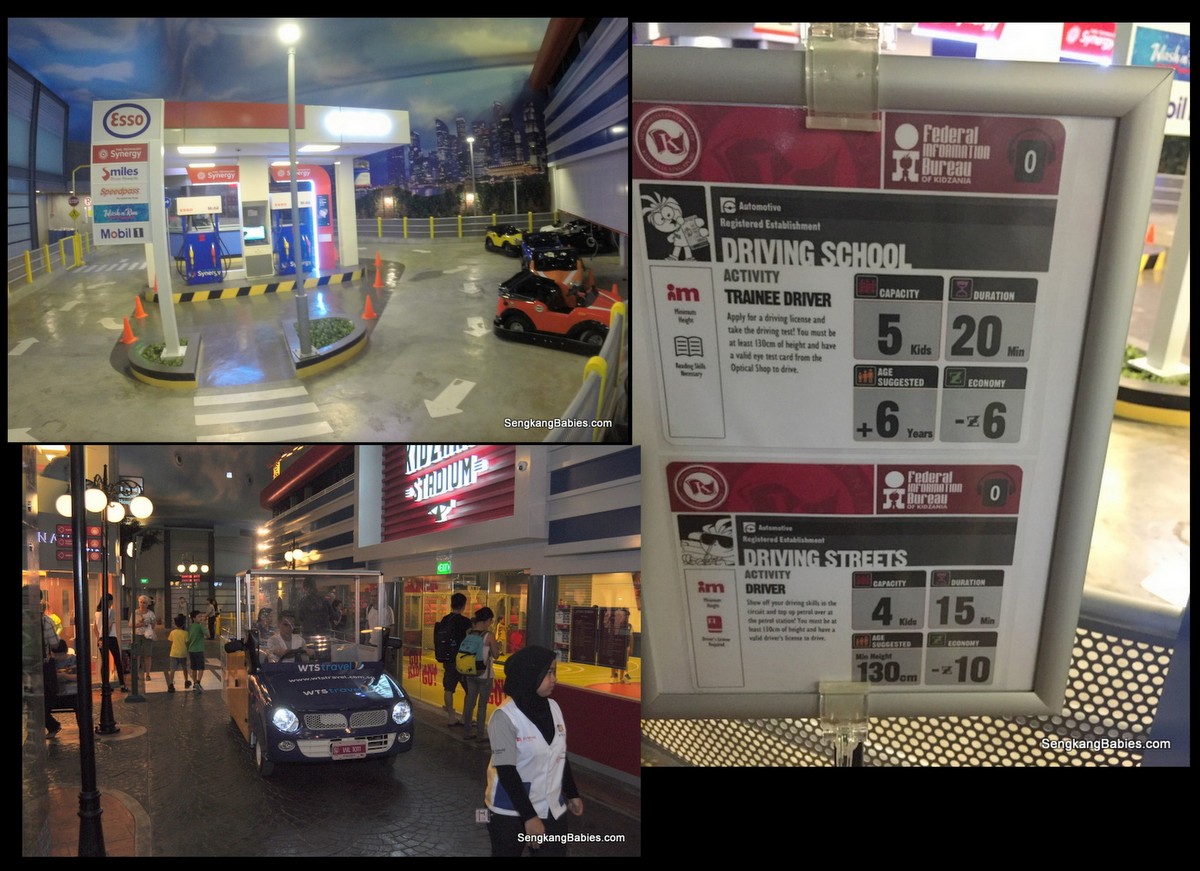 Nanyang optical, Xin seems keen to wear specs Oh No!

Anyone need to scrub your windows? Fortunately, kids need not take jack lift to clean higher floor window panels. No excuse for them not to help out at home anymore.

Overcome your fear of height and go rock (building) climbing. Harness on, helmet on, remember to buy your travel insurance first haha. Aim for the roof.

Shopping time, retail therapy after working so hard. Time to reward kids for their hard work.

Ticket pricing. To get your money's worth, stay the maximum 5 or 8 hours. It is going to be a tiring day, well no one say working is easy :p

Checkout at immigration counter, we are all foreigners (and visitors) in the city of Kidzania haha. As part of Kidzania's safety assurance, kids can only check-out when their "bracelet" matches that of their parent or guardian.

Kids will not be able to finish all the jobs in one or two days, there is a lot of return opportunities for Kidzania.

Daddy can I do this, Mommy can I cook that?
You will see a lot of happy kids and their questions.
Parents are all smiling silly at the cute kiddos 🙂
Yes kids. Yes yes yes, as long as you like it, you can take up any career.
Preparing for your visit :
* Although most jobs are suitable for kids 4 and above, take note parents cannot accompany them inside the "office/factory/kitchen" etc. Some kids might be uncomfortable (separation anxiety) once the door is closed. Reassure them that Mummy/Daddy can see them through the window.
Opening hours and Ticket prices : (we are curious why Kidzania need to charge $35 for adults entry?)


(Screenshot above credit Kidzania)
– Buy your tickets online, as there are limited slots per day (Maybank customers enjoy 10% discount)
– 8 hours not enough , parents will be very tired at the end of day, kids are fueled by adrenaline
– I have counted 53 jobs from the maps, more excuses for you to return another day
– Please bring extra battery, memory card and powerbank
– My own personal view. Between a popular job which requires 60 minutes queue, kids might be able to squeeze in another two careers ( with shorter queues)
– Parents cannot go into kids' office, you can only take photos from outside window panes.
– Do not queue up on kids behalf, you will get death stares!

– We can keep the kidzos for another visit (overseas Kidzania too)
– Check balance http://www.kidzania.com.sg/maybank
– Those with multiple kids, might allow kids to hunt for their own jobs, pick them up when they knockoff. I was the only parent running around after the kids, not easy and super tiring 🙂
– In case kids are lost, meetup at a pre-defined venue. Example meet at Maybank, and Daddy will come and pick you up.
– Nearest carpark is at Beach carpark
– GPS 1.251452, 103.820412
Wishlist :
– Why no Annual pass?
– Perhaps, indicate timing of next job (so parents can plan their itinerary better )
Follow Kidzania on their website and Fanpage for the latest updates.
We would recommend you to pop by our friends' review to shortlist your kids' ideal jobs 🙂
– Cheekiemonkie
– Life Tiny Miracles
– KL Kidzania
– Taipei Baby Boss
Video (link) – Kidzania Singapore Fun video

More photos uploaded on our fanpage album

~~~ ~~~ ~~~ ~~~ ~~~ ~~~ ~~~ ~~~
Tickets Giveaway :
1. Contest is on our Fanpage
2. Fans must first LIKE Kidzania and SengkangBabies Fanpage.
3. Leave your name and email on our Fanpage (or you can message email address), share with us your child's dream job!
4. Share this page (refer step 3) on your Facebook Wall and tag @SengkangBabiesBlog
(so that we know you are participating)
5. To earn extra chances (maximum up to three chances):
5a) Leave your message and regram our Instagram photo and/or
5b) Leave your comments in blog post below
6. Contest ends 03 June 10pm, and one winner will be randomly picked
*This contest is only for those with a valid Singapore address.
**Selected winner must respond within 48 hours