[ Media Invite ]
When did Boon Kang learn to do a hand stand!

Trick Eye Museum (트릭아이미술관) first started in Korea in 2010. Daddy has seen some of his friends' wacky photos from Trick Eye Museum Korea.
From the Museum's name itself, we know this Museum is trying to trick you with optical illusion. Oh, you do not need to understand Korean to pose silly :p
Come 08 June, Resorts World Sentosa (RWS) will host Trick Eye Museum's first overseas branch. Hooray, we do not need to fly to Korea for some wacky photo op.
At Trick Eye Museum, we can pose and interact with 3D posters and paintings to achieve some hilarious portraits. There are over 80 photos in RWS' Trick Eye Museum, including a Merlion!
Remember our Hong Kong Madam Tussauds trip, we had so much Fun posing with VIPs. At Trick Eye Museum, you MUST remember to have Fun and it is ok for people to stare.
Ouch, be careful of the hot volcano Lava.

Artistic painting Starry Night.

Initially, it is quite hard to pose and "imagine" the outcome. Fortunately, our friendly hunks and babes (red attire) help guide us on the postures.
The younger kids will find it hard to coordinate as they do not understand the Fuss. The trick is to read the instruction before you take the photo.

Then you can proceed to more "confusing poses", maybe upside down like a tandem jump.

A pity the Panda was always too far away to touch…

We heard this Baby is Trick Eye Museum's first feature. And you are most welcome to crawl inside the bird cage. Wonder why Daddy always chose the smelly wrong end?

More Fun photos ! What is cooking for dinner?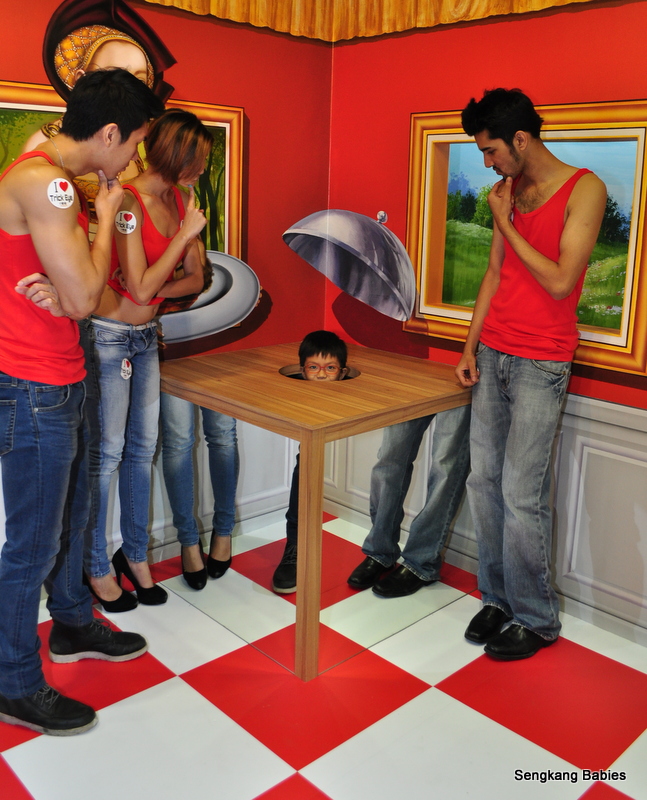 Oh, this one is gross. Our guide encouraged Boon Kang to Jab the backside!

Multi-Racial bench, and cute Puss In Boots behind.

You Scream, I Scream (and I pull down your pants too !)

Daddy took 4 lessons to teach Kang to cycle, pretty Model taught him unicycle in 1 min !
And they need to balance over the canyon too.

Pole balancing, do not slip ! When did Boon Kang became so brave? He was enjoying posing at all the exhibits.

Kiss and Tell, Daddy warn kids not to reveal too much to Mummy.

Somehow, the models always look sexier in their poses, and it is not an optical illusion.

Daddy cannot dance like "The Singing Butler".

Boon Kang must be a Yoga master, he can levitate!

Merlion and Mermaid.

Daddy was game to do a split in his tutu, we did not know he had ballet foundation :p

It is ok to enjoy yourself, no need to bother about stares 🙂

This "Giant via Goliath" room is always popular. Children can now be taller than their parents.

Fly with wings, sleigh and bloom ! Hogwart here we come.

We found the pitiful matchstick girl too.

Do an image-Google "Eye Trick Korea" for more funny poses and models.
The circled ones would be Epic!

Thank you RWS and Trick Eye Museum for hosting us, our family had so much Fun, there were so much opportunities to express ourselves. Everyone was giggling at their own silly poses.
Before we forget, do watch out for the deep well at the entrance !

Tips for first time visitors to Trick Eye Museum :
– Ticketing : $25 Adults (aged 13-59), $20 Child (aged 4 to 12), $20 Senior Citizens (aged 60+) Enjoy 50% discount off tickets from 08 to 22 June (opening promotion)
– opening hours from 10am to 9pm
– Look at the poster next to photo/prop for photo instruction
If still confuse, orientate your camera according to the instruction (90 or 180 clockwise example) to glimpse the "final" perspective. Then, get your model to position themselves.
– Ensure you are standing on "photo-spot" (marker on the floor) and snap. This will ensure you capture the full 3D effect and perspective.
– Daddy's kit 18-55 lens was not wide enough for some shots. You might wish to consider a wide-angle lens or landscape with your mobile phone. (we recommend flash too as the kids are too active to stay still)
– Trick Eye Museum will be rotating it's exhibits every six months to encourage return visits
– For the ladies, we need to "climb", "crawl" and "stretch" to get into the correct position. Avoid skirts and low cut as you do not wish to expose yourself unintentionally. Daddy find it awkward to bend his inflexible 1.8m frame for certain poses 🙂
Pop by this links for more updates about Trick Eye Museum and Resorts World Sentosa :
– Trick Eye Museum Fanpage
– Contact 6795-2481
– More details about Trick Eye Museum (including Six Worlds)
– Resorts World Sentosa promotions
If you are adventurous and fun loving (like us), we have 100 plus wacky photos uploaded on our Fanpage album. We are confident this unique museum will bring you hours of Fun!