[ Sponsored ]
Recently, Boon Xin held her 5th Birthday celebration at Swensen's.
From the smiles of Boon Xin and guests, it was a very successful Birthday party!
Ask every parent and they will tell you venue and food shortlisting is not easy. We want a spacious venue, kids-friendly menu (we hear fries and ice cream), and if possible, minimum cleanup.
Let us share our Happening Birthday party at Swensen's.

The princess, our Boon Xin is 5 years old already, children really grow up too Fast!

It was not too long ago she celebrated her First Birthday with a cow.

Before the guests arrive, kids entertained themselves. The colourful balloons gave everyone a cheery mood.

We had chosen Swensen's Nex for it's spacious Birthday corner, which can accommodate up to 30 guests easily. It would be a stretch to host so many friends at home.

Boon Xin with 奶奶 and Ah-mah.

Let us share our finger food from Swensen's Birthday Tea Party Buffet.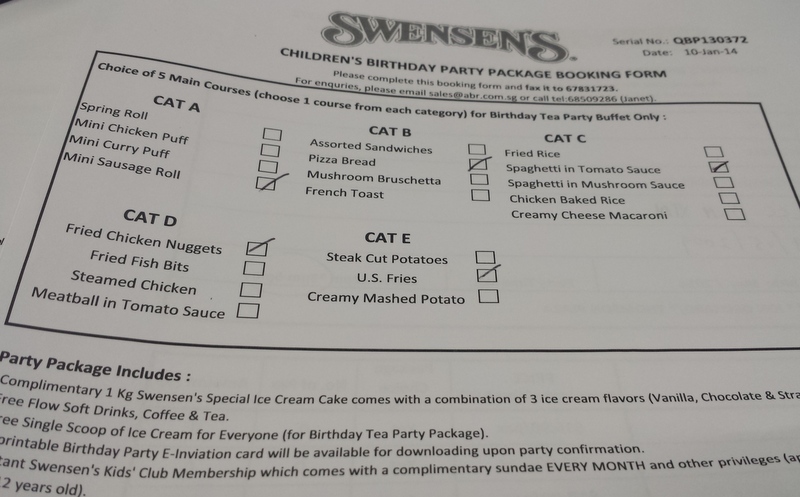 Spaghetti, nuggets and fries are always popular with kids.

Bon Appetit.

Swensen's Birthday Party package also come with Ice Cream, lots of it!
Boon Xin's eyes brighten up when she saw the chocolate ice cream!

Every party needs games and entertainment to engage our little guests. Our friendly host (Rita) kept the kids smiling with balloon, games and ice cream Sundae!

There are a total of 16 kids, and it is quite challenging to catch their attention. Some of the popular games, passing the parcel until music stops (with penalty), quiz and presents.

Laughter echoes around Swensen's Nex outlet. Maybe kids are celebrating end of exams too.

Sometimes, Jolie and friends might just prefer to jump and pluck the balloons !

But the coolest surprise must be our diy Sundae session! Wow, kids can decorate their own Sundae with cherries and toppings.

Some might actually volunteer to spray whipped cream onto their face 🙂
Boon Xin blow off the candle, and the Sundae mysteriously disappear, returning two empty bowls.

Video : Boon Xin's Birthday Fun activities

大舅 family and friends.

We ordered a Disney Minnie for Boon Xin, all 1kg of Ice Cream and chocolate. And she could not resist peeling off the chocolate from her cake.

Shall we sing a Happy Birthday song? (we heard born-in-the-Zoo rendition too)

After blowing the candle, kids try their best to blow the dry ice too.

Goodie bags to end our party, thank you all for gracing our Birthday Party.

Seeing her Happy and Healthy (and all our kids too), make Daddy and Mummy contented 🙂

Boon Xin and her loving bros.

We would like to shout Thank You to Swensen's for sponsoring our Birthday package. Everyone had fun, both with food and games. This is one memorable Birthday Party!
You might wish to consider your next Birthday celebration at Swensen's.
Pop by our Fanpage album for more party photos.
Our Swensen's sponsorship includes :
– buffet for 25 pax
– a 1kg ice cream cake
– party host
– ice cream scoop for all guests, and diy Sundae
– click for more Party details
Do pop by Swensen's Website and Fanpage for the latest promotions.