[ Studio Me Review ]
Young Punks.
SengkangBabies got to act crazy and live our dreams, without incurring passerby's disapproving stares or tsk tsk.
We were invited to rock at Studio Me.

Let your creativity roams, let your individuality shines.
Go crazy, release the Star inside, unleash your inhibitions.
Looking at the first photo above, you know we did not bring "shyness" to the studio.
To quote from Studio Me :
Did you know that "Green Screen" or "Blue Screen" effects are also known as Chroma Key Compositing, which is commonly used in Hollywood movies production? Book a studio now to experience what they do on the big screen!
Please skip Green in your wardrobe, unless you wish to camouflage yourself !

In 3 easy steps, Pose, Step and Smile.

The LED screen will teach you which pedal to step, in order to change the background. We have to remind everyone to take turns, as kids can be overly enthusiastic !

This is the captured image, we have to get use to looking at the camera, normally we end up looking higher at the LED screen 🙂

Think Neo print, but on a bigger scale. At Studio Me, you get to book your own mini studio where you can shoot as many photos within a 30-minutes session. There are 3 themed mini studios – Unity, Pop and Icon, with more than 48 themes (in total).
Video : Studio Me's introduction video (and rates)

Make sure you grab some props (or bring your own) to make your photos Pop !
Behind the scenes is equally, if not, more Fun !

Did Daddy say this is one of his easiest blog post? He just needs to let the photos do the talking, and almost every photo turn up comical and fun !
It is really easy to make everyone smile. At Studio Me, family photo is not so difficult anymore. Look at the fun Themes below 🙂

SengkangBabies like red carpet treatment, glam it up !

Once they got hold of the three steps, kids were happy exploring the other studios !

Little Rock stars !

Romantic moments, with LOVE and Rose petals everywhere (can we request for a chocolate backdrop?)

Cartoons haha, we look so cute hiding behind Doraemon's door, or whacking the tortoise in Mario Land.

Have you ever dream of appearing on Magazine covers? Our family is bigger, so we need to wriggle here and there to fit the Frame.

Jaws ! King Kong ! T-Rex , wow Awesome haha 🙂

Although we do not have budget to touch Eiffel tower or Statue of Liberty, but we can pretend right :p

Or for that matter, to catch autumn in Osaka ( No Sakura theme ?)

You must ask Studio Me about "Around the World in 30 minutes" Package !

We let the kids decide the backdrop and the props themselves. We heard from Marie (Marketing Studio Me) that some families even book three studios to celebrate their children's birthdays !
Wow, this should be fun for the kids.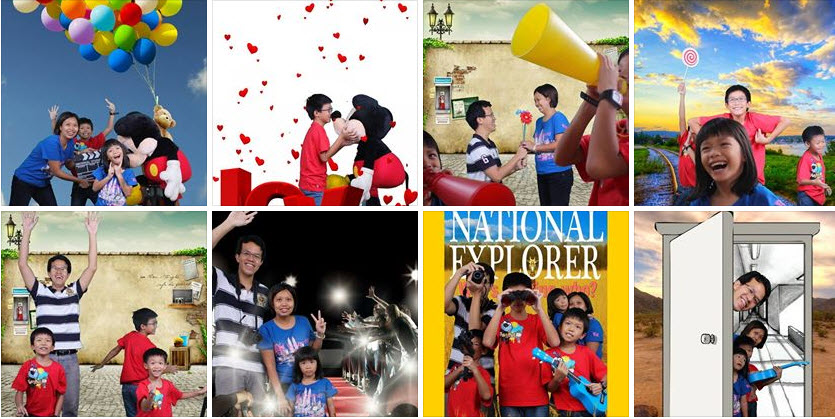 Kids can busk !

FuN is Spontaneous ! Just look at the siblings go crazy !

Our new room.

We are going holiday again, hello we forgot to wear our footwear 🙂

At the end of the session, it just takes 10 minutes to download all your photos into a CD. Yes, we get to keep every single shot (no extra charge). Studio Me's canvas is also popular with customers, some even bring their own photos to frame.
Video : Watch the kids in actions

Our special 1 hour session allows us free access to all three studios.
We would recommend you to login Studio Me website to determine which Studio is more suitable for your group.
Some of the features which you will get to enjoy :
– Affordable. Eg, weekend Unity package of $49.90 divide by 8 guests, each one pays only $6!
– Unlimited shoots within 30 minutes
– Keep all your photos !
– some folks even pop by for their Wedding and Graduation photos !
Thank you Studio Me for the invitation, everyone really enjoy themselves 🙂
We have 100 more comical photos available on our Fanpage.
More details about Studio ME :
– Website
– Fanpage
– Contact – 6509 9973
– Opening hours – 11.30am till 9.30pm
– Weekday – $29.90 to $39.90 (pop by website for breakdown)
– Weekend – $39.90 to $49.90
We recommend that you make an appointment online, and to go to City Square Mall earlier. Traffic condition and lack of carpark space might delay your appointment.
Are you ready to enjoy some family moments yourself too? Studio Me has three $49.90 vouchers to giveaway yeah ! Each voucher covers a 30 minutes session, any day, for one studio (valid for one year).
Giveaway conditions :
– Fans must first LIKE StudioME and SengkangBabies fanpage.
– Share StudioME giveaway on your Facebook Wall

– Leave your name and email on our Fanpage (or you can message email address to us)
– Three winners will be randomly selected on 15th Oct 11pm
** Updated 2013Dec08 – our StudioMe experience featured in SundayTimes

* Our friends The Wacky Duo is also holding the same contest. Good luck 🙂