(Media Invite)
We have not been excited over new playgrounds for a long time,
and Gardens by the Bay (GBTB) has a new addition this January.
Members of Gardens by the Bay (Friends of Garden) were invited to a sneak preview of FEO Children's Garden in Dec.
Sponsored by Far East Organisation (FEO), that is how our playground got it's name.
Let us share why FEO Children's Garden will be on parent's lips as one of the must-visit playgrounds.
Near the entrance to FEO Children's Garden, you will find this arching plant landscape. It looks like a backyard in Europe, or someone's orchid in Australia.
Anywhere but Singapore 🙂

Look at FEO Children's Garden's map, this playground is 5 minutes from "Satay by the Bay", 10 minutes from Marina Barrage. You can expect the promenade area will be abuzz with activities in the evening and weekends, jogging, cycling and even scooting.
The entrance to Children's Garden is next to Cloud Forest, follow Red arrow from Carpark to entrance (not sure whether there is a back gate).


(Image credit GBTB)
Obstacles trying to thwart the kids' advance. We all know the Final mission would be the water play area, right ?
And so they twist, hop, wriggle through each stations. Sometimes they break the "exercise routine" with a slide here and there.
No one can resist the slides !

Besides the obstacles, you must have noticed the scenic views from around the Garden playground. You either see the Domes or MBS.

The TreeHouse (6 to 12 years old) must be one of the highlights of FEO Children's Garden. There are three levels for kids to navigate.
Holes and Nets are recommended for bigger kids. Parents please hold on to the younger kids, as we do not want them to fall down the wrong hole or get entangled !

Slides are good for everyone, including adults, but do take NOTE that descends are super Fast ! (Checkout the video of Daddy below, reminds us of Changi T3 slide)

We did not show you all the obstacles or slides, because the kids are all eager to change into their swimming gears!
There is one more huge slide, which can sits three comfortably, and it looks very Fun, provided you do not land on the wrong side :0
Video : Up the Tree House down the Slides, and Water Fun

Sandy Playground at the base of the Treehouse.

Where are the Dragonfly sculptures?

We spotted a majestic KingFisher nesting near the playground.

Plenty of space (Children's Garden spans one hectare!) for kids to play Police-catch-thief. Pity the police as the thieves can climb, slide and hide in so many corners !

Look at the Green platform below, give it a spin and hop on. Once it is rotating, it can be quite challenging to dismount ! It can get pretty disorientating, so we recommend you to sit down 🙂
Do not leave younger kids alone or standing near when it is spinning, kids jumping down might lose their footing and cause a collision.

After all the running, what is the best way to cool down?
While kids enjoy the wet playground, parents can lie down on the orange beach chairs. It is a moment of bliss under the huge umbrella, listening to the soothing piped music.

Fish fountains for the little ones 🙂
The kids' favourite activity would be to block the fish mouth from squirting out the water stream, thus causing the water to rain onto the beach chairs :p
Alas, we hope the Parents have spare clothes too…

Water Play Area for 6 to 12 only?
This Water park is too much fun and should not be exclusive for the younger folks :p
Parents need not be shy, others will be staring, but it is definitely ok to act "cool" once in a while (no pun intended).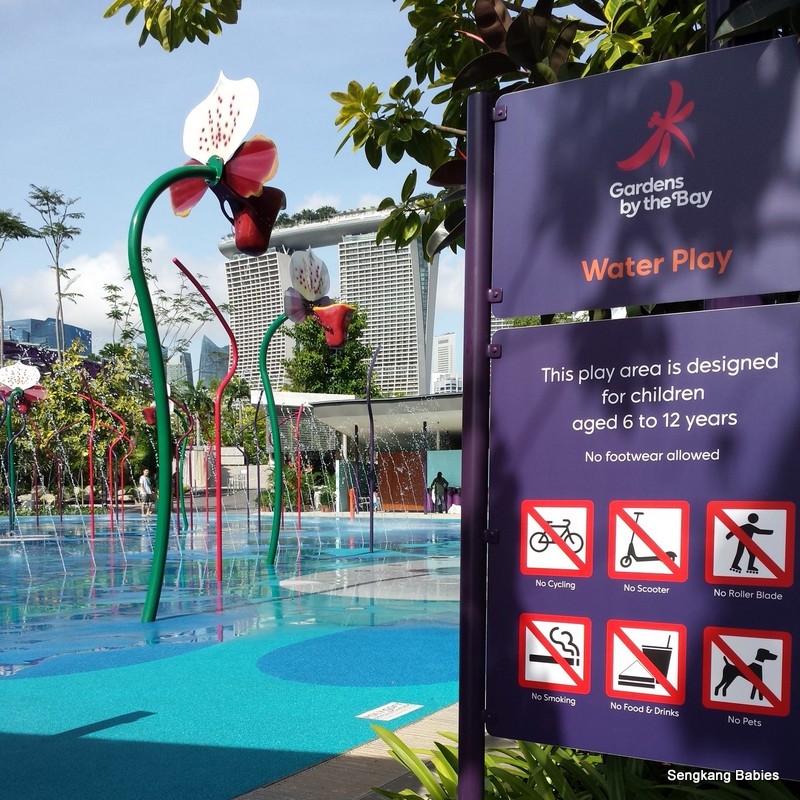 Siblings enjoying some water Fun. Daddy should join in next time.

Love the Dome's reflections, the night scenes with long exposure should be mesmerising.

There are washing facility for everyone to dry up. there is no excuse not to bring your swimming trunks and costumes to FEO Children's Garden anymore.

These stone fishes have a good view of MBS and Cloud Forest. Can you spot Mummy in the beach chair?

We have talk and share so much, do you know what is the best thing?
This playground is FREE !
21 Jan 2014 is the official opening date, and we have all the
Fun photos in our Fanpage album.
If you ask SengkangBabies to rate FEO Children's Garden, they will not hesitate to give full marks (10/10) for Fun Factor.
Daddy and Mummy cannot disagree 🙂
SengkangBabies are proud to be one of the Garden Angels (ambassadors), you are most welcome to pop by our Gardens adventures.
Pop by GBTB Website and Fanpage for the latest updates.
** FEO Children's Garden is closed on Mon. Tue to Sat 9am to 9pm.
Details here.
*** do pop by OurPrincessDana and CheekieMonkies' account of the Grand opening.